Featuring gorgeous, stylishly updated spaces to enjoy both inside and out, this 3-bedroom, 0.75-bath rambler is ready for you to move right in and make it your own! A new roof, new siding, a sprinkler system and an oversized attached garage are just a few of this residence's stand-out features. Thoughtfully upgraded with contemporary finishes and timeless details straight from the pages of a home design magazine, this 1,130-square-foot beauty is especially ready for entertaining. Located at 6212 N 49th St Tacoma WA 98407 and wonderfully close to the incredible Point Defiance Park and Point Ruston, this Tacoma treasure is listed for $325,000.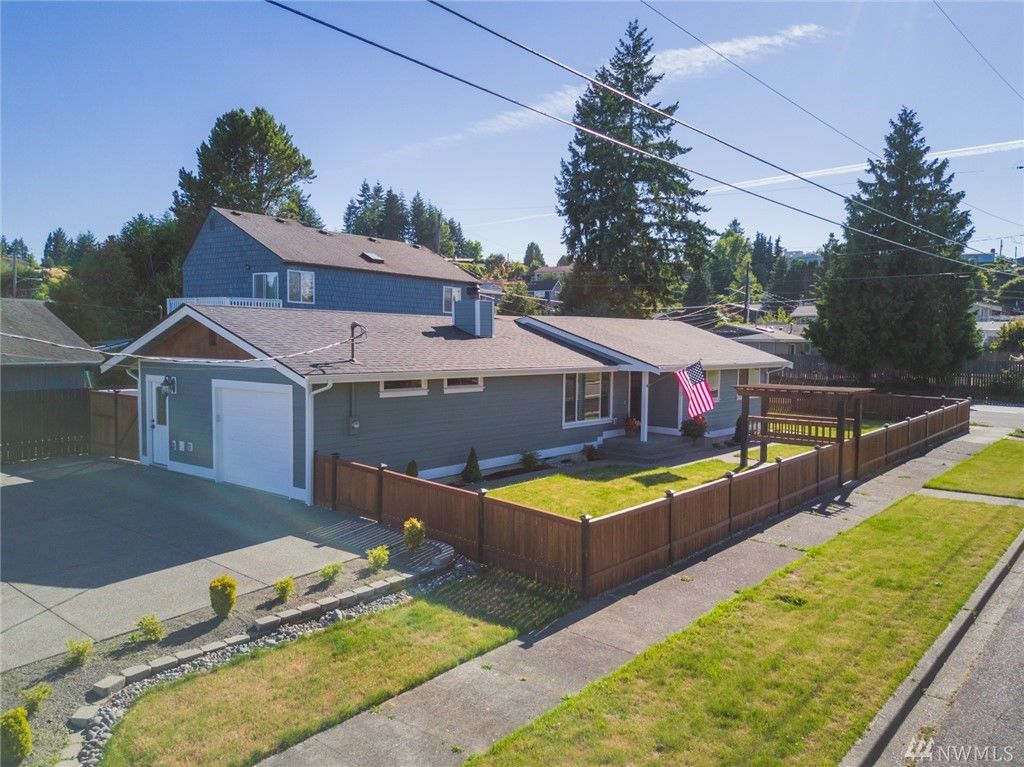 Nestled along a sidewalk-lined street and featuring neat landscaping, this haven is a joy to arrive home to. A beautiful walkway leads to the welcoming front porch, and once you step inside, this home does not disappoint! The light-filled formal living room shows off crisp wainscoting, and a stately fireplace only further elevates this sophisticated space. The open layout effortlessly flows into the dining room, an inviting scene perfect for enjoying meals among loved ones at.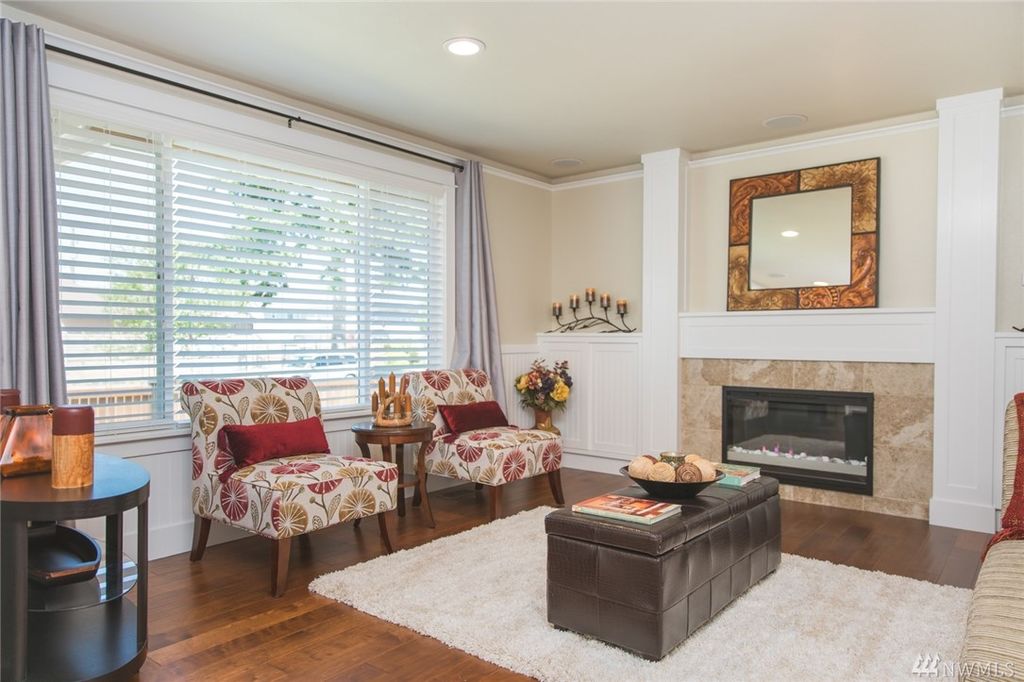 A doorway framed in the same crisp white trim found throughout this home leads right into the kitchen, a masterpiece of elegance and efficiency. Shimmering granite countertops rest alongside new stainless steel appliances, and an intricate backsplash adds an element of modern flair.
This home's bathroom features a matching backsplash, and pristine finishes add to the spa-inspired feel. Plus, radiant heated floors just add to the luxurious scene. Additionally, the 3 bedrooms ensure that loved ones each have their own private space to retreat to at the end of each day.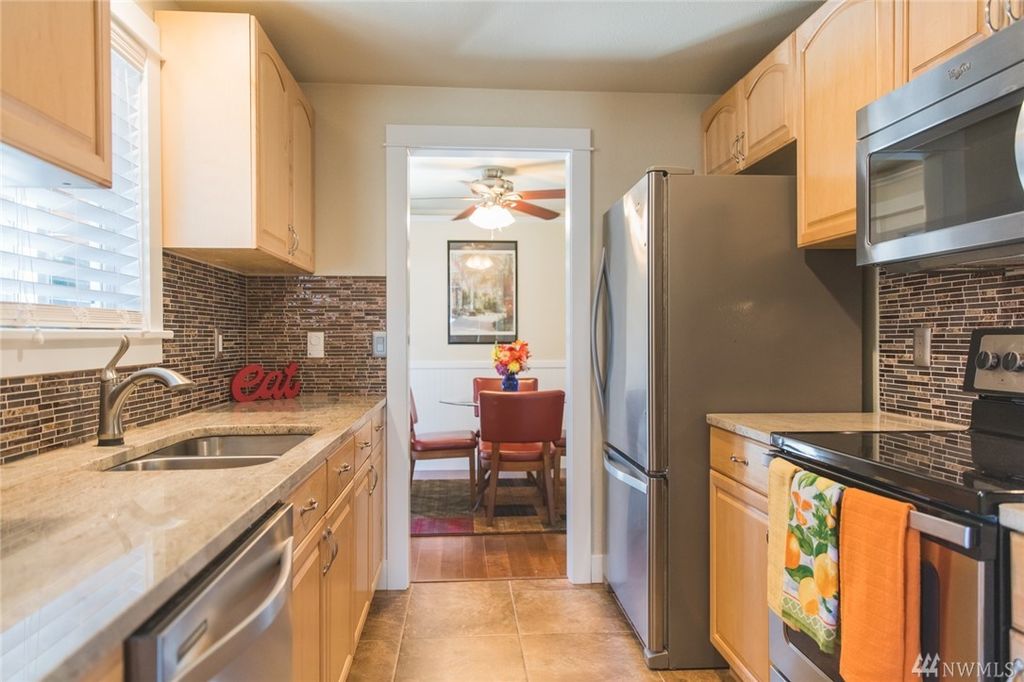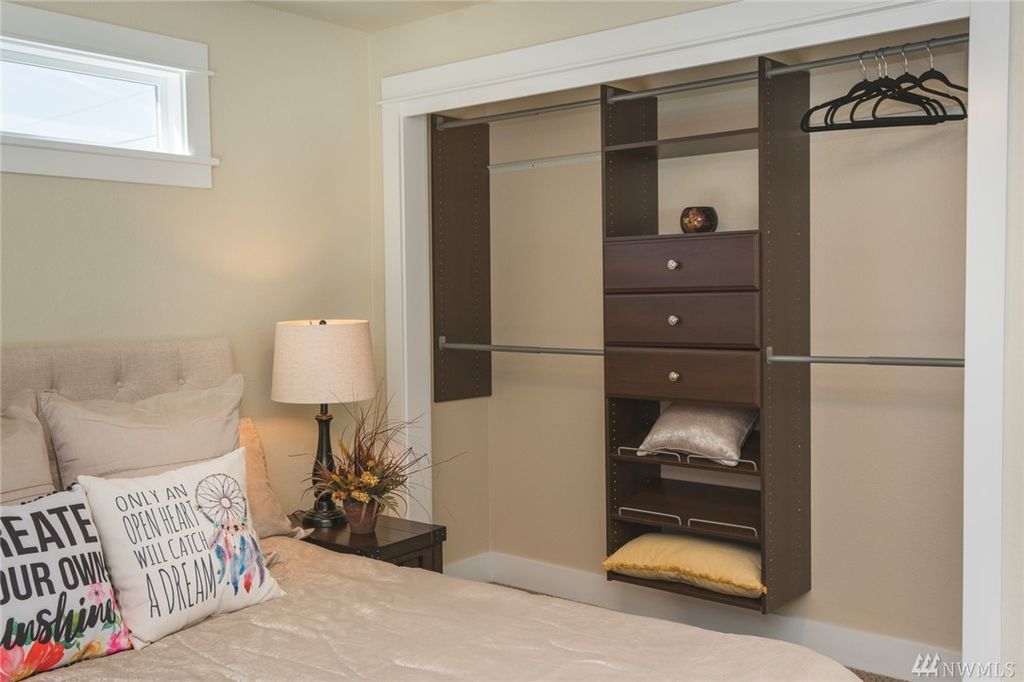 Similar to the pristine, stunning spaces inside, this home's outdoor atmosphere offers a picturesque setting. The fully fenced yard includes a huge deck, and the lush lawn features a storybook water feature and a stone-accented fire pit. Imagine cooking up hot dogs for dinner over the fire, and then roasting marshmallows when the sun goes down! There's also plenty of space for relaxing and entertaining on the huge, partially covered deck. In the covered area, a ceiling fan offers a breeze on extra-hot days. There's ample space for a barbecue, a stylish set of patio furniture, and a couple of lounge chairs, ensuring that when the weather warms up, you have vacation-inspired amenities to enjoy right from the comfort of home sweet home!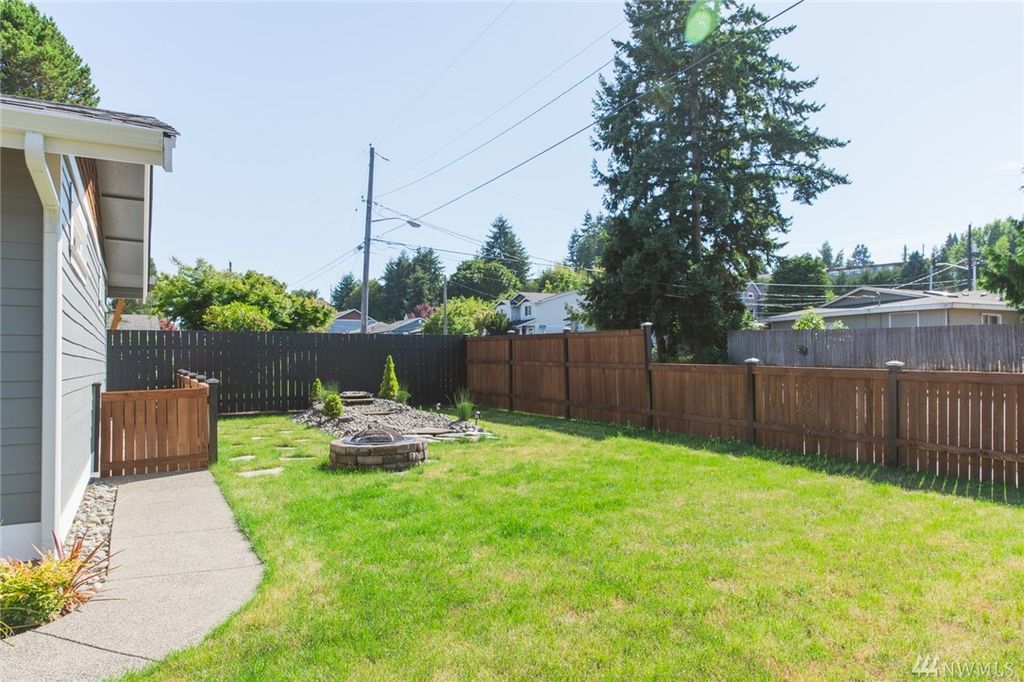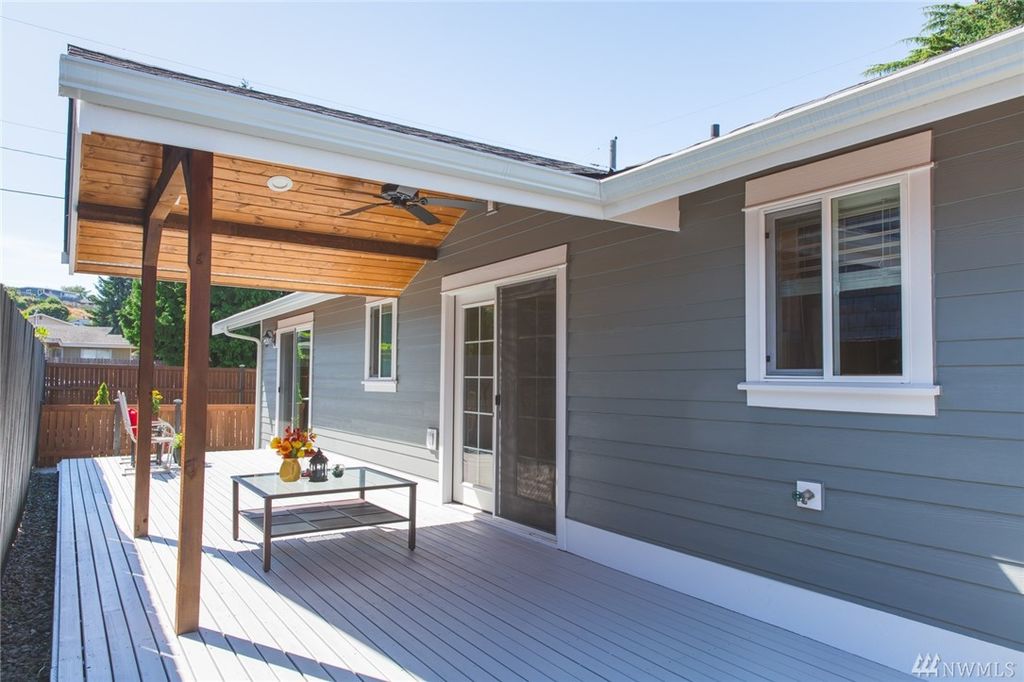 Living in North Tacoma
At 6212 N 49th St Tacoma WA 98407, you're located in an ideal North Tacoma location that's close to parks, schools, restaurants, shopping, and so much more. Point Ruston is just 1 mile from home, making it easy to catch a movie at Cinemark Cinema Theaters, enjoy dinner out at WildFin, Farrelli's Pizza, Mio Sushi, or one of several other restaurant options, go shopping, or hang out at the playground and spray park!
For even more adventure, head to Point Defiance Park, which is a short 2-minute drive from home. Here you can enjoy a long list of activities, including the Five Mile Drive, walking and biking trails, Owen Beach, and more. Of course, Point Defiance Zoo & Aquarium is a highlight, while other attractions like Fort Nisqually, the Rose Garden, and the ferry to Vashon are all in the mix as well.
Interested in learning more? Click here to view the full listing! You can also contact REALTOR® Sharon Chambers-Gordon online here or give her a call/text at (253) 970-4049.
Be Prepared – Tips to stay safe this winter
LiveLoveTacoma.com
Winter storms and cold temperatures can be hazardous. Stay safe and healthy by planning ahead. Prepare your home and cars. Prepare for power outages and outdoor activity. Check on older adults.
Although winter comes as no surprise, many of us are not ready for its arrival. If you are prepared for the hazards of winter, you will be more likely to stay safe and healthy when temperatures start to fall.
Take These Steps to Prepare Your Home
Many people prefer to remain indoors in the winter, but staying inside is no guarantee of safety. Take these steps to keep your home safe and warm during the winter months.
Winterize your home.

Install weather stripping, insulation, and storm windows.
Insulate water lines that run along exterior walls.
Clean out gutters and repair roof leaks.

Check your heating systems.

Have your heating system serviced professionally to make sure that it is clean, working properly, and ventilated to the outside.
Inspect and clean fireplaces and chimneys.
Install smoke detectors. Test batteries monthly and replace them twice a year.
Have a safe alternate heating source and alternate fuels available.
Prevent carbon monoxide (CO) emergencies.

Install a CO detector to alert you of the presence of the deadly, odorless, colorless gas. Check batteries when you change your clocks in the fall and spring.
Learn symptoms of CO poisoning: headache, dizziness, weakness, upset stomach, vomiting, chest pain, and confusion. If you experience any of these symptoms leave your home immediately.
Wear appropriate outdoor clothing: layers of light, warm clothing; mittens; hats; scarves; and waterproof boots.
Work slowly when doing outside chores.
When planning travel, be aware of current and forecast weather conditions.
Be ready to check on family and neighbors who are especially at risk from cold and wet weather hazards.
Don't Forget to Prepare Your Car
Get your car ready for cold weather use before winter arrives.
Service the radiator and maintain antifreeze level; check tire tread or, if necessary, replace tires with all-weather or snow tires.

Keep gas tank full to avoid ice in the tank and fuel lines.
Use a wintertime formula in your windshield washer.
Prepare a winter emergency kit to keep in your car in case you become stranded. The kit should include:

cell phone, portable charger, and extra batteries;
blankets;
food and water;
booster cables, flares, tire pump, and a bag of sand or cat litter (for traction);
compass and maps;
flashlight, battery-powered radio, and extra batteries;
first-aid kit; and
plastic bags (for sanitation).
Prepare in Advance for Emergencies
Be prepared for weather-related emergencies, including power outages.
Stock food that needs no cooking or refrigeration and water stored in clean containers.
Ensure that your cell phone is fully charged.
When planning travel, be aware of current and forecast weather conditions.
Keep an up-to-date emergency kit, including:

Battery-operated devices, such as a flashlight, a National Oceanic and Atmospheric Administration (NOAA) Weather Radio, and lamps;
extra batteries;
first-aid kit and extra medicine;
baby items; and
cat litter or sand for icy walkways.

Protect your family from carbon monoxide.

Keep grills, camp stoves, and generators out of the house, basement and garage.
Locate generators at least 20 feet from the house.
Leave your home immediately if the CO detector sounds, and call 911.
Take These Precautions Outdoors
Many people spend time outdoors in the winter working, traveling, or enjoying winter sports. Outdoor activities can expose you to several safety hazards, but you can take these steps to prepare for them:
Wear appropriate outdoor clothing: wear a tightly woven, preferably wind-resistant coat or jacket; inner layers of light, warm clothing; mittens; hats; scarves; and waterproof boots.
Sprinkle cat litter or sand on icy patches.
Learn safety precautions to follow when outdoors.

Work slowly when doing outside chores.
Take a buddy and an emergency kit when you are participating in outdoor recreation.
Carry a cell phone.
Do This When You Plan to Travel
When planning travel, be aware of current and forecast weather conditions.
Avoid traveling when the weather service has issued advisories.
If you must travel, inform a friend or relative of your proposed route and expected time of arrival.
Follow these safety rules if you become stranded in your car.

Stay with your car unless safety is no more than 100 yards away, but continue to move arms and legs.
Stay visible by putting bright cloth on the antenna, turning on the inside overhead light (when engine is running), and raising the hood when snow stops falling.
Run the engine and heater only 10 minutes every hour.
Keep a downwind window open.
Make sure the tailpipe is not blocked – this is VERY important!
Above all, be ready to check on family and neighbors who are especially at risk from cold weather hazards: young children, older adults, and the chronically ill. If you have pets, bring them inside. If you cannot bring them inside, provide adequate, warm shelter and unfrozen water to drink.
No one can stop the onset of winter. However, if you follow these suggestions, you will be ready for it when it comes!
Happy holidays to you and your family!
Realtor Sharon
Adapted from the CDC emergency page.
Posted on December 10, 2016 at 8:23 am
Sharon Chambers-Gordon
Category:
Tips & Tricks
I am sharing Financial expert Ruth Hayden's tips for staying on budget and how to have a happy and successful holiday season that won't drain your bank accounts.
Control your spending, control your stress
When you feel you have control in an area of your life, your stress goes down and you can think clearly again, said Hayden.
When you control your spending, and don't go overboard on gifts you can avoid that stress of impeding debt and bills.
That's why it's crucial to make a spending plan.
The dreaded budget, or spending plan
As un-jolly as it sounds, you need a spending plan to make it through the holidays and experience the new year without empty pockets.
You have to make a spending plan a positive experience.
"If it's all about feeling deprived, feeling like you can't show love, you won't do it," said Hayden.
If you set a limit for spending on the holidays, stay within that limit and get creative on other ways to show love you'll have a more positive experience.
"(You) can go into January free, and clear and have a wonderful holiday."
Ways to stick to that plan include setting aside money throughout the year and using that as your budget for presents, buying presents after Christmas for the following year and reminding yourself that the holidays aren't just about presents.
Remember, it's about the experience, not the gifts
Your niece probably won't remember what you get her this year, but she will remember baking cookies with you, said Hayden.
Make sure that, instead of worrying about spending money you spend time with your loved ones.
"You start with the meaning, what do we want this season to be like," said Hayden.
Practice, and you can have a successful budget all year
Use the holiday season as a practice budget.
Set up a spending plan to stick to this holiday season. If it's successful, apply it to all aspects of your financial life.
"If you can do it with this holiday, honest to goodness, you can do it with anything," said Hayden.
Posted on November 26, 2016 at 3:08 am
Sharon Chambers-Gordon
Category:
Tips & Tricks