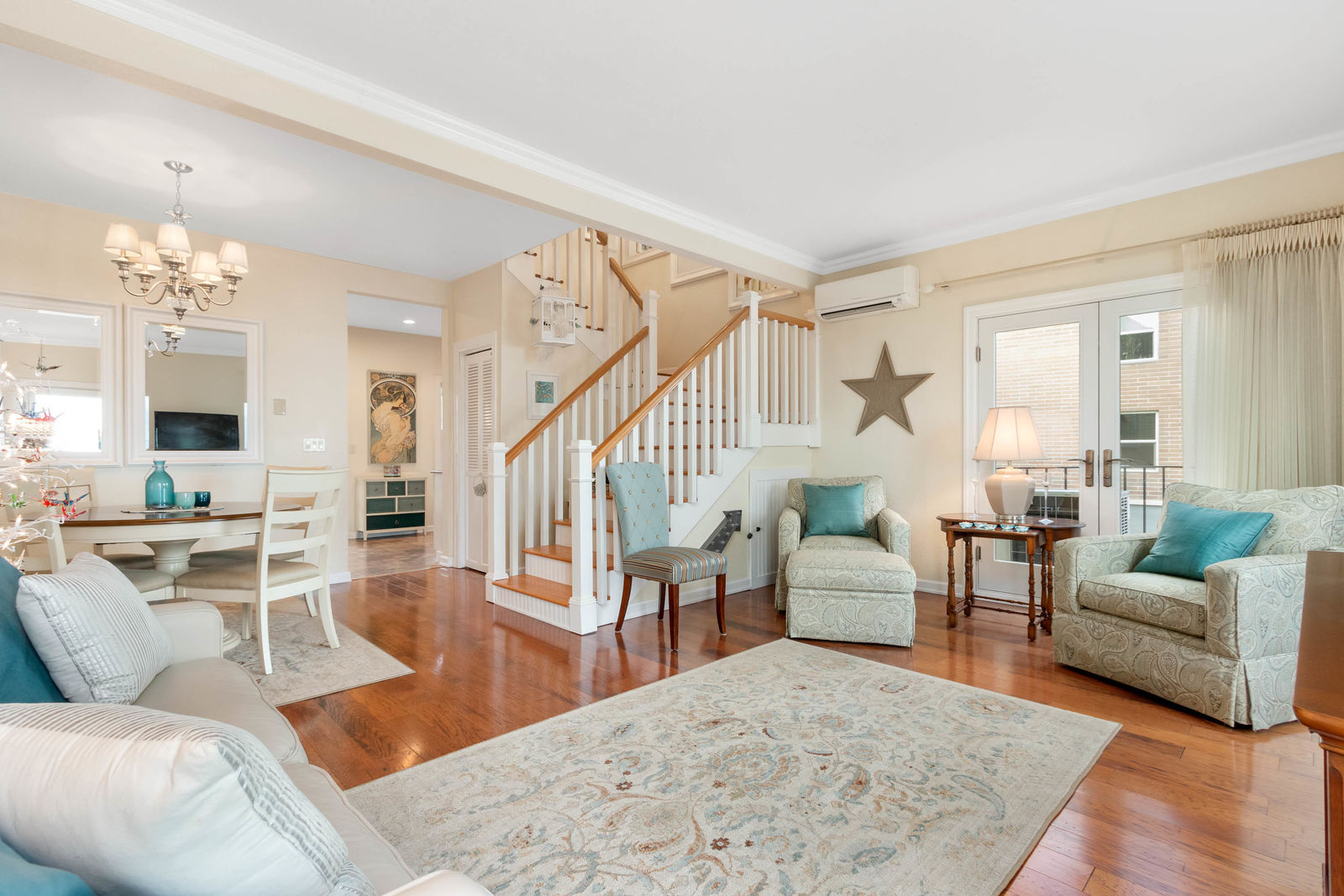 An opportunity like this doesn't present itself very often—this Old Town condo with a townhouse-style layout shows off easy living with unobstructed views of Commencement Bay and beyond! The 945-square-foot layout includes 1 bedroom, 2 baths, and well-appointed living spaces that make it easy to entertain with ease. Not only can you enjoy stunning views from both levels of this condo, but you even have 2 balconies that offer even more opportunity to take advantage of this haven's idyllic setting! Located at 2006 N 30th St 12 Tacoma, WA 98403 and merely steps from parks, restaurants, shopping, Ruston Way and more, this condo is listed for $424,950.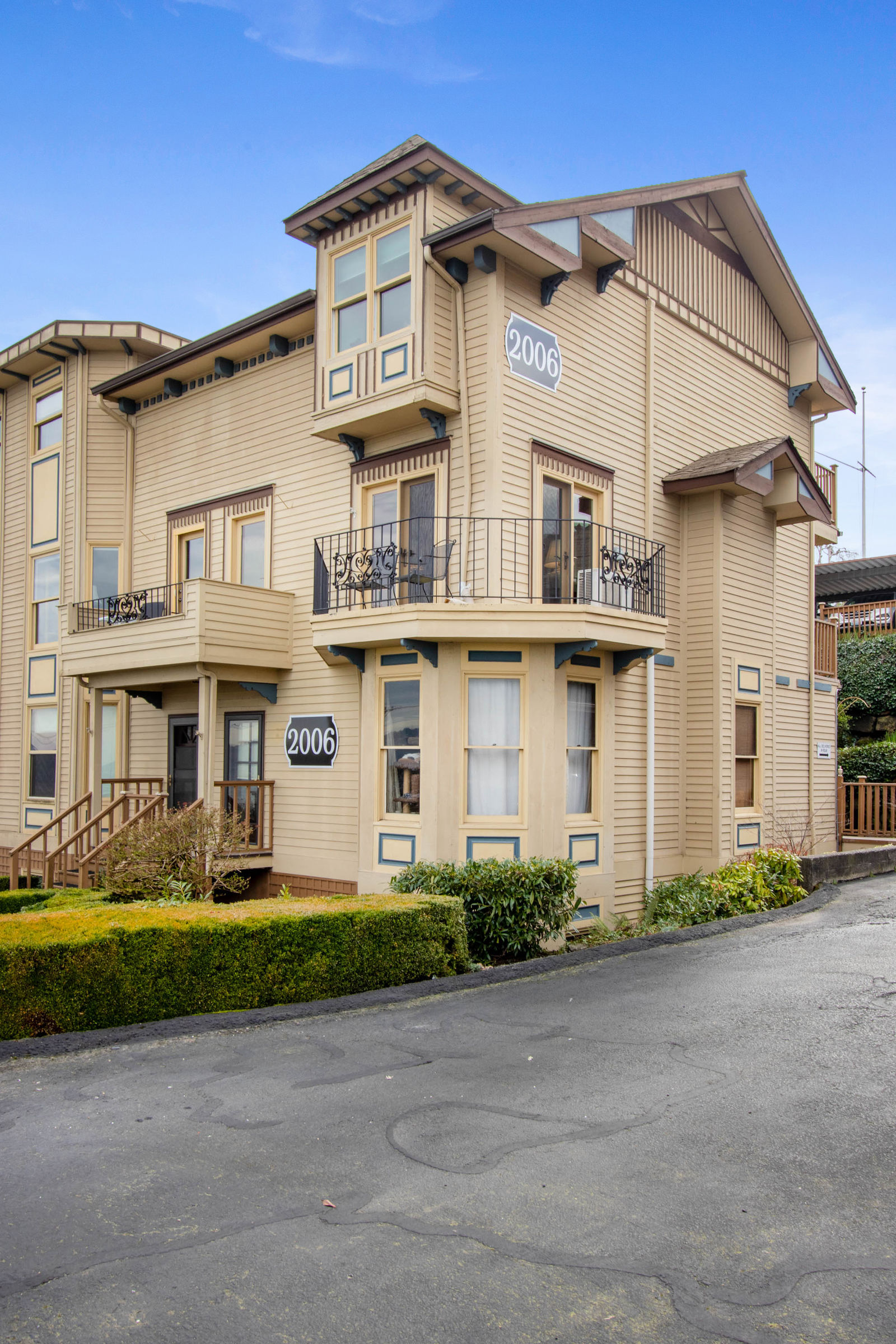 This treasure's eye-catching exterior is a delight to arrive home to, and the exquisite accents hint at the rich history of Tacoma's iconic Old Town neighborhood. As soon as you step inside this residence, the inviting scene envelopes you in a wonderfully timeless atmosphere characterized by a tasteful blend of classic design and contemporary elements.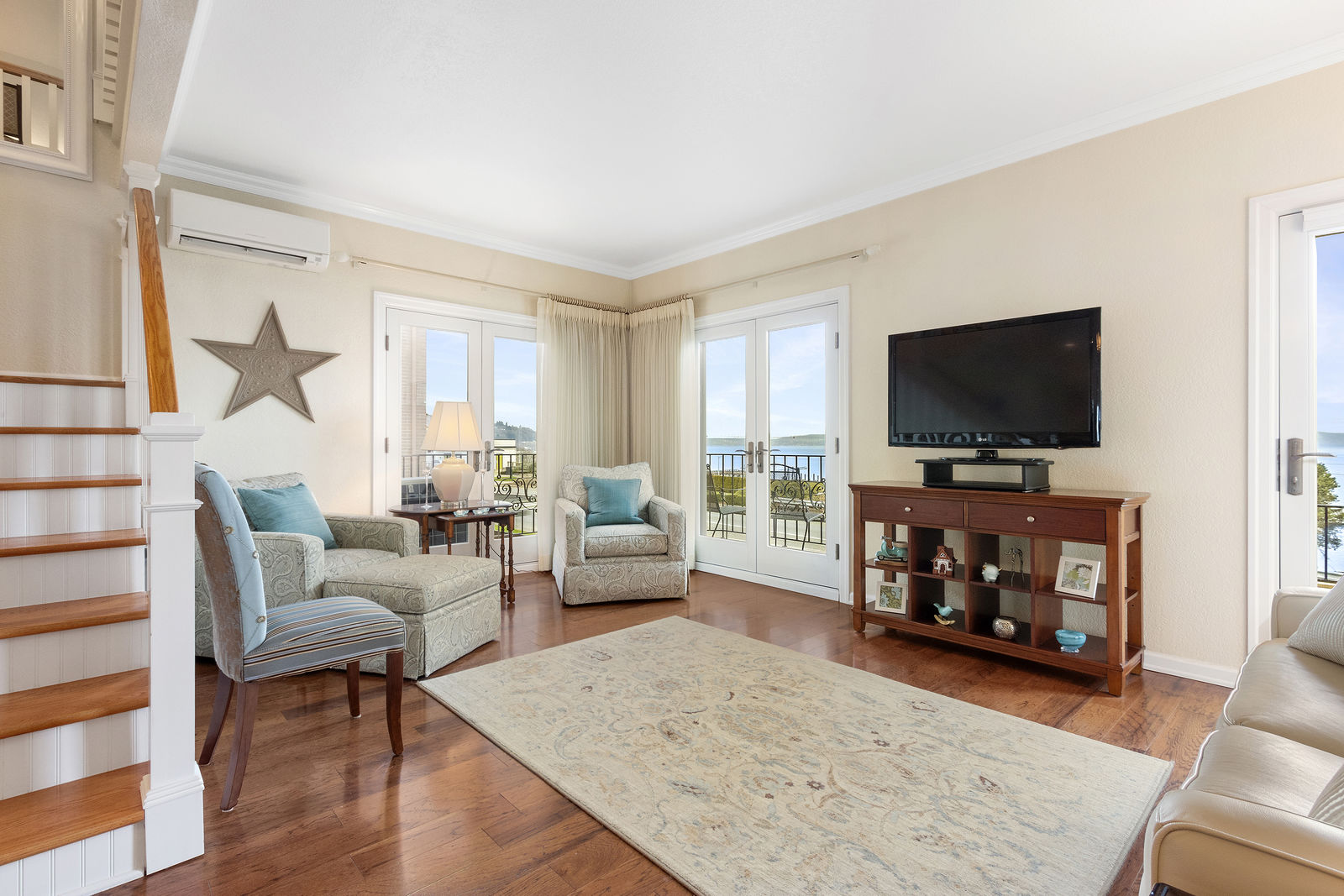 Shimmering hardwood floors and crisp white millwork infuse the open-concept living area with elegance, and your living space just expands thanks to French doors that lead out onto the balcony. Sunbathe on a warm summer's day, sip your morning cup of coffee while you rejuvenate out in the fresh air, and catch up with friends as you enjoy front row seats to one of the Pacific Northwest's most incredible views! When things heat up over the summer, retreat inside to enjoy refreshing A/C (and heat during the winter). Ultimate comfort is yours!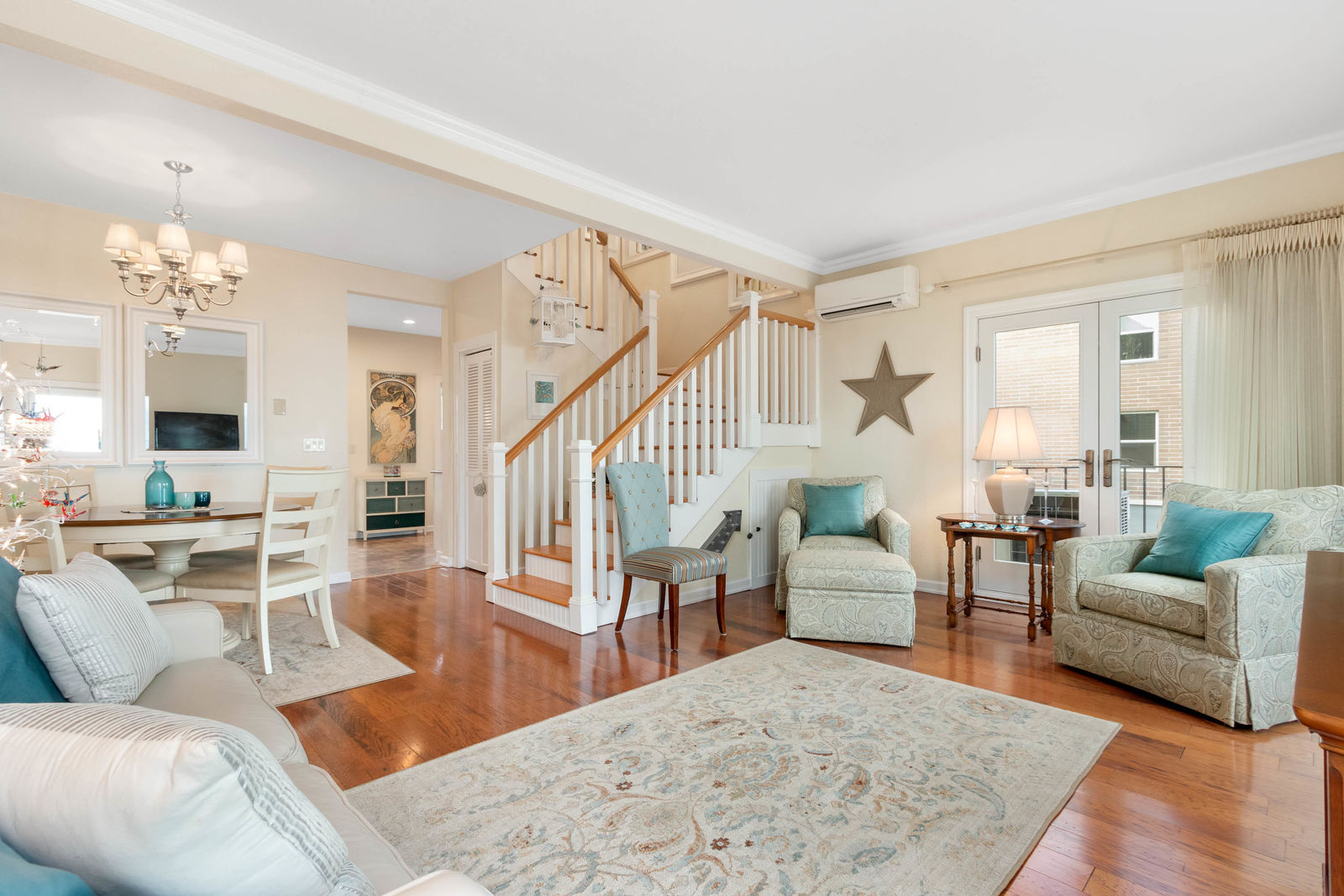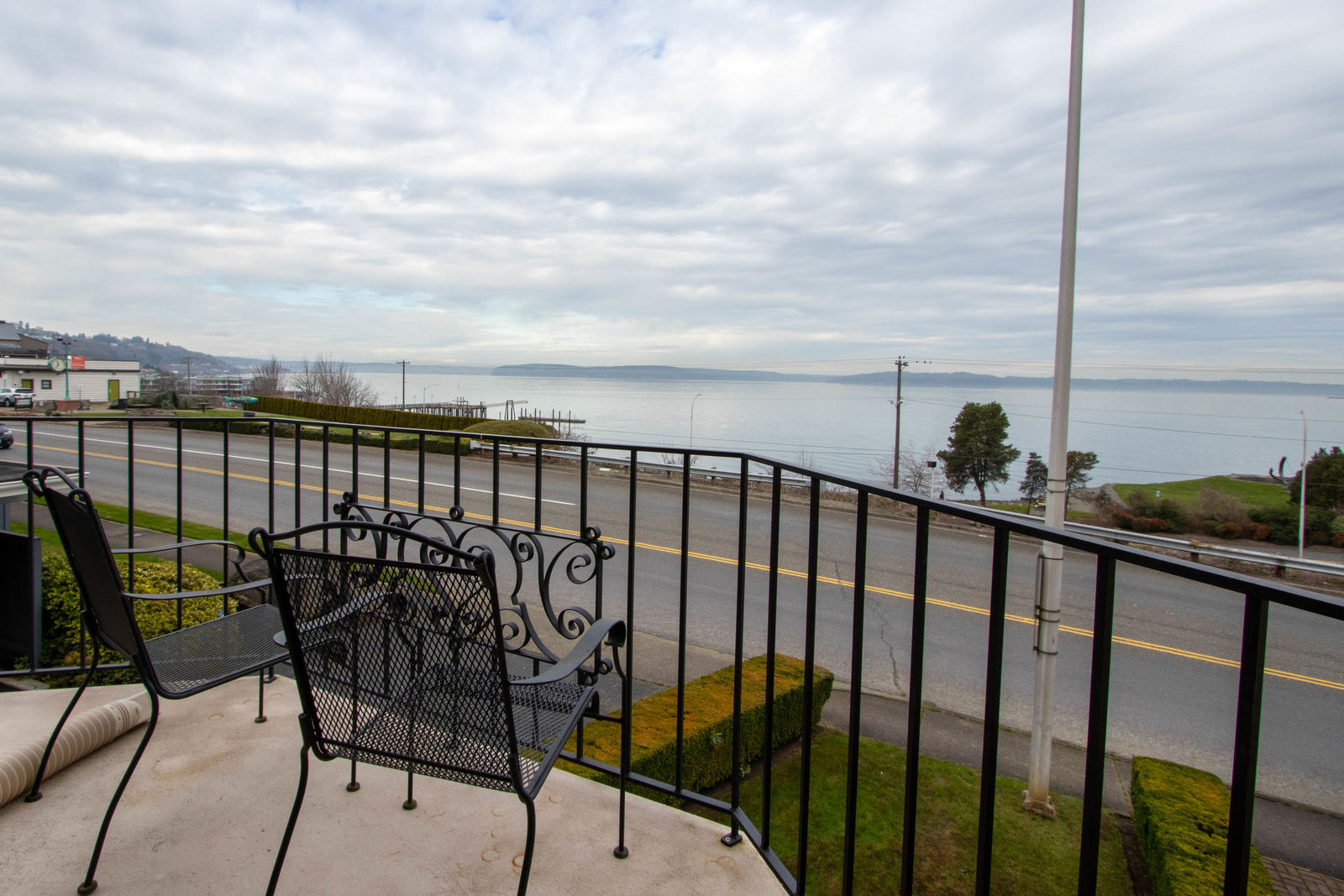 From the living room, the layout seamlessly flows into the charming dining space, and the kitchen is right around the corner. Top-notch efficiency and magazine-inspired style ensure that time spent meal prepping is a joy. Granite counters, custom cabinetry, stainless steel appliances, and thoughtful design elements (like a backsplash that shines with style!) are all wrapped up into this delicious package.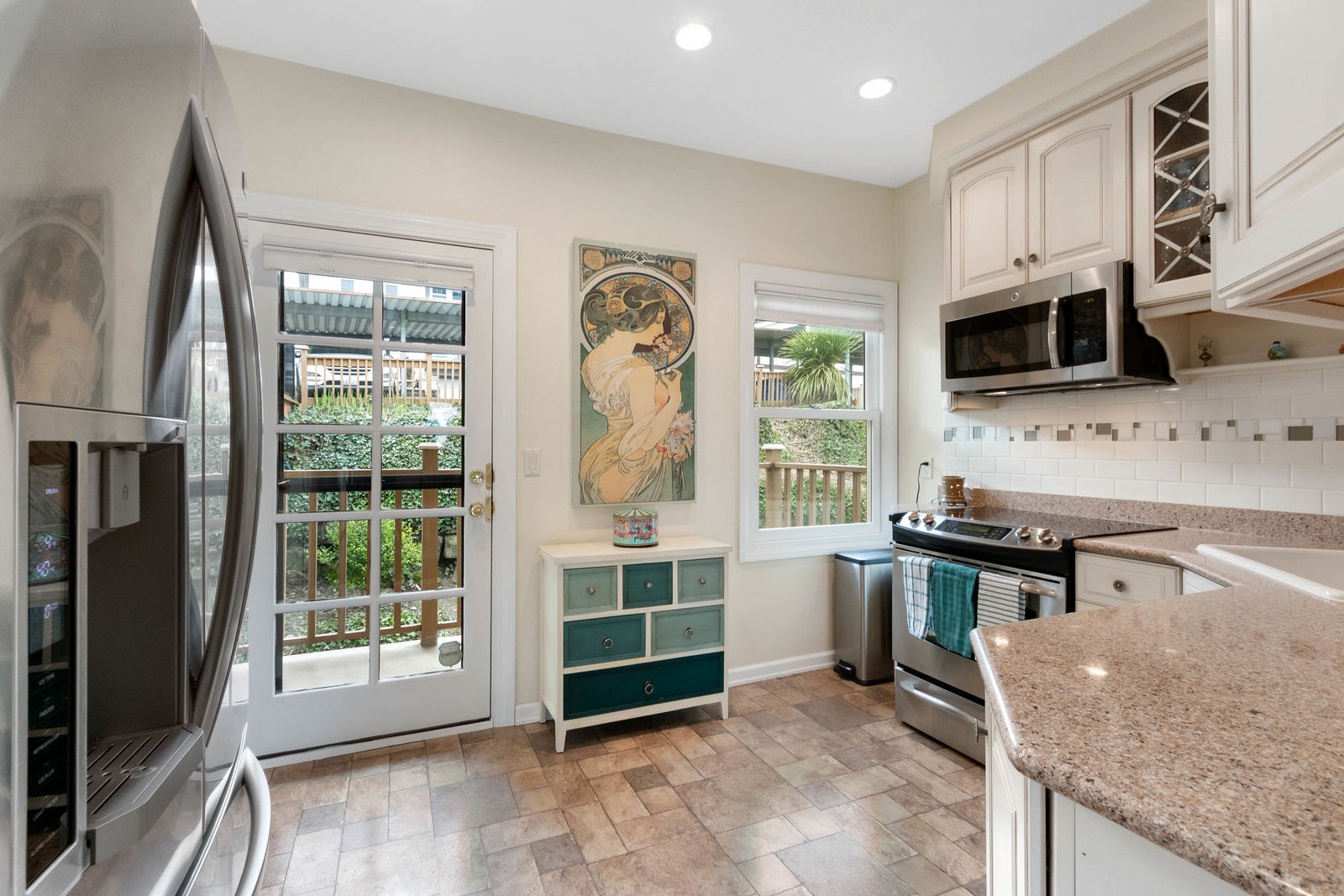 When it's time to unwind, head upstairs to find the spacious bedroom. There's plenty of room for a sitting area and desk, and you can snuggle up in bed with views of the Puget Sound right out your window! A neat barn door slides open to reveal the ensuite bath, closet space, and laundry area (you don't have to worry about hauling loads of laundry up and down the stairs!), and you also have outdoor access from here as well. Even more storage space can be found under the stairs and in the attic.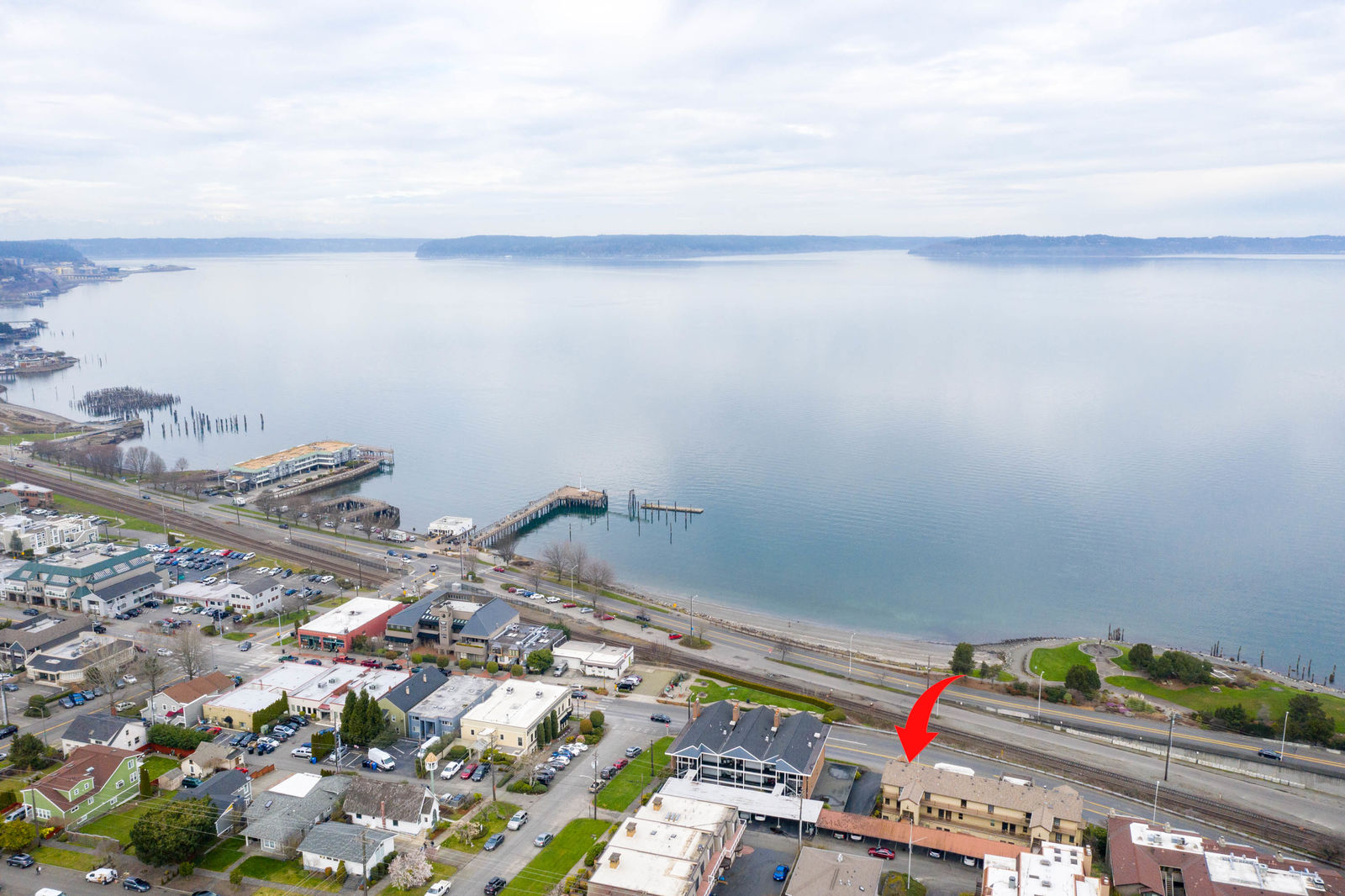 Living in Tacoma's Old Town Neighborhood
At 2006 N 30th St 12 Tacoma, WA 98403, you're in a highly desired North Tacoma neighborhood with outdoor opportunities and city convenience right at your fingertips. Ruston Way is 0.2 miles away (and much closer as the crow flies), making it easy to head to Jack Hyde Park on the waterfront or explore the Ruston Way path, a paved trail that runs all the way past Point Ruston to Dune Peninsula and Point Defiance. Along the way, you'll pass by iconic Tacoma dining, including destination restaurants like Harbor Lights, C.I. Shenanigans, RAM, Katie Downs, Duke's Seafood, Lobster Shop, and more. You also have easy access to plenty of options along North 30th Street—places like The Spar, Starbucks, Ginkgo Forest Winery, Anthem Coffee & Tea, Old Town Park (home to the Job Carr Cabin Museum) and more are all right here. 
This particular location also gives you easy access to the rest of North Tacoma and Downtown, and getting around the city and region is easy from here. You can hop on Schuster Parkway and be on Interstate 705, Interstate 5, and Highway 16 in under 5 minutes. The Tacoma Sounder Station is only a 6-minute drive away (or a 23-minute bus ride away—yes, there's a direct bus from this condo!), making it easy to hop on the Sounder Train straight into Downtown Seattle. 
Interested in learning more? Click here to view the full listing! You can also contact REALTOR® Sharon Chambers-Gordon online here or give her a call/text at (253) 970-4049.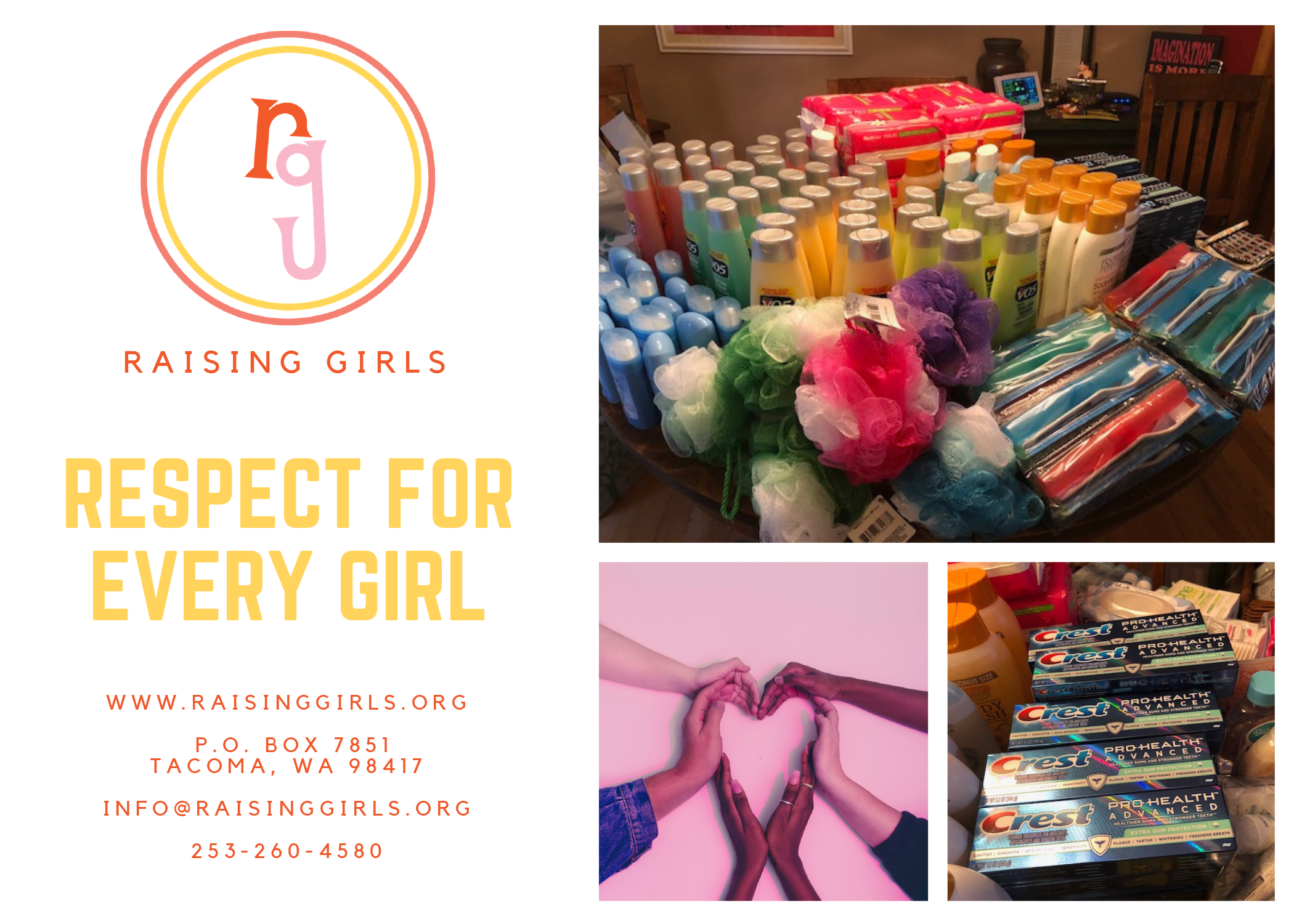 Raising Girls was founded in 2017 with a mission to provide South Sound girls with care bags of personal items that testify to the joys of "girlhood" and show the care and respect their community feels for them.
We are committed to empowering young girls to recognize their own potential by building and encouraging self-respect. We provide necessary hygiene products to girls throughout the South Sound, wherever the need is greatest, partnering with local organizations committed to serving our youth.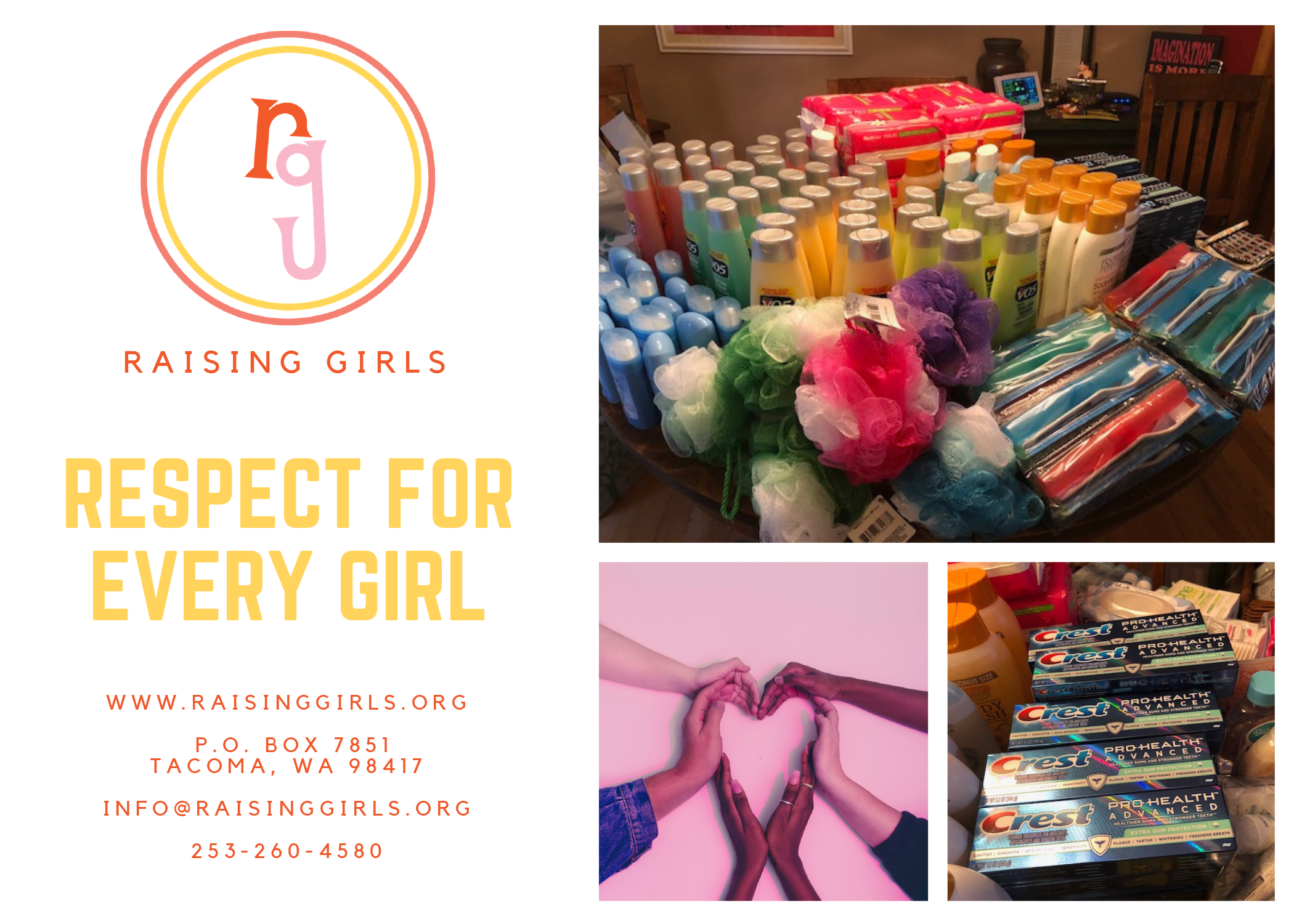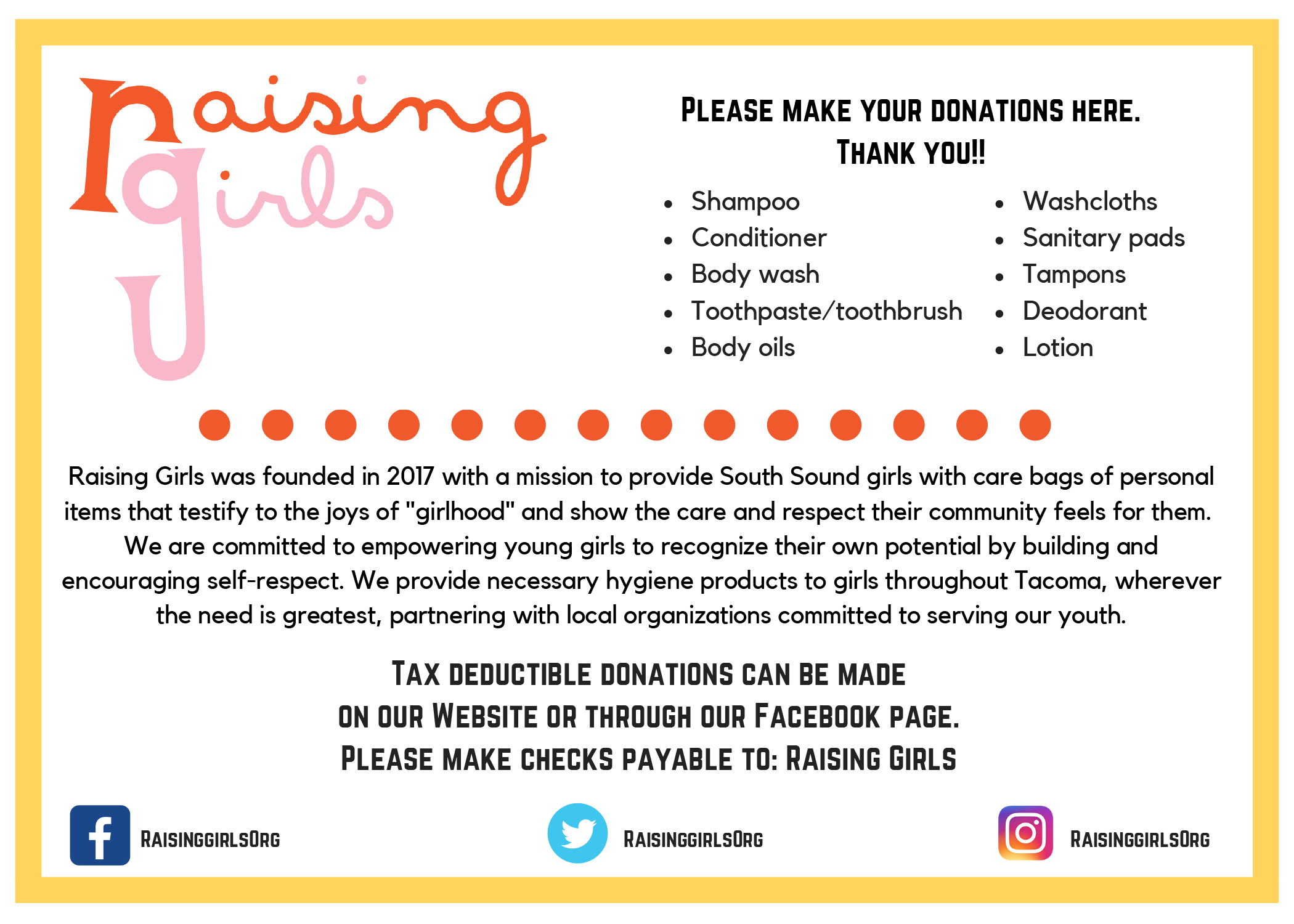 If you would like more information on how you can donate or get involved, please reach out!


 RaisingGirls.org     

 RaisingGirlsOrg     

 RaisingGirlsOrg     

 RaisingGirlsOrg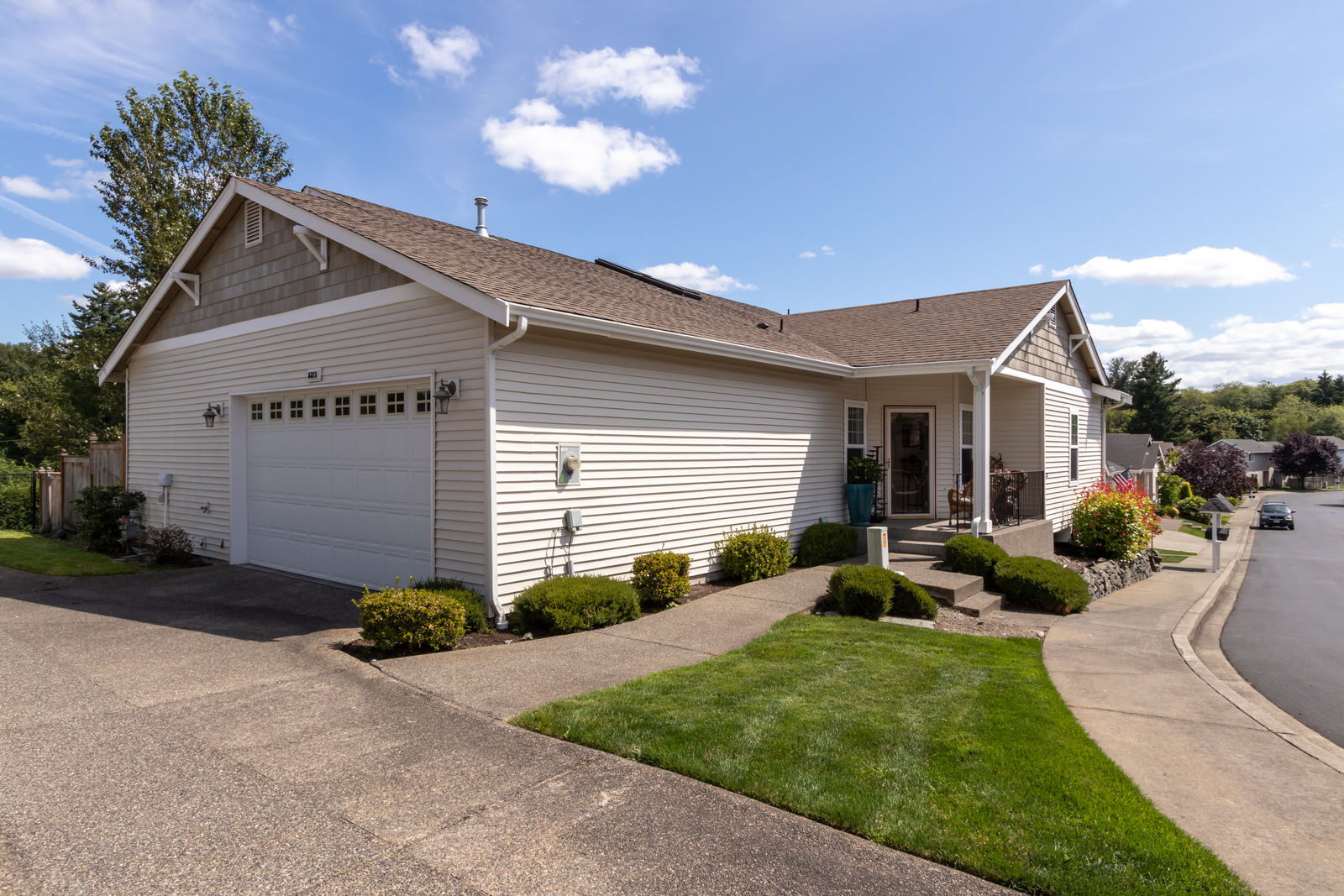 Easy living is all yours with this expansive 1,928-square-foot one-level condo in a prime University Place location. In addition to pristine living spaces designed with entertaining in mind, this stand-alone home includes 2 bedrooms, 2 baths, and even charming outdoor spaces right along a greenbelt. Located at 5323 W 57th Av Ct W 28 University Place, WA 98467 and close to places like Whole Foods, Trader Joe's, the University Place Library and more, this residence is listed for $425,000.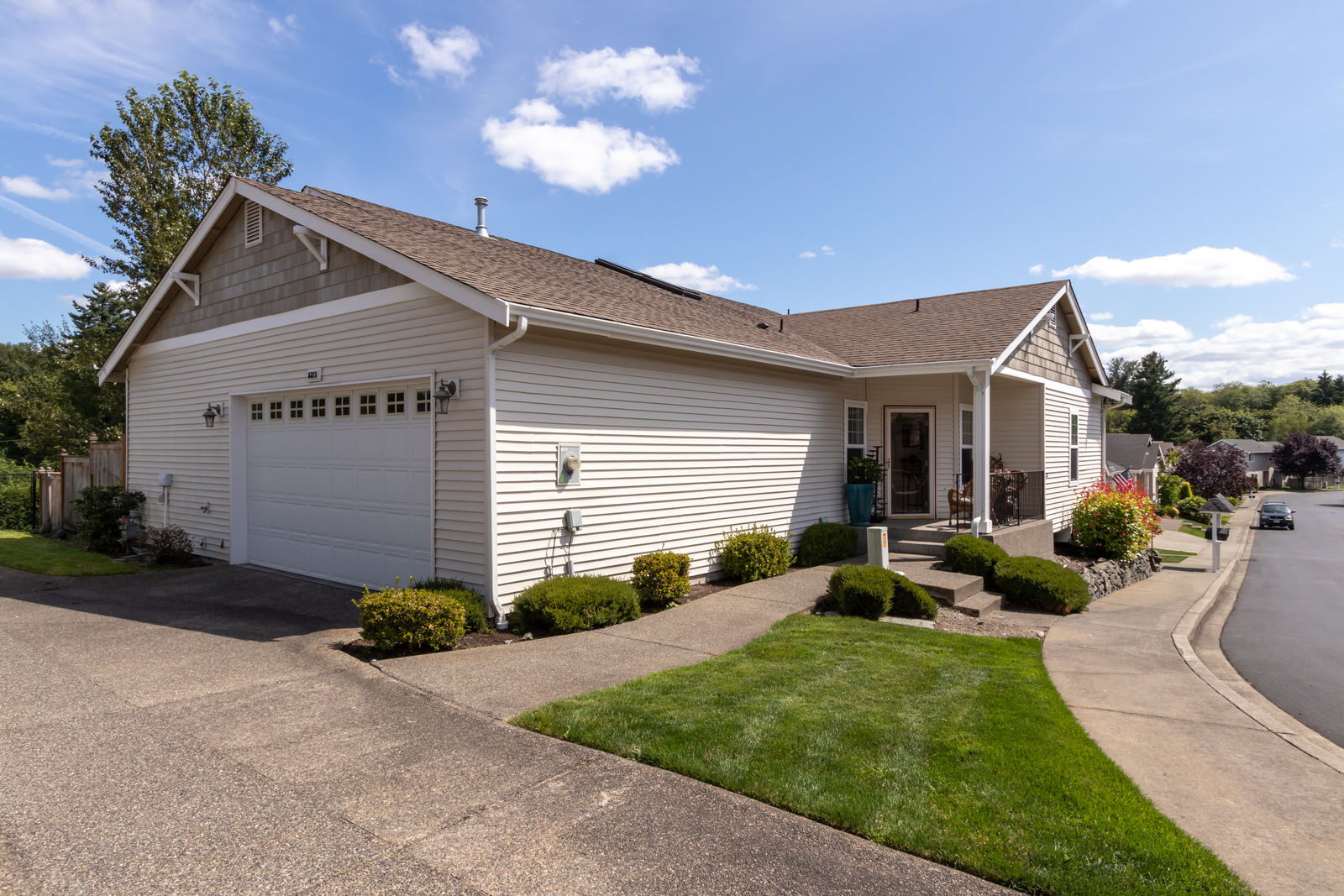 When you step in the front door, this home's elegant entryway invites you in and immediately makes a memorable impression! The formal dining room is a dream for those who love to entertain, and hosting everything from special occasions and dinner parties to holiday feasts are right at home. The well-appointed kitchen makes it all possible, and is conveniently right around the corner. Rejuvenating natural light fills the kitchen, shining the spotlight on the generous layout that includes tons of storage in handsome cabinetry, large counters ready for meal prep, and even a dining nook and the potential for bar-style counter seating.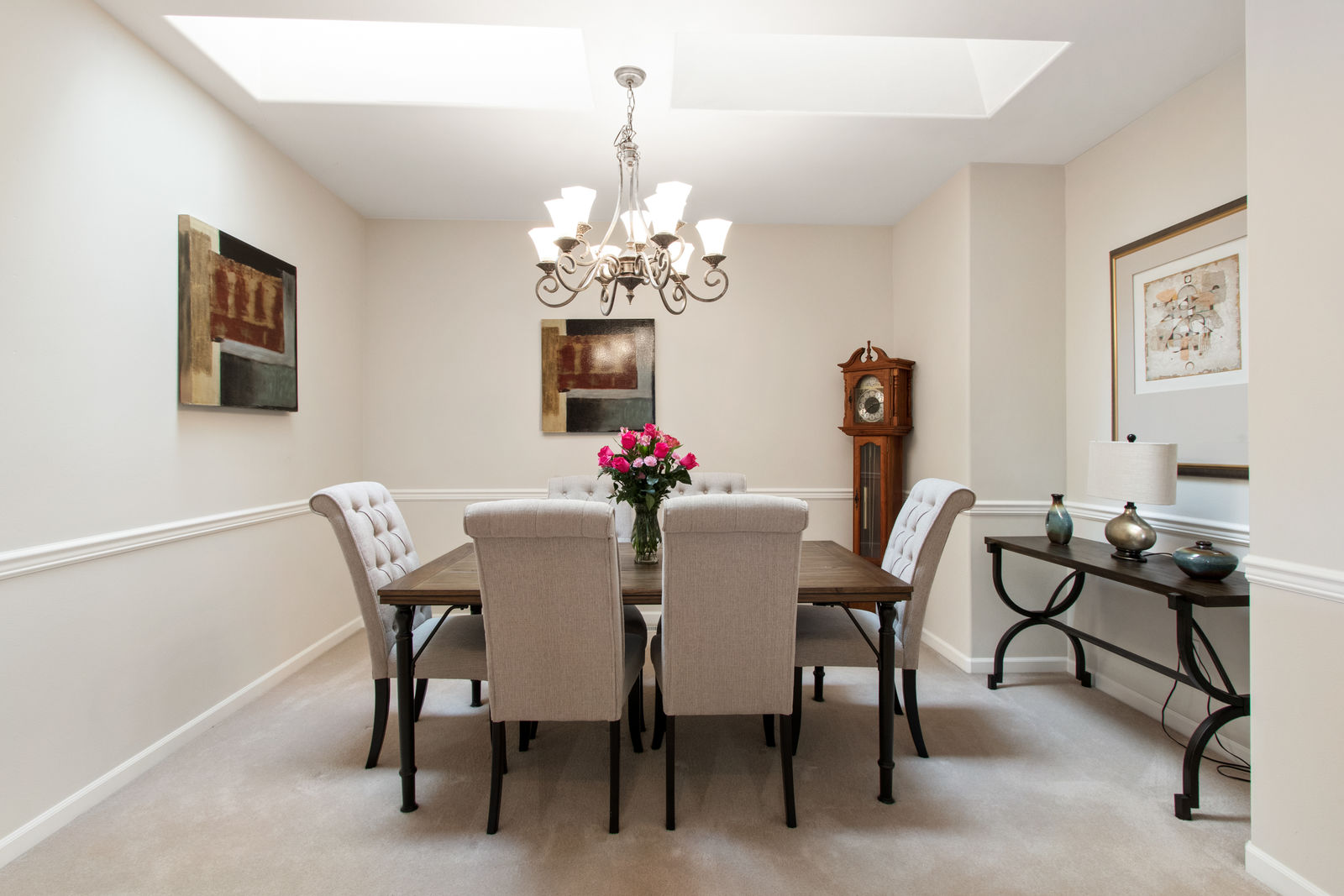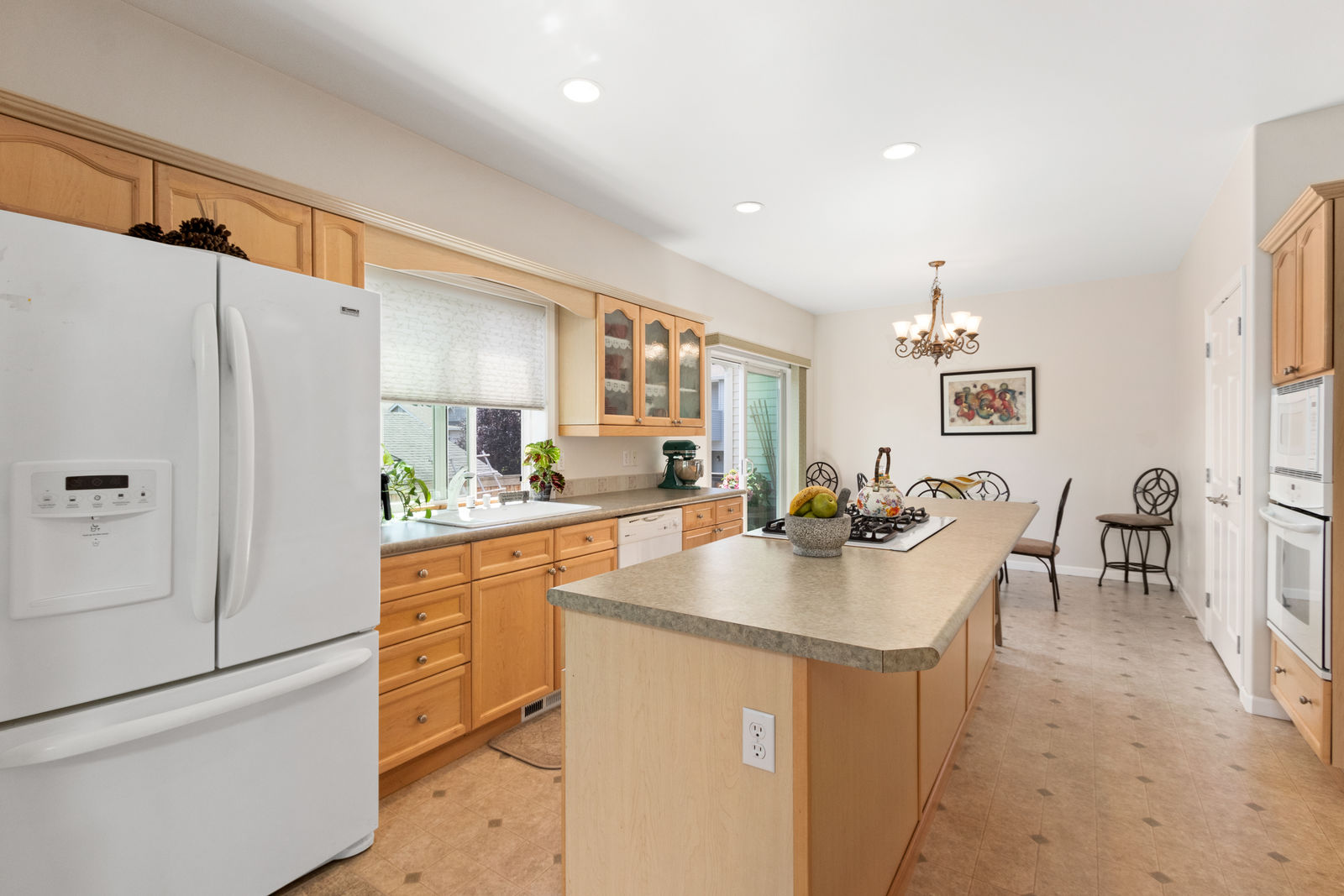 The layout flows right into the living room, and here, vaulted ceilings, views out into the greenbelt, and a stately fireplace characterize the space. Thanks to a calm neutral color palette and impeccable care over the years, new owners can easily move right in and begin decorating to make the space their own!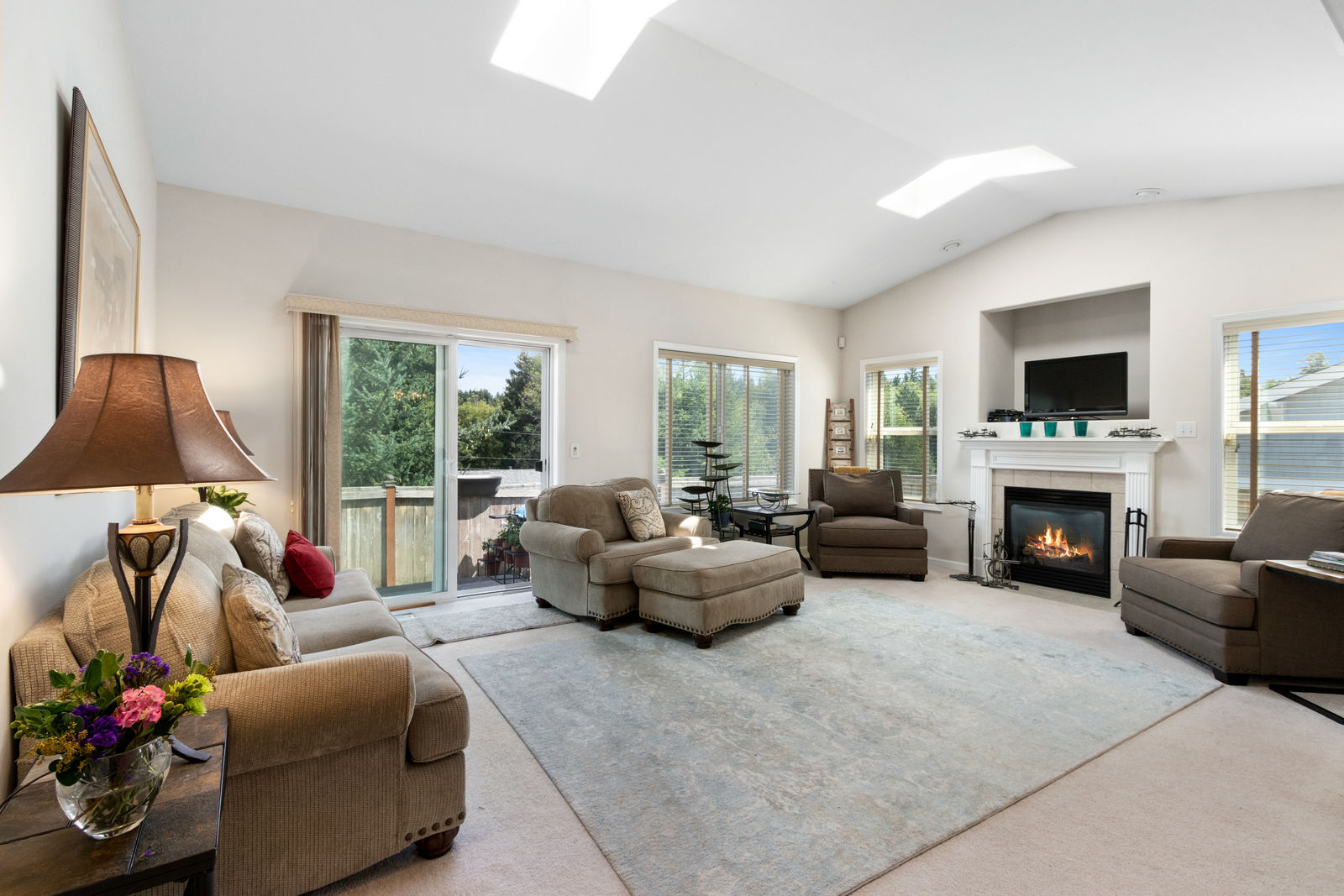 This home's spacious layout also includes a flexible office, a guest bedroom with a full bathroom, and a master suite complete with a 5-piece ensuite bath. The master bedroom is a definite must-see retreat, with its exquisite vaulted ceilings, its walk-in closet with built-in organizers, and its sumptuous ensuite bath that has its very own soaking tub. Wellness routines and luxurious bubble baths are definitely in your future here!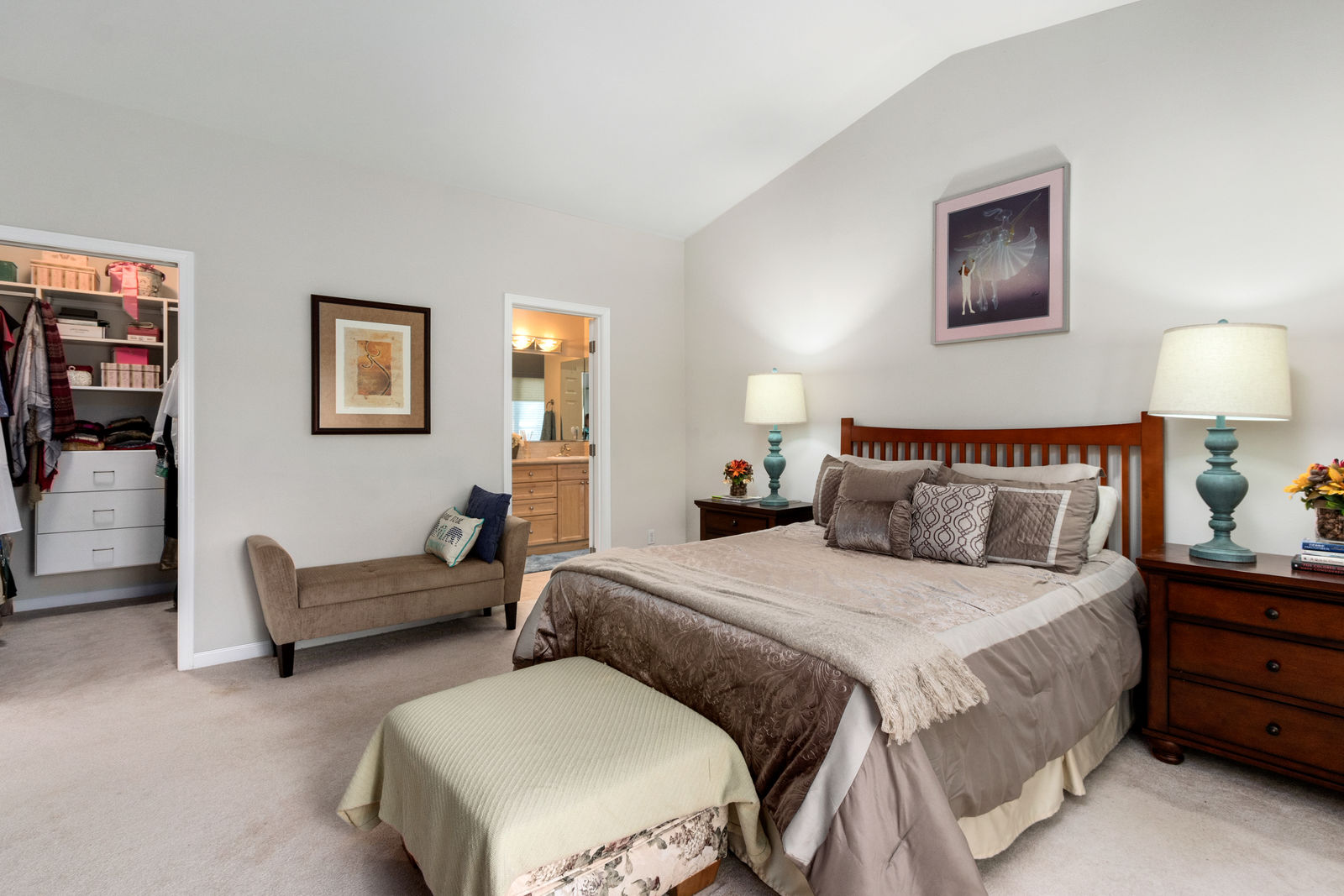 When the weather warms up, you even have a couple of cute outdoor spaces that are all yours to enjoy. 2 patios mean that you can barbecue up dinner all summer long and enjoy al fresco dining out in the fresh air. There's plenty of potential here for those who love to do a bit of gardening, too—put your green thumb to work cultivating raised garden beds and flower pots filled with vibrant blooms! You also have views of a scenic greenbelt for additional privacy, and extra off-street parking promises convenience.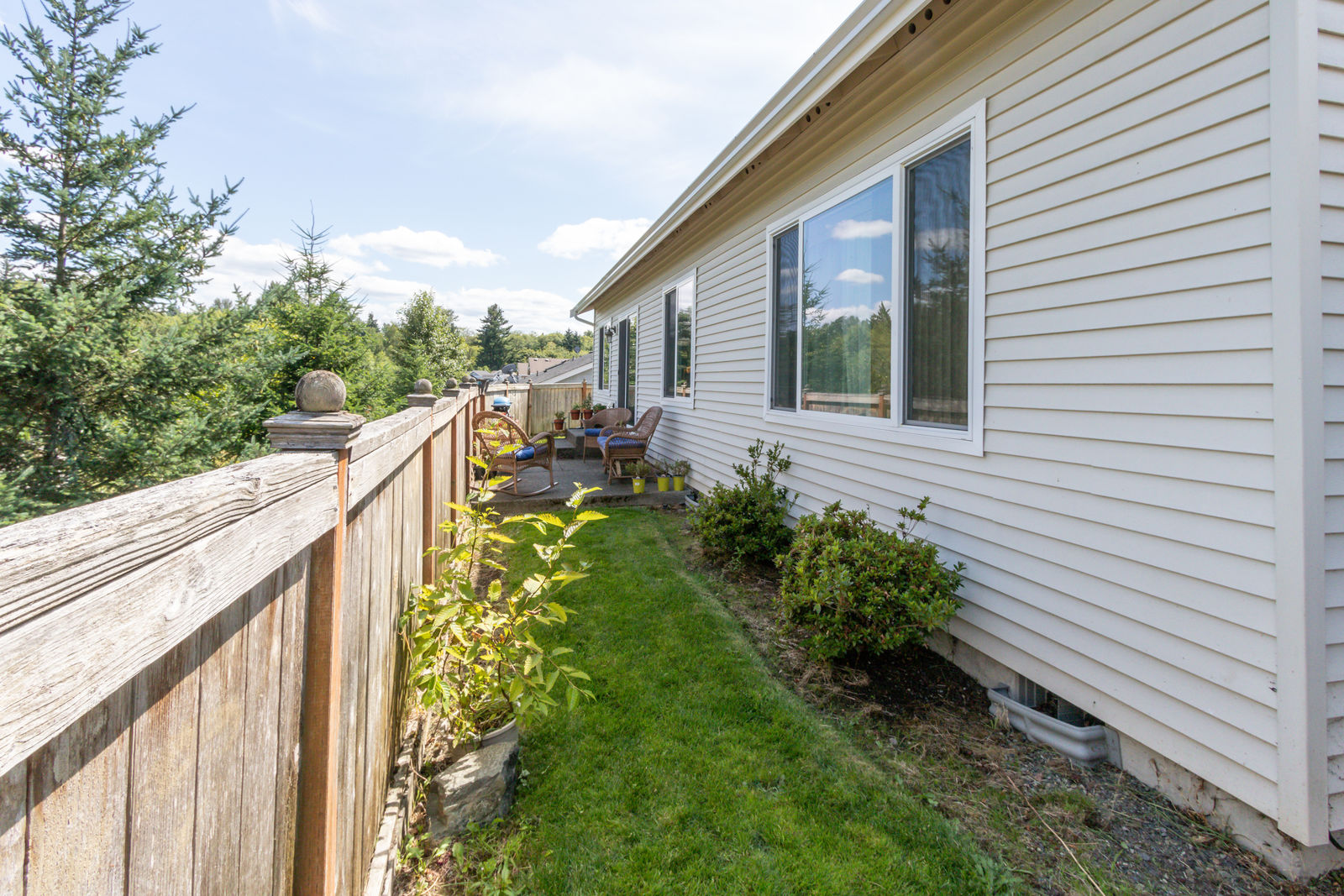 Living in University Place 
At 5323 W 57th Av Ct W 28 University Place, WA 98467, you're in a prime University Place location with top city amenities right at your fingertips! Bridgeport Way is just minutes from home, and here you'll find everything from shopping and restaurants to services and community events. Places like Whole Foods, Trader Joe's, Safeway, Walgreens, MultiCare, the University Place Pierce County Library, and more are all at your fingertips. 
Interested in learning more? Click here to view the full listing! You can also contact REALTOR® Sharon Chambers-Gordon online here or give her a call/text at (253) 970-4049.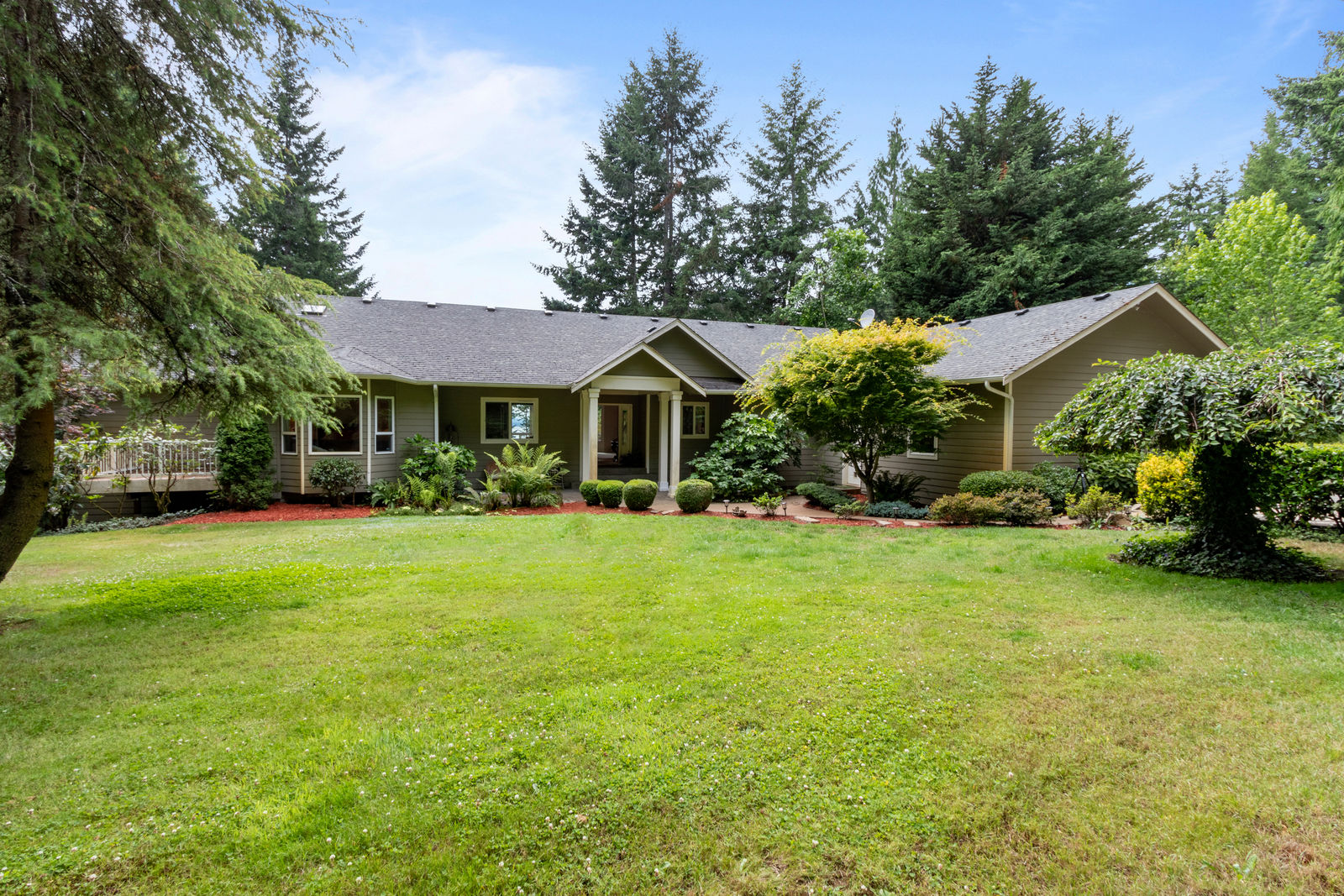 This extraordinary retreat is tucked away in Longbranch on 8.3 picturesque acres, presenting a truly rare opportunity! Featuring a palatial 3,556-square-foot layout with 4 bedrooms (which includes 2 master suites), 4 baths, open-concept living spaces, and even guest suite potential on the lower level (complete with its own separate entrance and kitchenette), this Pacific Northwest gem presents timeless style and premium amenities at every turn. Located at 18806 71st St Ct SW Longbranch, WA 98351 and just 7 minutes from the Longbranch Marina, this 2000-built dream home is listed for $599,000.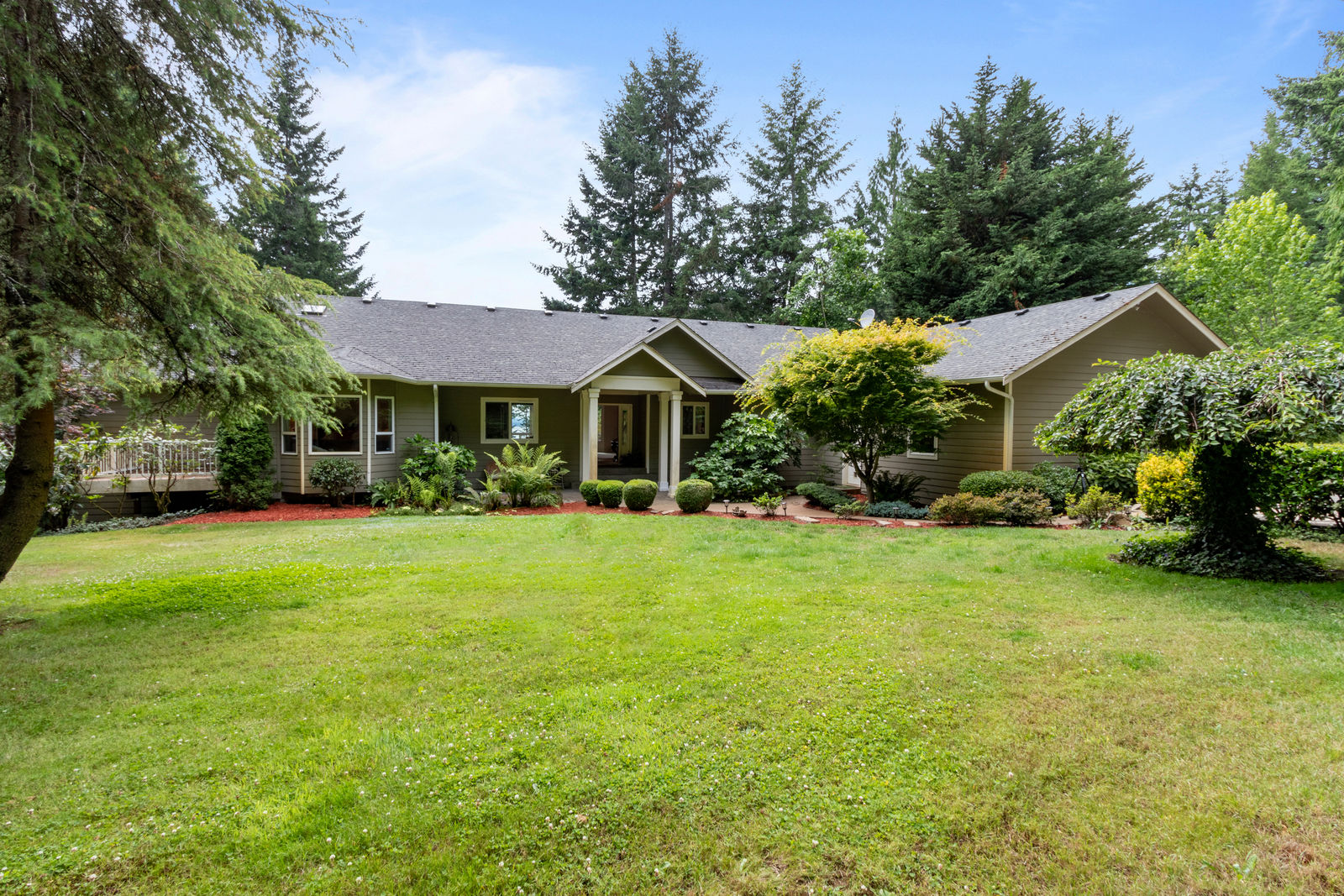 Nestled in a park-like setting that offers views of the water and mountains, this lovingly maintained gem is truly a joy to arrive home to each and every time. Classic design is framed by mature landscaping and a lush natural setting, and the column-accented entryway offers a memorable first impression. This home's welcoming layout unfolds to reveal an open and inviting scene that makes it easy to spend time with loved ones in, and abundant natural light contributes to the cheerful, rejuvenating feel of the space. The main living area boasts huge picture windows, a see-through fireplace, and ample room to transform with your own cherished furniture and decor.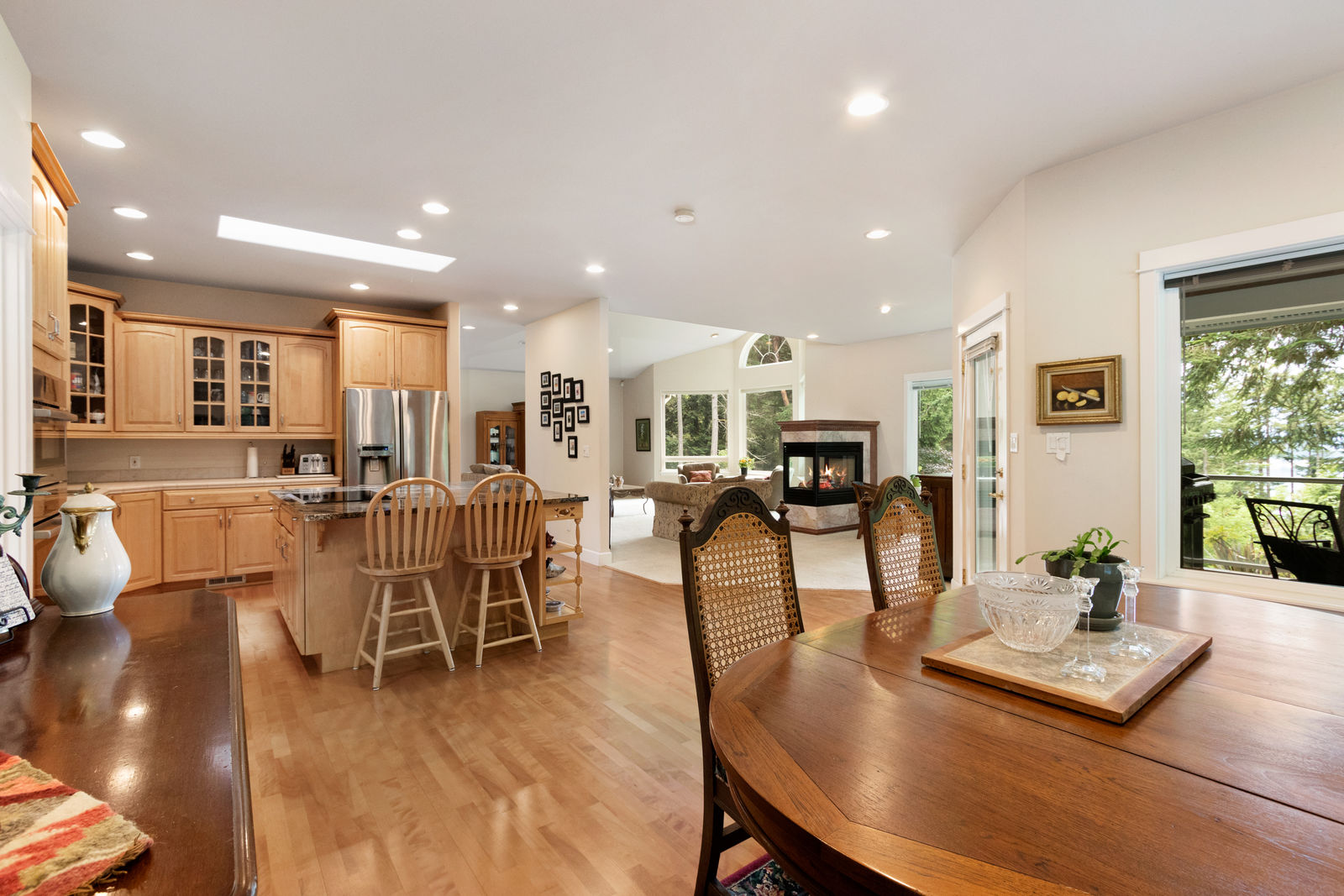 The layout flows right into the dining area and kitchen, a well-appointed haven of both fashion and function. A huge granite island is the perfect space to gather around when you're entertaining guests, and the large counters promise ample meal prep space! In addition to handsome cabinetry that offers easy access to kitchen essentials, a walk-in pantry provides even more expertly designed space to stay organized in.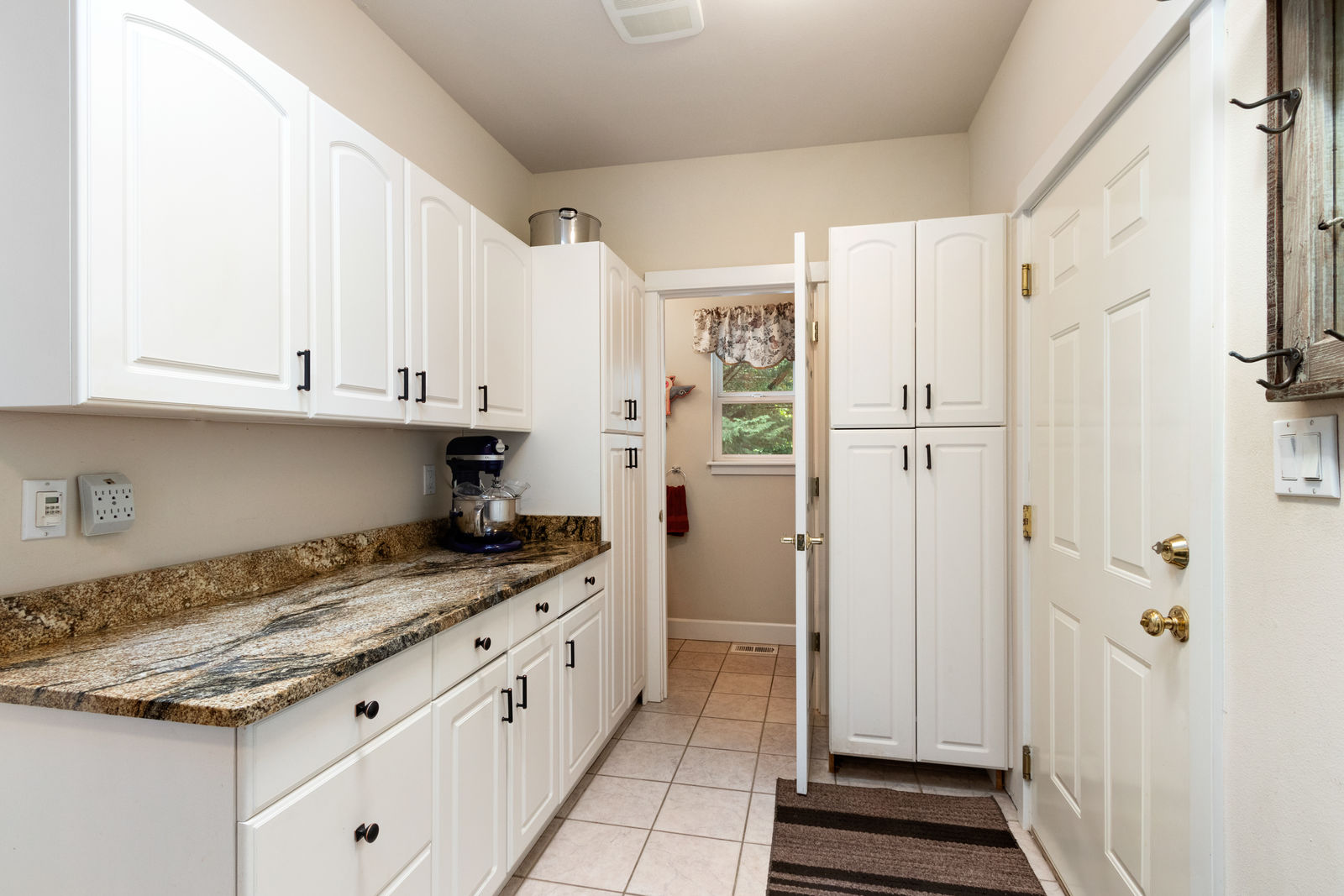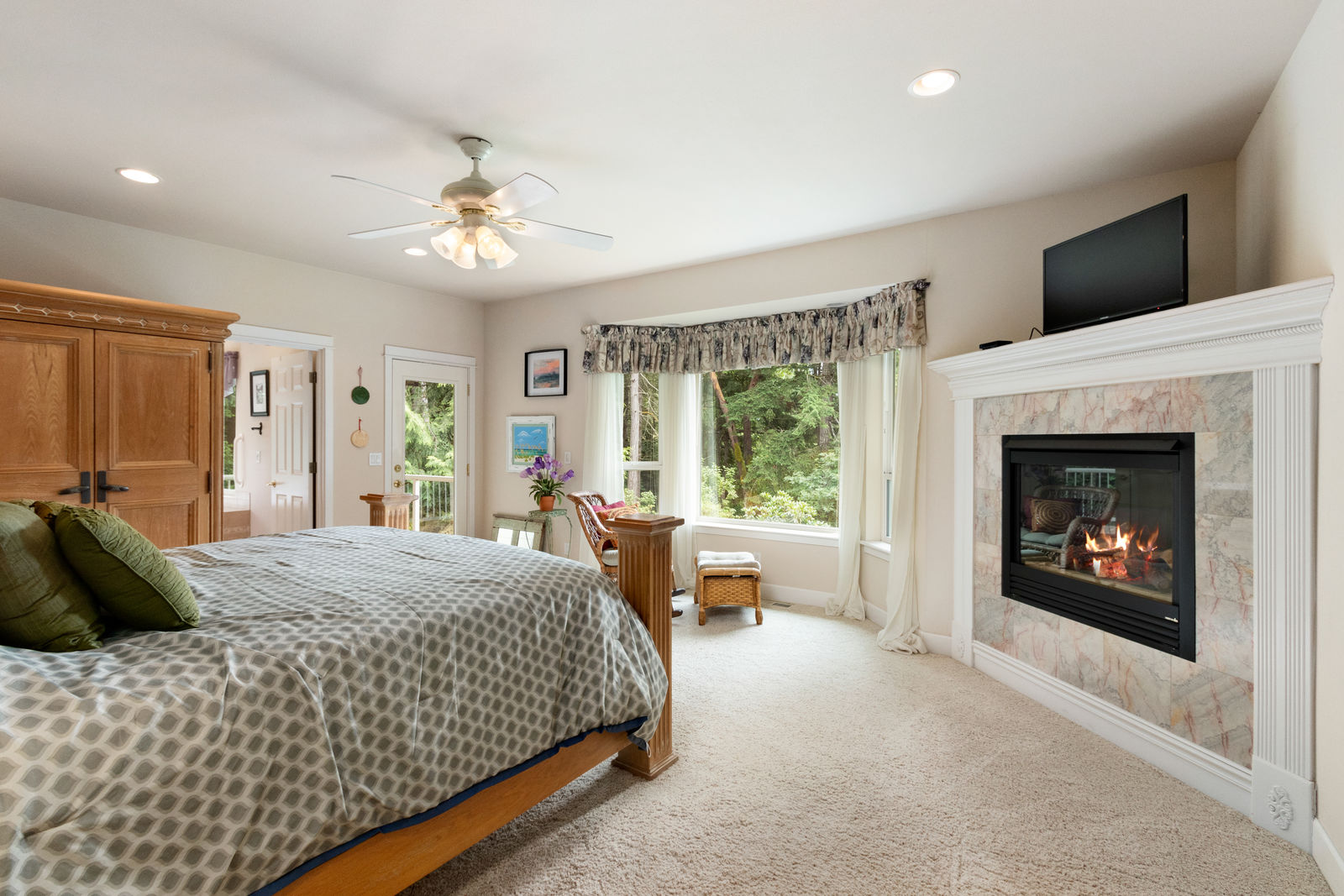 The main level includes a master suite, and this resort-worthy retreat is the epitome of luxury! Enjoy snuggling up in bed with tranquil views of nature and a cozy fire roaring in the fireplace, and you even have access to your very own deck. An ensuite bath is also at your fingertips, and here, the corner soaking tub is a definite highlight! Each additional bedroom offers loved ones and guests alike luxurious privacy, and the lower level features the 2nd master suite (complete with its own bath that boasts heated floors and a heated towel rack!). The lower level also has its own kitchenette and a family room with a separate entrance, offering you wonderful flexibility in use.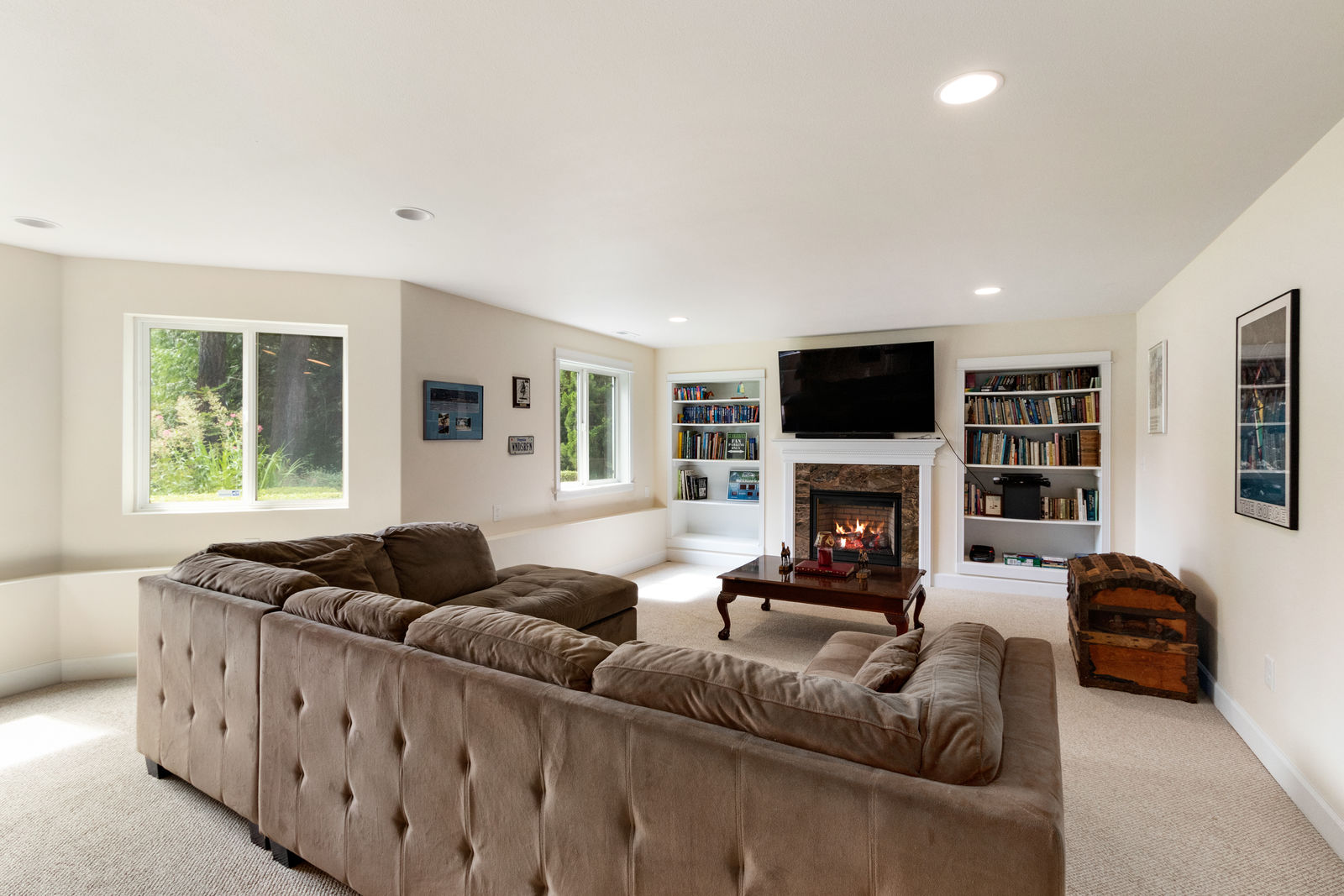 This property's outdoor amenities are just as impressive as its indoor offerings, and of the 8.3 acres that you have all to yourself, 1.5 acres of this space are conveniently cleared for your lawn and gardens. Natural beauty and captivating vistas await at every turn, and you have 4 decks to take in the photo-ready views from. Fruit trees, lovely landscaping, and a koi pond make up this idyllic scene—peace, privacy, and Pacific Northwest paradise all await!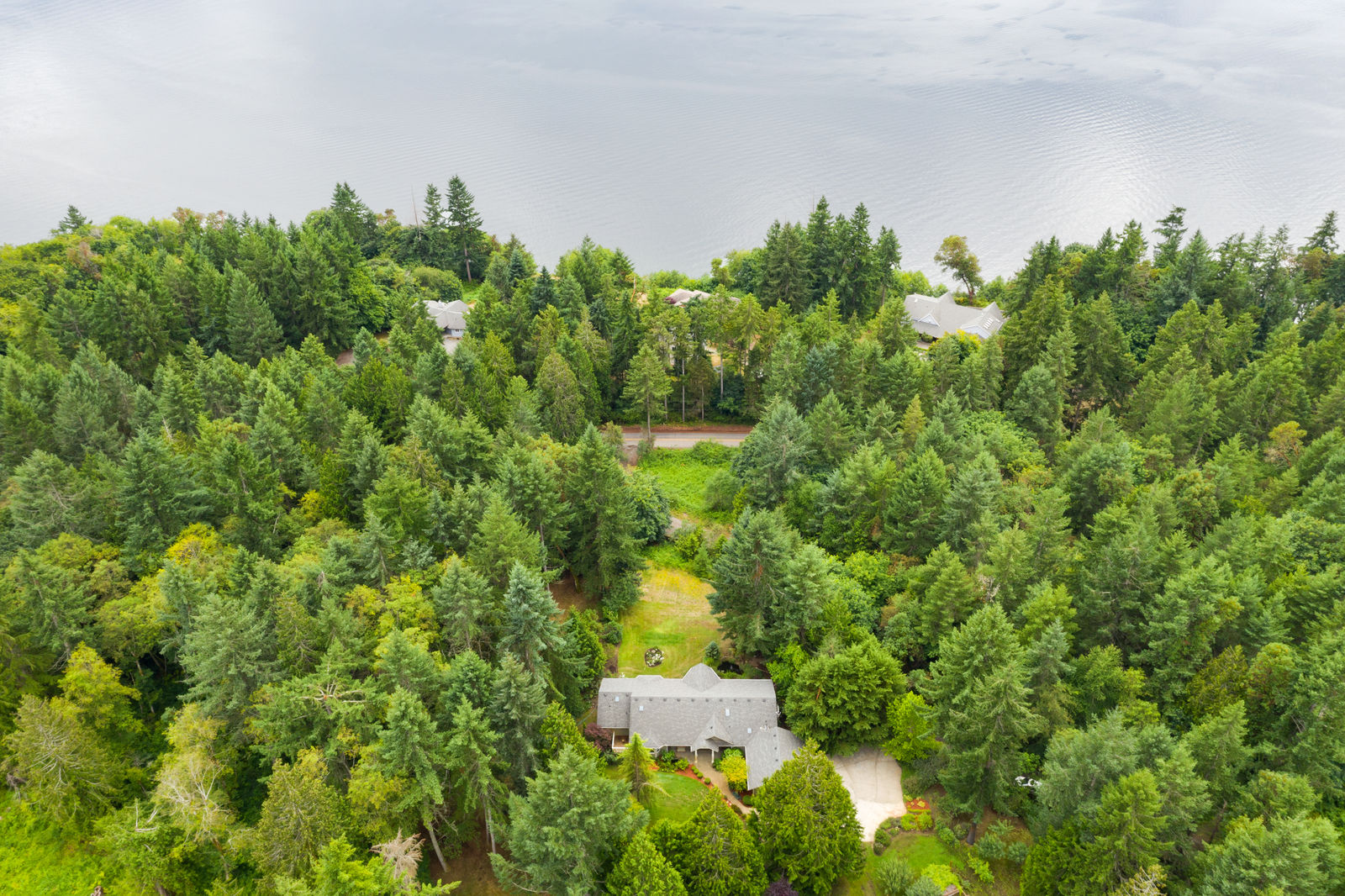 Living in Longbranch
At 18806 71st St Ct SW Longbranch, WA 98351, you're in a wonderfully secluded area that lets you escape from the hustle and bustle of city life. You're only 7 minutes from the Longbranch Marina, a definite perk for those who'd like a convenient place to moor a boat. This particular location is an absolute dream for outdoor enthusiasts—not only do you have easy access to boating and other water sports, but attractions like Joemma Beach State Park, Penrose Point State Park, and Haley State Park are all easily within reach. Highway 16 is a 30-minute drive away, and here you can access all of the larger city amenities of nearby Gig Harbor. 
Interested in learning more? Click here to view the full listing! You can also contact REALTOR® Sharon Chambers-Gordon online here or give her a call/text at (253) 970-4049.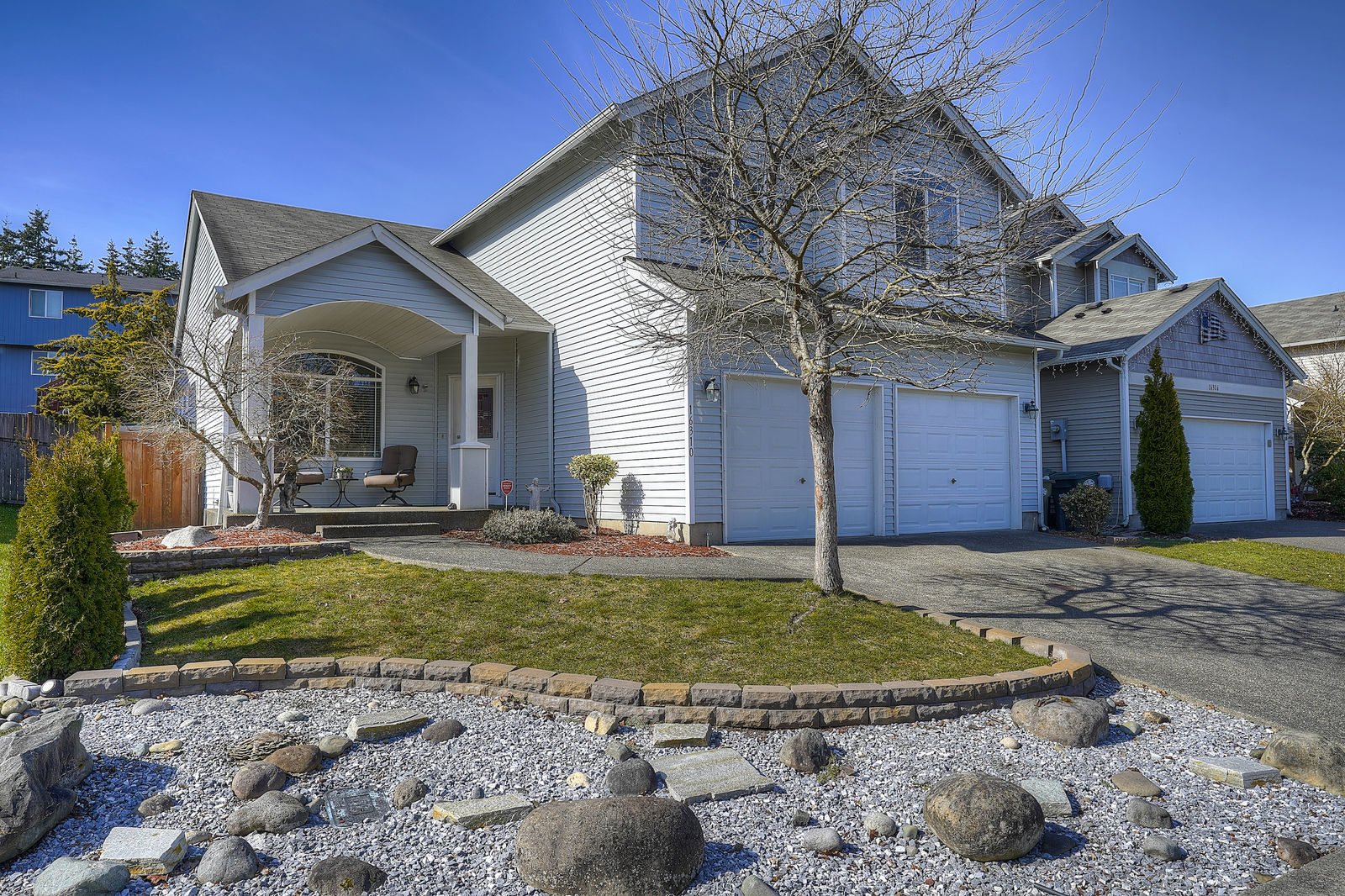 Pride in ownership shines from every corner of this 2,398-square-foot Puyallup gem. In addition to 4 bedrooms and 2.5 baths, this residence is brimming with beautifully designed living spaces that are ready for entertaining and living the life you've been dreaming about! Nestled on a cul-de-sac in the Cobblestone subdivision, this beauty also offers you the opportunity to live in a picturesque residential setting while still being merely minutes to some of Puyallup's top amenities. Located at 16310 E 88th Ave Puyallup, WA 98375, this move-in ready South Hill home features a brand new roof and is listed for $380,000.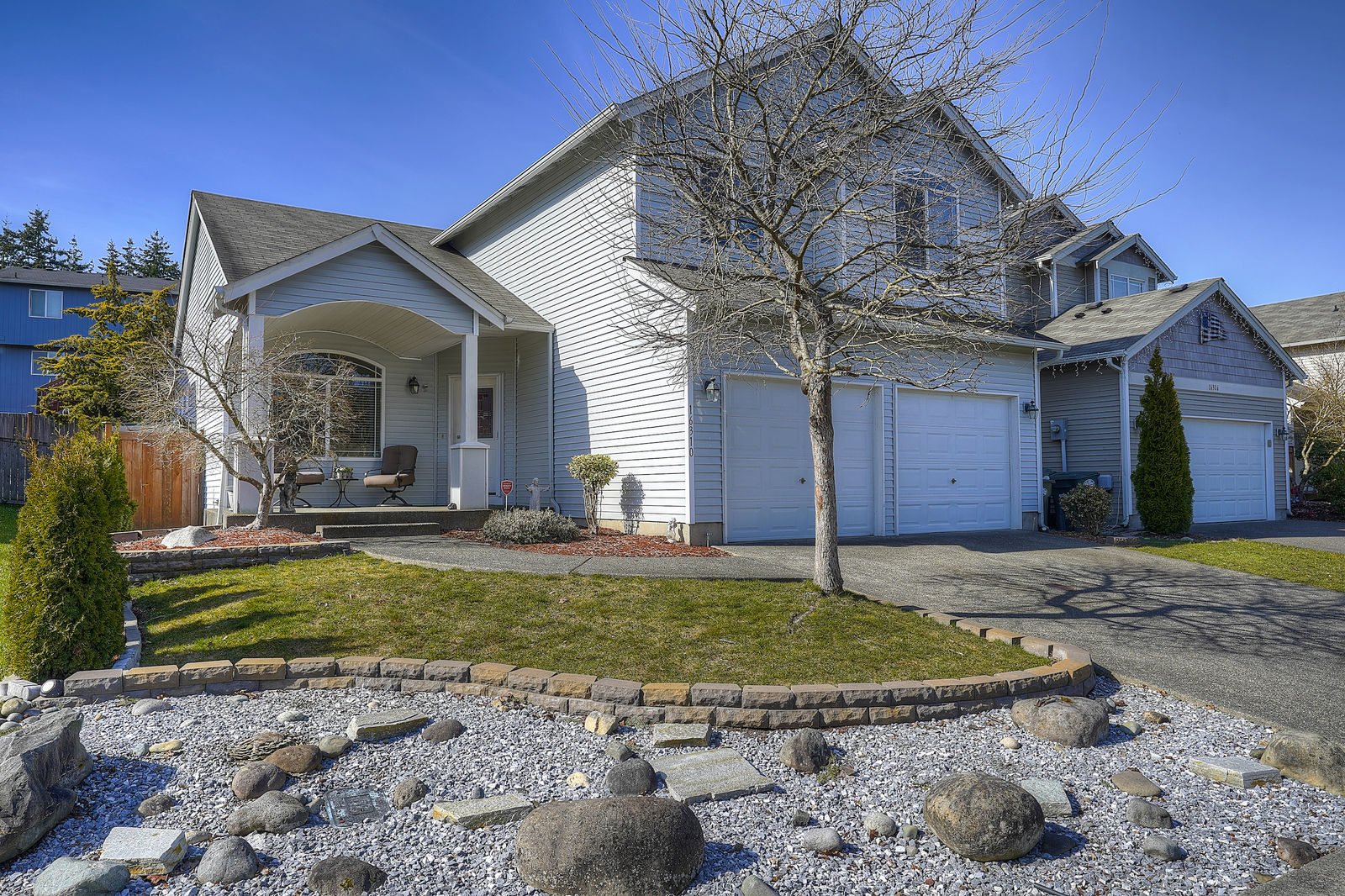 Pristine, artful landscaping and a welcoming front porch await as you pull in the driveway, and when you step inside, this home's light-filled atmosphere beckons. The warm color palette coupled with all of the natural sunlight creates a sundrenched oasis that you're sure to love spending time in whether you're visiting with guests or lounging on the couch reading a good book. The living room opens up into the dining area, making it easy to transition from cocktail hour to dinnertime!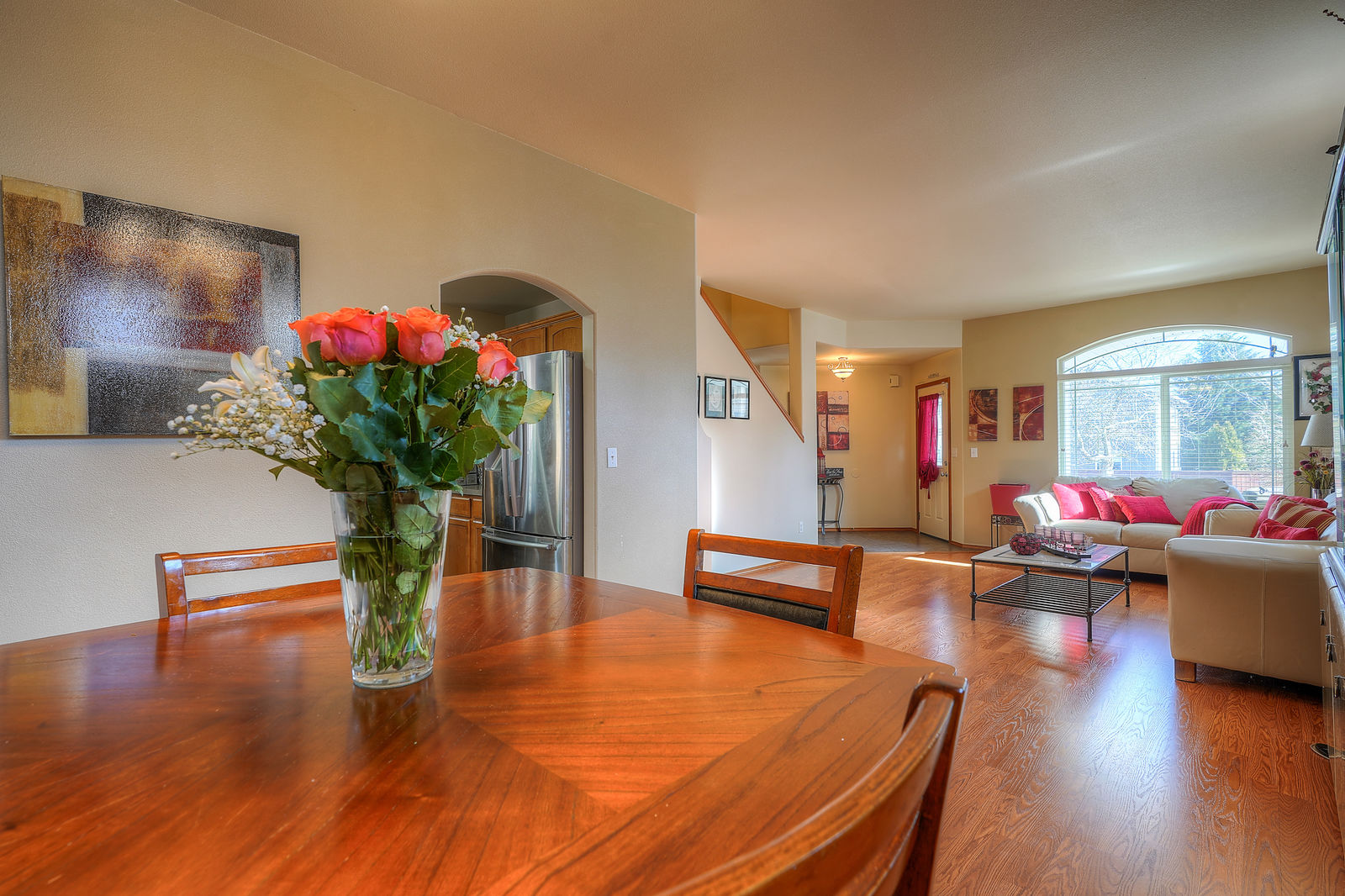 The spacious, gourmet kitchen is right around the corner, and this masterfully designed space is brimming with everything you need. From the shimmering granite counters on the center island and stainless steel appliances to all of the ample storage space that you'll find in generous cabinetry and pantry, the kitchen is an absolute dream! Whether you need space to spread out on in order to make your famous homemade recipes or you need a stylish haven to invite guests into, the kitchen is sure to become the center of daily life. Plus, the adjacent dining nook offers yet another sunlit space to enjoy.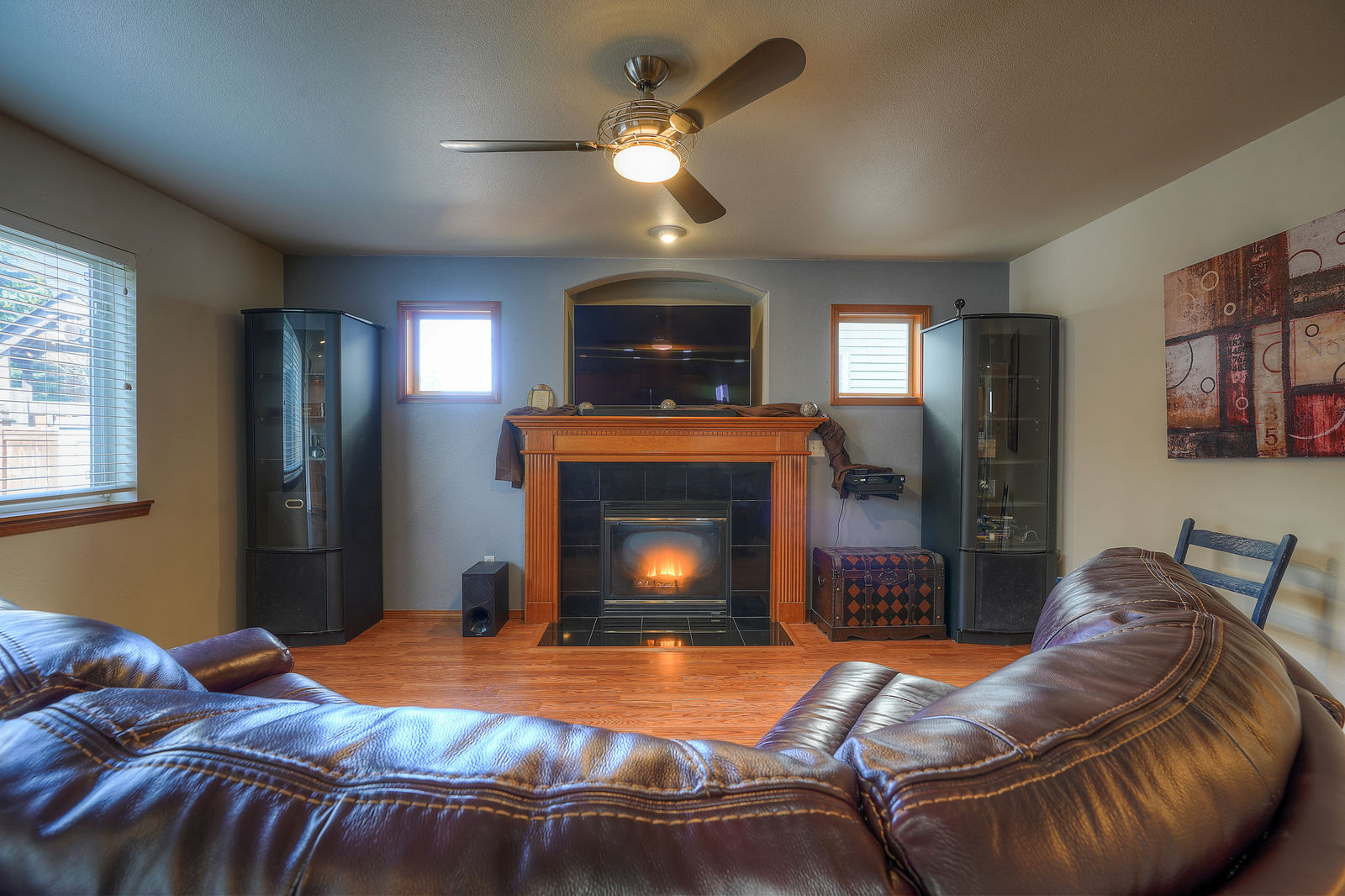 In the family room, a haven of relaxation and comfort awaits. The beautiful tile and wood-wrapped gas fireplace and TV alcove anchor the space, and laid-back evenings spent with the company of loved ones and catching up on your favorite TV shows are made all the more lovely here!
The main level features a versatile bedroom/den, and head upstairs to find even more flexible space. A large loft area at the top of the stairs could easily be transformed into an entertainment center, play area, office space, or fitness center, and you'll find the same fabulous potential in the rest of the bedrooms. The master bedroom is especially worth highlighting—this indulgent retreat offers luxury at your fingertips! Stunning recessed lighting details line the ceiling for a captivating, glowing ambiance, and the huge walk-in closet and ensuite bath are just the cherry on top of this dynamic space. The 5-piece ensuite bath boasts standout features like a dual shower and soaking tub, making wellness routines all the more refreshing!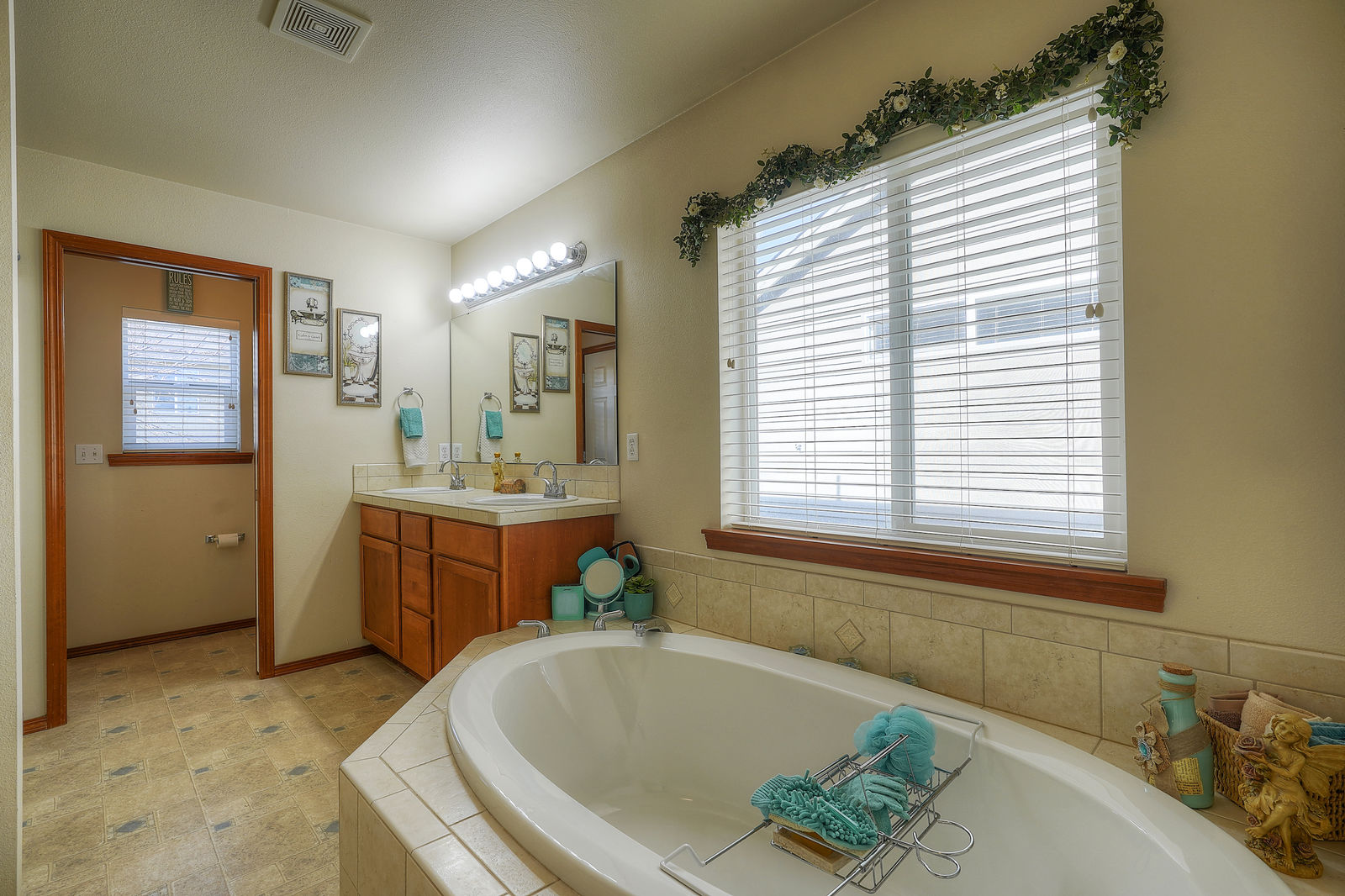 When the weather warms up, this property's fully fenced, storybook backyard is ready to offer vacation-like weekends without ever having to leave the comfort of home. The patio is absolutely perfect for barbecues and al fresco dining, and vibrant flower baskets and a strand of firefly lights would give this space an instant refresh! Take in the view of the lush garden, a definite treat for garden enthusiasts who love spending sunny afternoons out in the tranquility of nature.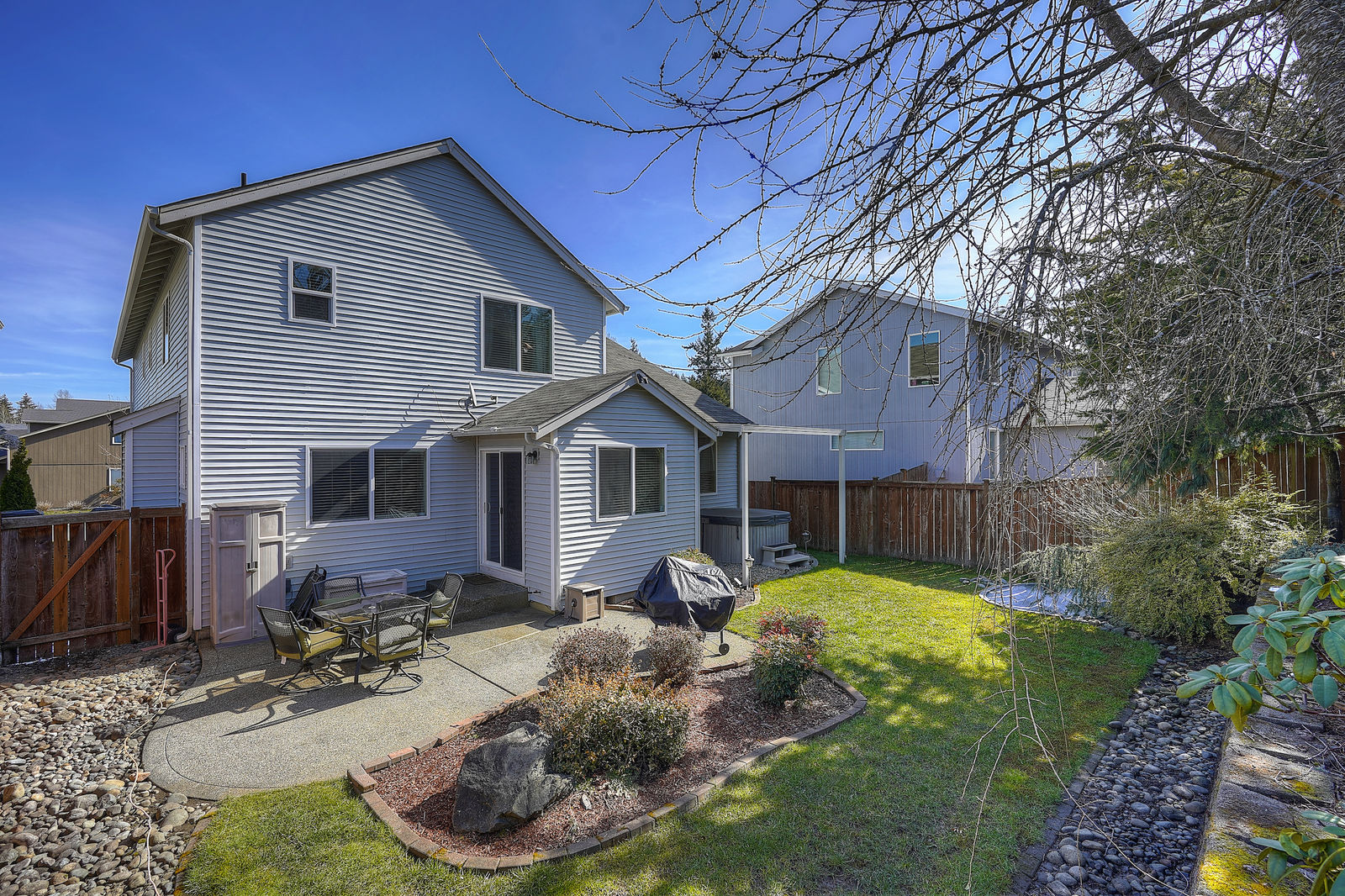 Living in Puyallup
At 16310 E 88th Ave Puyallup, WA 98375, you're tucked away in a cul-de-sac and merely minutes to shopping, dining, schools, services, and more in the South Hill area of Puyallup. Schools are just a couple minutes from home, as are popular spots like WinCo Foods, Fred Meyer, Walmart Supercenter, and a long list of other conveniences. The Sunrise Village shopping center is right there as well, and here you'll find Target, LA Fitness, PetSmart, and several eateries, services, and other shops!
Interested in learning more? Click here to view the full listing! You can also contact REALTOR® Sharon Chambers-Gordon online here or give her a call/text at (253) 970-4049.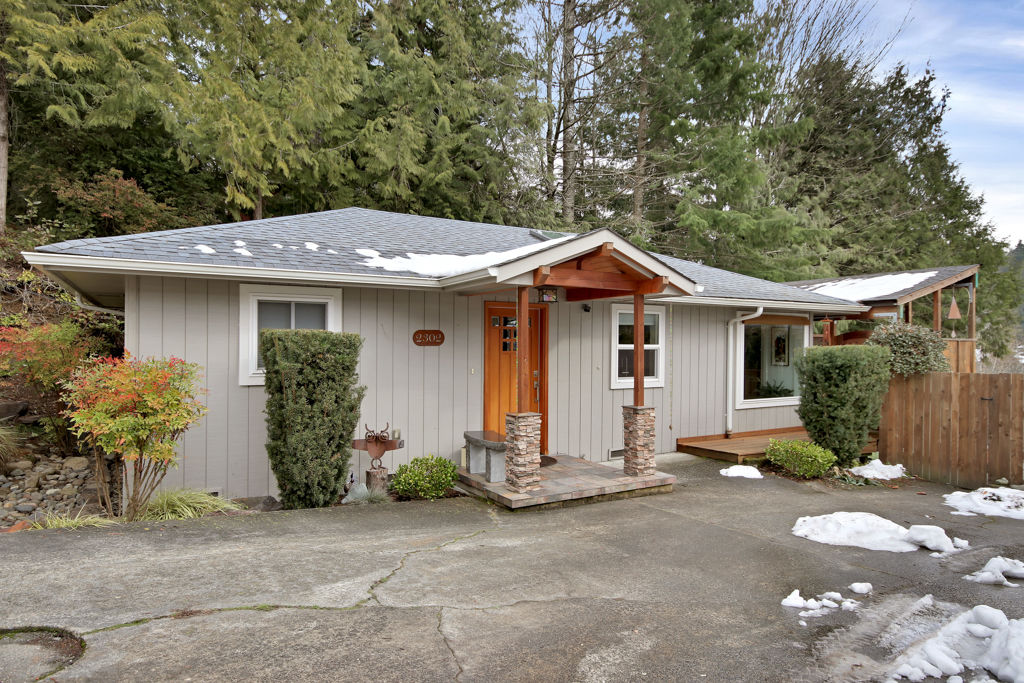 Vacation-worthy living awaits with this 1,488-square-foot home nestled right along Crescent Lake! Enjoy having the main house with one bedroom and one bath, along with the additional living space that offers privacy and flexibility. Lovingly maintained, this home was completely renovated right down to the studs in 2011, and new owners are sure to love the rich hardwoods, quartz counters, recessed lighting, and fine finishes! All of this is yours, plus a gorgeous fully fenced, professionally landscaped yard on scenic Crescent Lake. Located at 2302 NW State Game Rd NW Gig Harbor, WA 98332, this one-of-a-kind residence is listed for $455,000.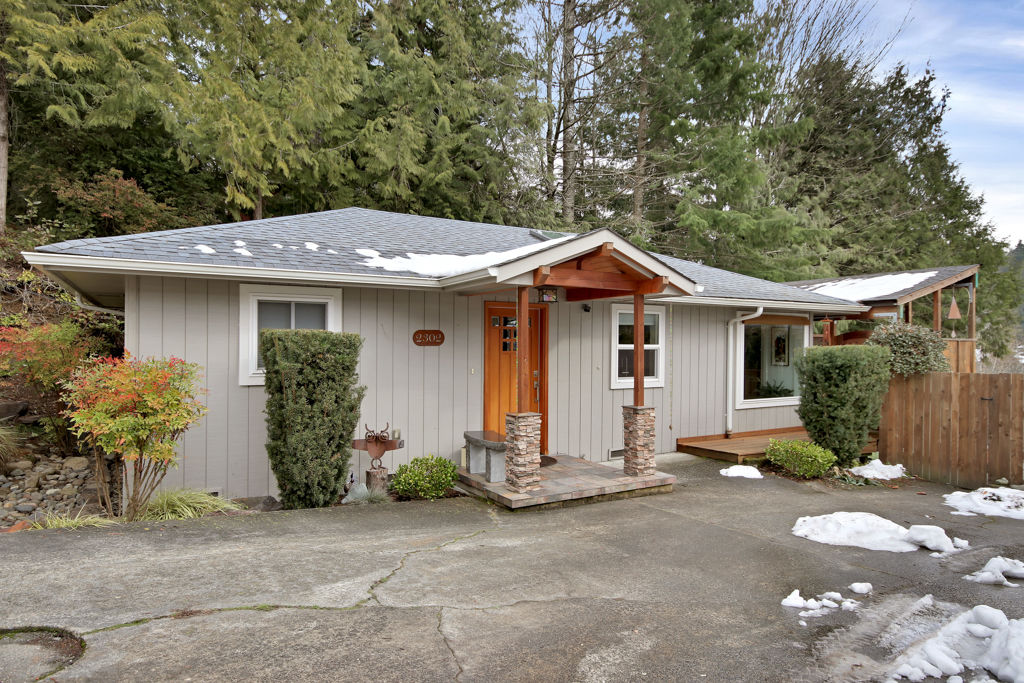 Boasting a fresh and cheerful atmosphere to call home, this haven delights the second you step inside. Not only did this home undergo a thorough renovation in recent years, but features like surround sound with in-ceiling recessed speakers ensure this gem is ready for the future! Snuggle up in the main living area alongside the cozy fire and enjoy visiting with loved ones or relaxing for a movie night.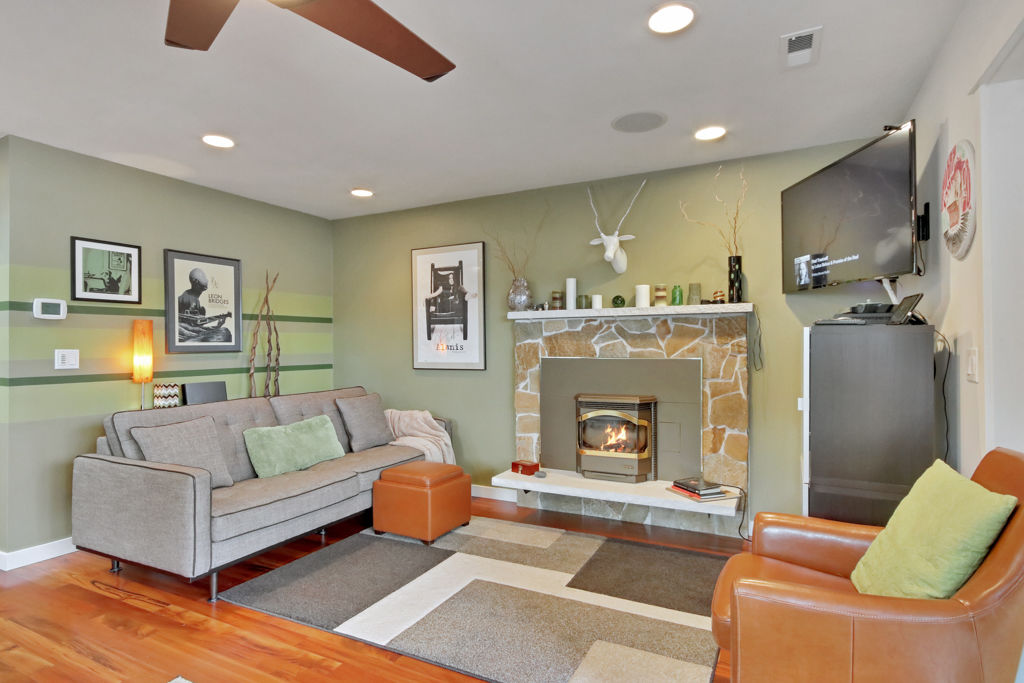 The open-concept layout flows right into the sunny dining area, and here you can take in views of shimmering Crescent Lake as you sip your morning coffee. The open kitchen makes it easy to serve up meals, whether you're basking in the natural light in the dining nook or enjoying an al fresco meal out on the deck. The well-appointed kitchen offers a stylish, contemporary design, and dark cabinetry showcases an eye-catching contrast with sleek appliances, quartz counters, and an exquisite backsplash design.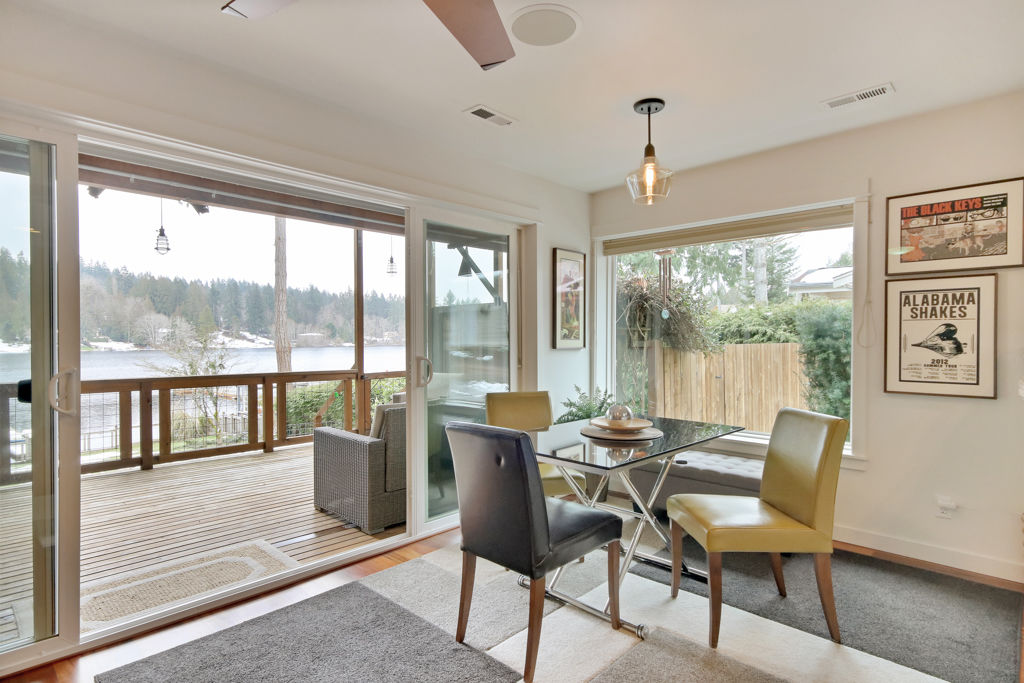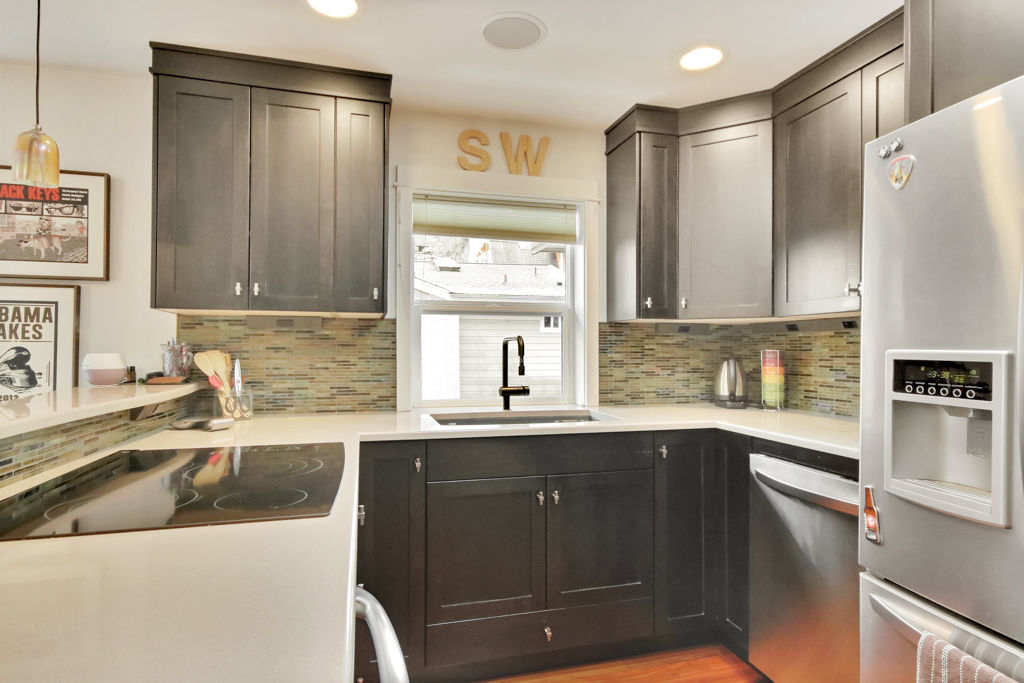 In this home's bedroom and bath, you'll find a tranquil, comfortable atmosphere to rejuvenate in. If you need more room to spread out in, there's even an additional living space that's separate from the main house! This sweet retreat has everything you could need or want, from a kitchenette to dreamy views of Crescent Lake.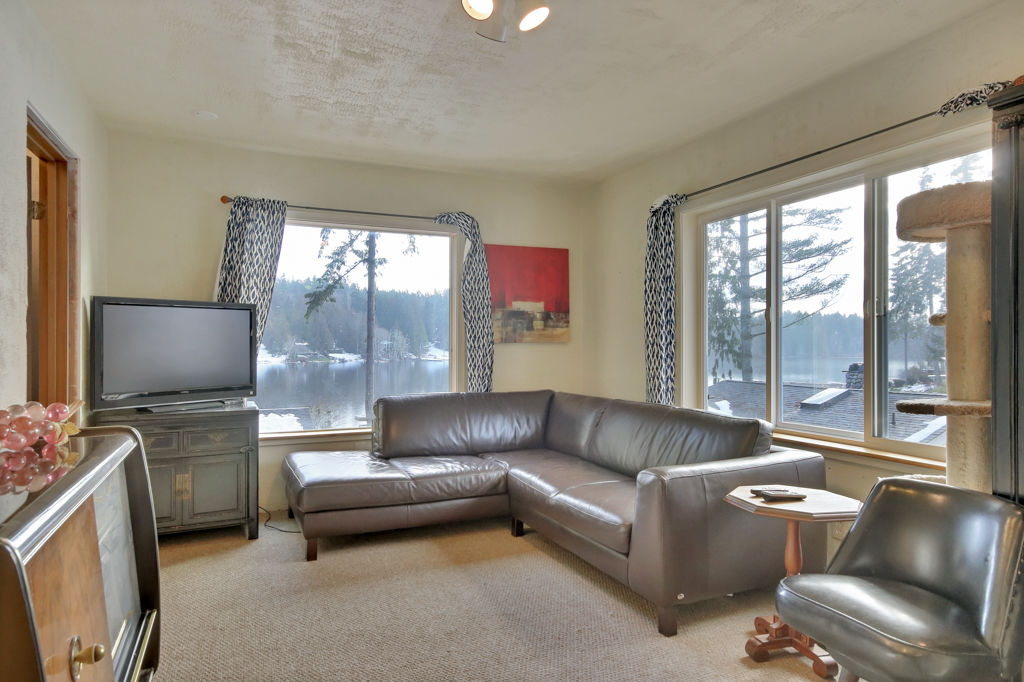 When winter melts away and springtime arrives, this property's fabulous amenities begin to shine even more. Take in the fresh air from the large covered deck, and find a hot tub on the slate patio. Imagine winding down after a day of fun on the lake with a luxurious soak in the hot tub! Crescent Lake is conveniently motorized, meaning you can zip around the lake in style. And when you're on land, take advantage of your fully fenced, professionally landscaped yard that offers plenty of room for cultivating the garden of your dreams!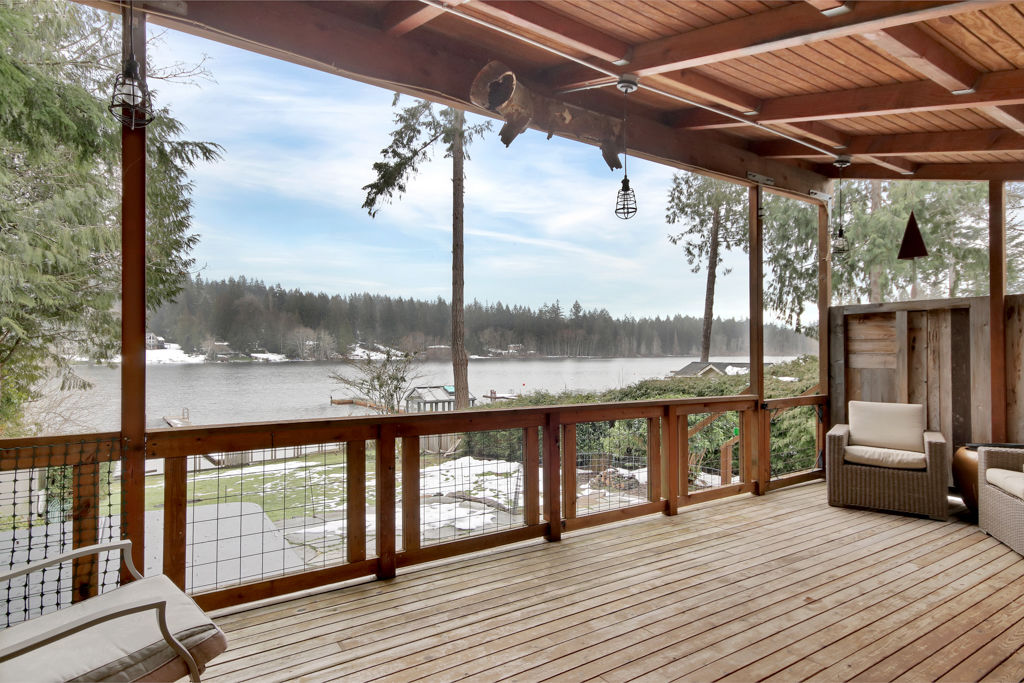 Living in Gig Harbor's Crescent Lake Area
At 2302 NW State Game Rd NW Gig Harbor, WA 98332, you're surrounded by nature while still being just minutes from city conveniences. Connect to Highway 16 in just 8-10 minutes, and all of the shops, restaurants, and services along Borgen Boulevard are just a 8-minute drive from home. Here you'll find places like Costco, Target, YMCA, Albertsons, The Home Depot, and much more. You're also only an 8-minute drive to Downtown Gig Harbor, making it easy to enjoy the iconic waterfront!
Interested in learning more? Click here to view the full listing! You can also contact REALTOR® Sharon Chambers-Gordon online here or give her a call/text at (253) 970-4049.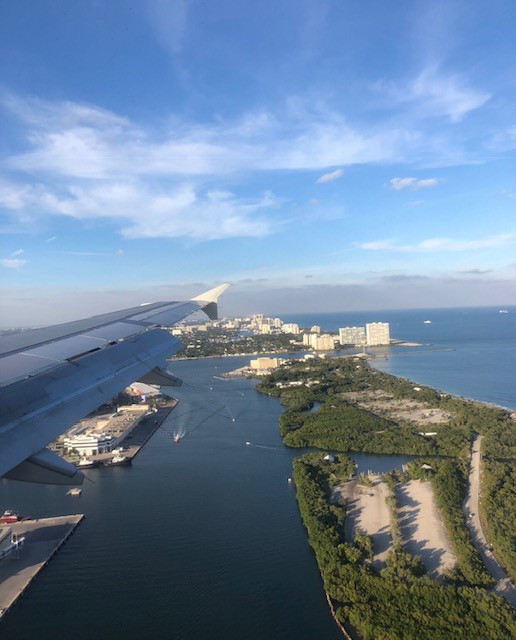 Saving for Your Vacation
Every year there are friends and family who really want to take a vacation, but they do not have the funds, or they would like to make it debt free. Here are some helpful ways to save for that much needed vacation.
Set up a Dedicated Savings Account
This is a good sign to show that you are serious, and it will ensure that you have the funds when you are ready to book airfare, hotel, car (if needed), and have spending money on your trip. This separate account information should be shared with all who are going on the trip (even kids who get an allowance, so they can contribute to the fund). It is important to do some research on where you would like to go; once the venue is confirmed you can gather information on the costs of the hotel or resort, airfare, etc. If you are traveling internationally, you need to budget the cost of passports for everyone. You also may opt to wait until your trip is close to pick up a debit card from your bank. This will keep you from being tempted to spend from your vacation account.
Set Up Automatic Transfers
Automating your savings is a great way to get to your goal. If you plan to save weekly, here is what the math looks like: $20 per week adds up to $1,040 over the course of a year, and if more than one person is saving the same or close to the same amount it can add up to a wonderful vacation budget. Automate it and forget until you need it.
Team Up
People from the Caribbean have a system called "partner" or "susou" where a group of friends or family commit to paying a certain amount into an account paid to someone called the "banker". Each person is committed to sending the same amount on a previously agreed date every month. This is known as "throwing a hand". This money can add up really fast, and by the end of the year (or whenever your vacation timeline is) you will have enough. This has become much easier with apps like Zelle, Venmo, and Cash App where monies can be transferred to another account in a matter of minutes. Pooling funds allows you to afford nicer vacation destinations, rent transportation together, share the cost of food (if you are not going to an all-inclusive resort), as well as tips and other miscellaneous spending like mementos.
Get Everyone Involved
If you have kids, include them in the planning and let them have a stake in their own vacation. If they get an allowance have them set aside 30% towards vacation. It could also be fun to have everyone save loose change in a jar, count how much there is each week, and go together to the bank at the end of each month to deposit into your vacation fund account. This gets everyone excited and motivated as they see the money grow.
Factor in the Essentials
Traveling abroad? Everyone needs a passport. Factor that cost in. Need new tropical attire? Factor that cost in – swimwear is a vacation essential. Checking luggage? Factor that cost in. Write down everything you can think of that you will spend on and work them into the budget so you are not blindsided by any major expense. Pull out your old suitcases and see if they can take another trip or if you will need new ones. Check to see if anyone has outgrown walking/hiking or water shoes. Budget for travel insurance, especially for international travel.
Sell Something
There are many online stores where you can sell almost anything from home. Look around for sell-able items that you have – special event dresses like those worn to a wedding, prom, or gala, shoes you have only worn once to a special event, clothing in good condition that you no longer wear, furniture, and novelty items. Every bit adds up and that helps to grow your fund. Get kids involved and organize a yard sale in the spring. Donate anything that does not sell to a charitable community organization (possible tax deduction!).
Where to go
There are many options for where you can go on vacation. You may have friends who own a timeshare and you can accompany them by invitation or rent the accommodations from them. With most timeshares you will need to provide your own food so pooling resources definitely will go a long way. Another option is staying at a hotel where there are many restaurants close by to get daily meals. That is where those savings will come in handy because food costs will be a major expense. Another option is to stay at an all-inclusive resort where once you pay the upfront costs, you don't need to spend anything out of pocket for food, drinks, and some amenities like their spa. There may also be some activities that you will have to pay for such as going scuba diving, parasailing, or horseback riding in the ocean. Saving for an all-inclusive resort may take a while longer because they tend to be pricey; however, if you pay for accommodations and food beforehand, the other expenses are airfare, if you are flying, or a car and gas if you are driving to your destination.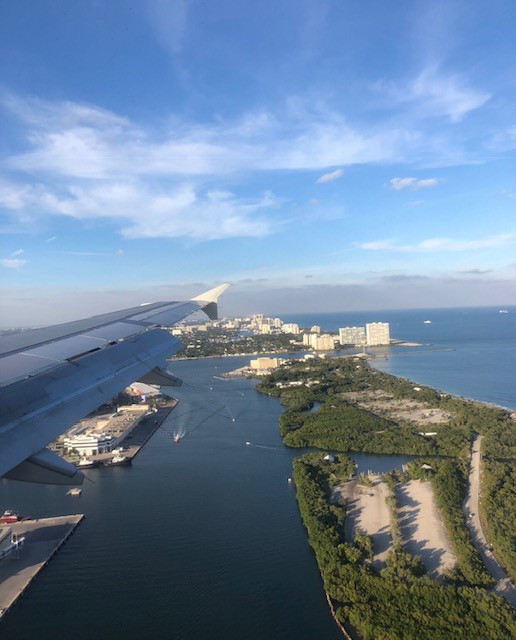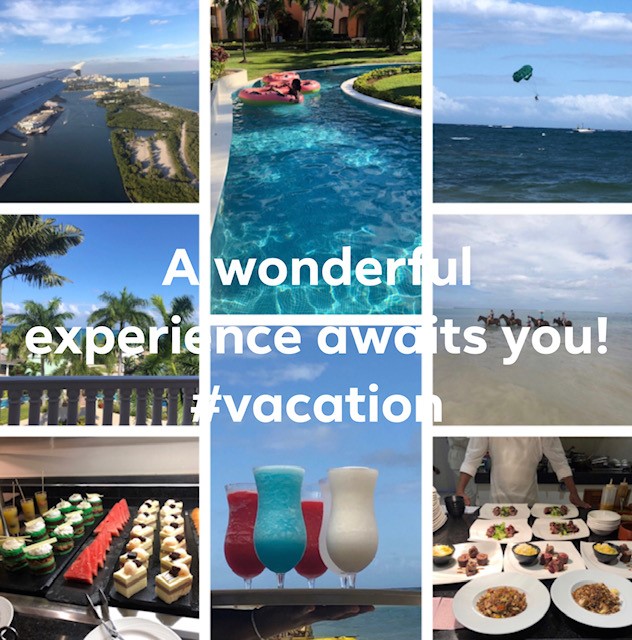 In 10 months you can be enjoying that much needed vacation with family and friends and making new and long-lasting memories!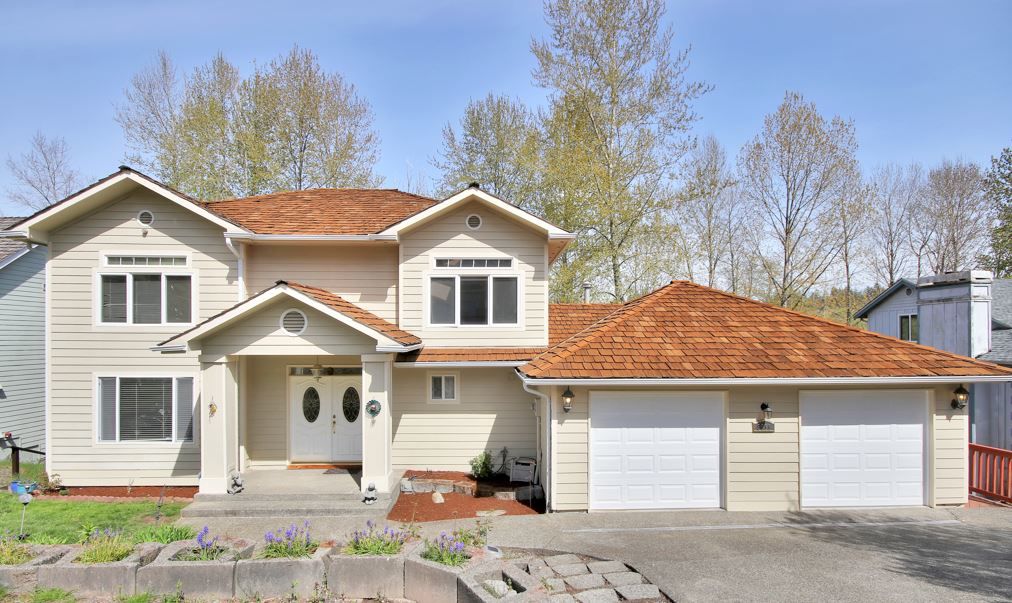 Lovingly maintained and brimming with top-notch amenities, this 3,152-square-foot residence offers easy living in University Place! This spacious home includes 4 bedrooms, 3.5 baths, stylish living spaces, and even a huge 1,000-square-foot daylight lower level that comes with its own fully equipped kitchen. You'll also discover a gorgeous park-like setting in the backyard, complete with a large deck, a patio, and plenty of space for play! Located at 5711 48th St W University Place WA 98467 and wonderfully close to schools, parks, shopping, restaurants, highways and more, this dynamic residence is listed for the recently reduced price of $510,000.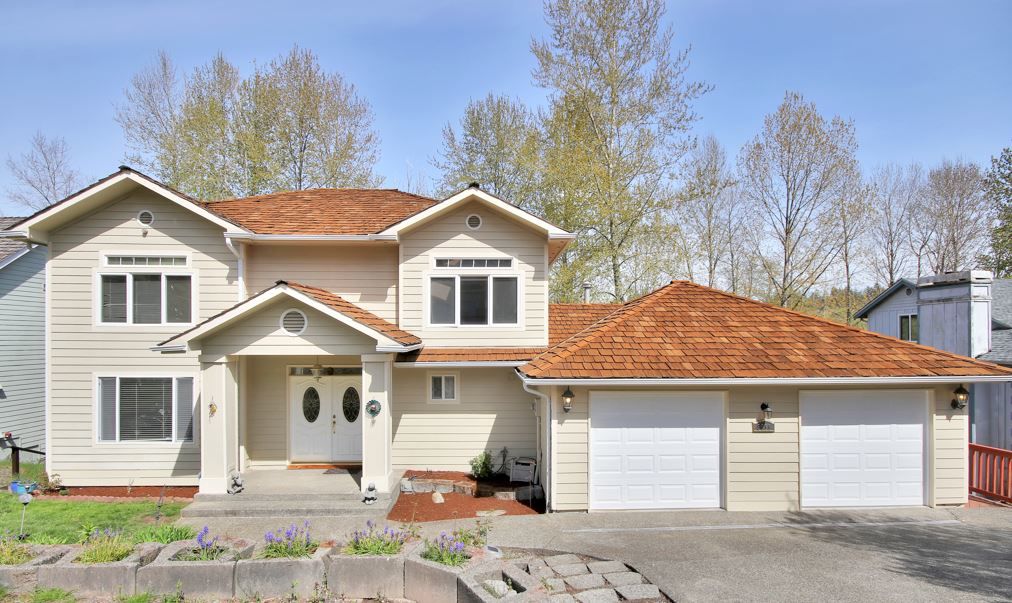 Featuring an attractive, timeless exterior, this picturesque home is a delight to arrive home to! New garage doors and gutters are conveniently in the mix, and a welcoming front porch with stately columns and double doors provide an excellent first impression. Immediately to the left, the formal living room invites you in, and natural light cascades in through large windows, shining the spotlight on rich hardwood floors and a fresh color palette. The layout flows right into the formal dining room, ensuring this haven is ideal for entertaining guests!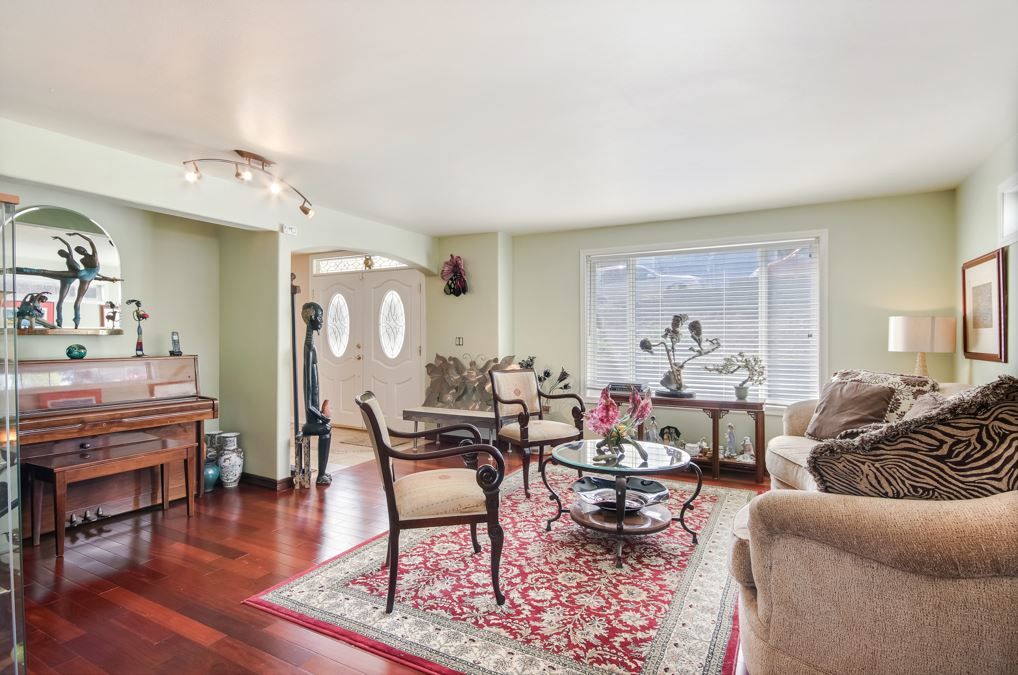 Just around the corner, the stunning kitchen provides a haven of elegant style and efficient design. Brazilian cherry cabinets promise ample storage for kitchen essentials, while shimmering granite counters add a splash of sophistication to the magazine-worthy scene! Bar-style seating and a sunny dining nook offer lots space for entertaining, and the layout opens up into the living room.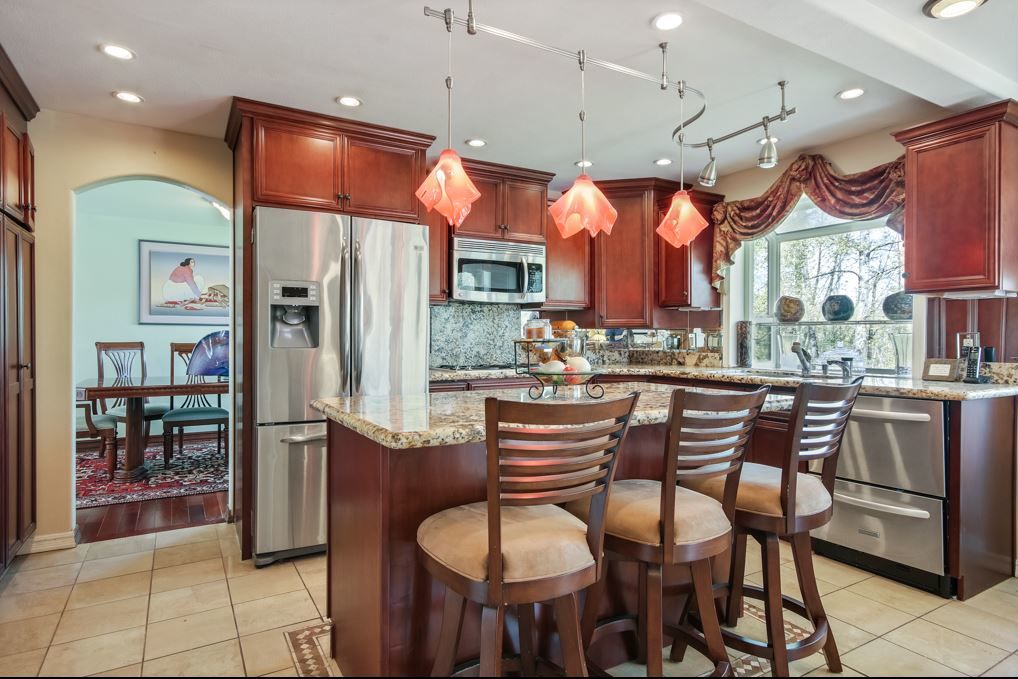 This home's generous 4 bedrooms includes the luxurious master suite, an exquisite oasis with an ensuite bath. Spa-inspired finishes elevate the soaking tub and extra-large shower, offering a sumptuous experience all in the comfort of your own home!
Even more dynamic space awaits in this home's daylight lower level, and here, over 1,000-square-feet of living can be taken advantage of. In addition to versatile living space, there's also a fully equipped kitchen, new appliances, and a washer and dryer hookup. Enjoy having the flexibility of being able to offer visitors their own private space!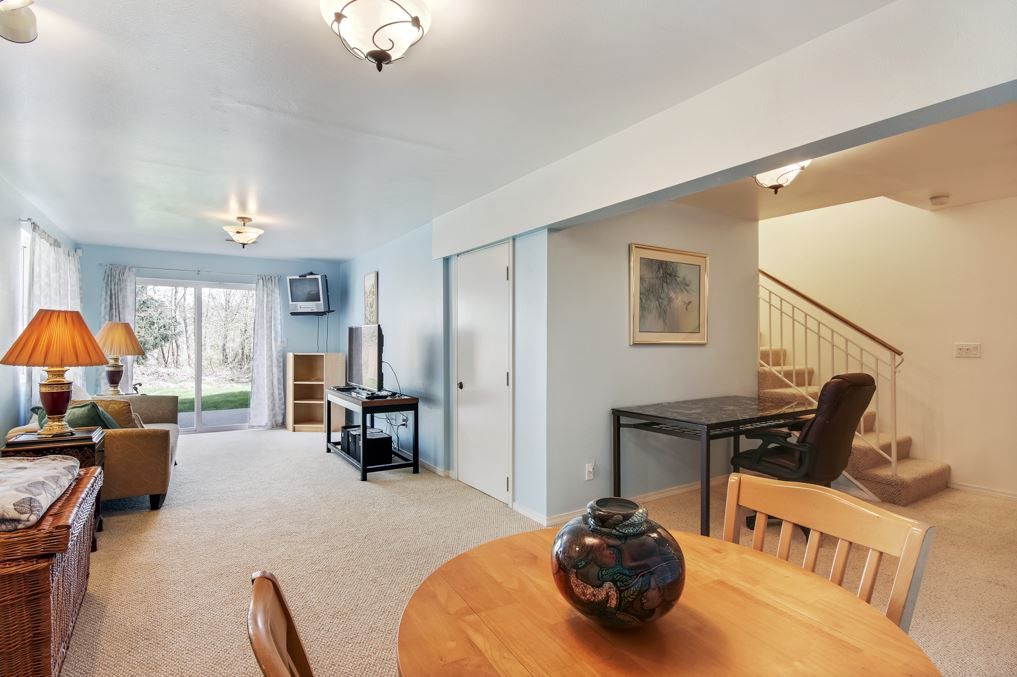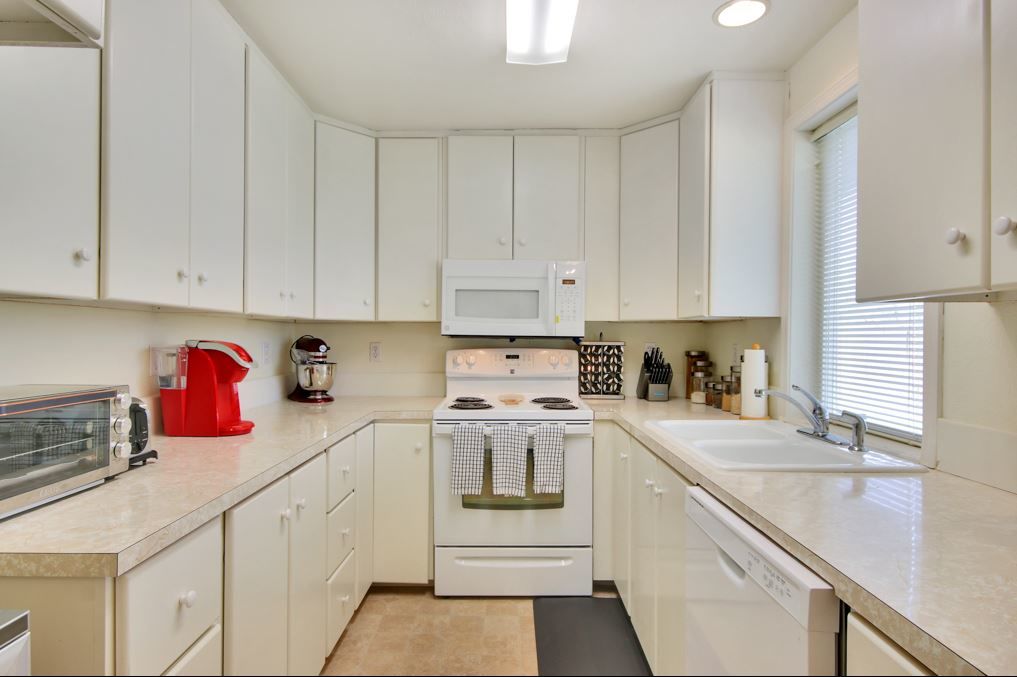 When the sun comes out and the weather warms up, this home is ready to help you soak up every minute of it! The lush lawn offers ample space for tossing around a football, or playing lawn games at your next barbecue. The patio and huge deck also promise weekends filled with outdoor entertaining, and all you need is some comfy outdoor furniture and a barbecue to get the party started!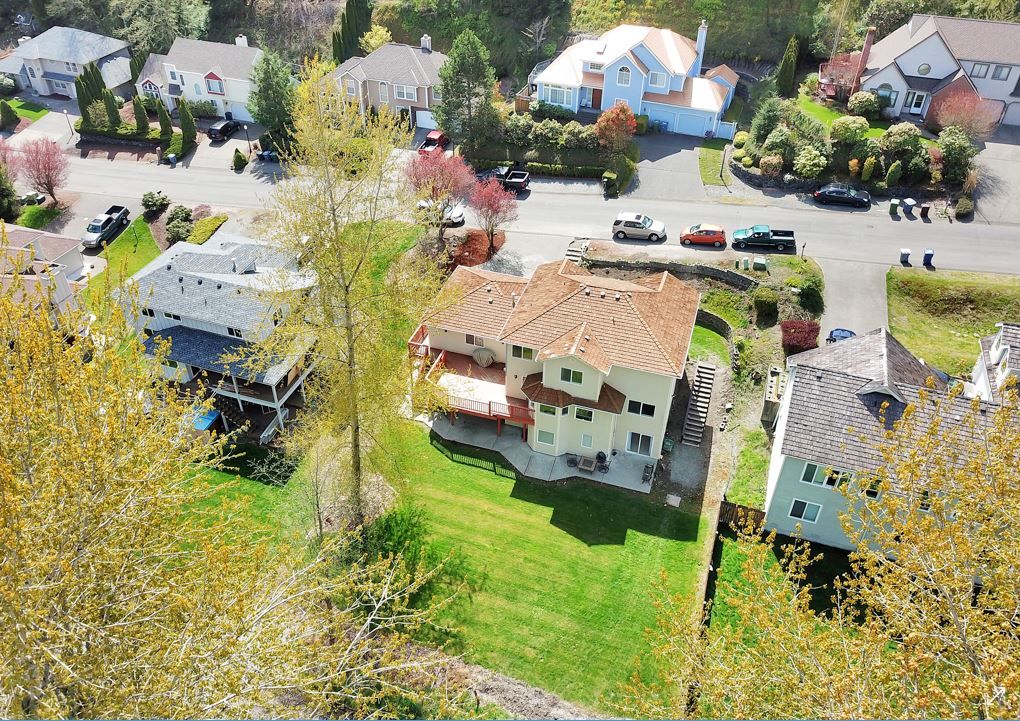 Living in University Place
At 5711 48th St W University Place WA 98467, you're wonderfully surrounded by city conveniences and access to the outdoors. Chambers Bay and Cirque Bridgeport Park are just a few minutes from home, providing hours and hours of opportunity for outdoor adventuring. When it's time to run errands, Fred Meyer is a short 6-minute drive away, while several amenities (including Safeway, Trader Joe's, Whole Foods, and much more) along Bridgeport Way are only a 5-minute drive from home. You're also only a 12-minute drive from Interstate-5 and the Tacoma Mall!
Interested in learning more? Click here to view the full listing! You can also contact REALTOR® Sharon Chambers-Gordon online here or give her a call/text at (253) 970-4049.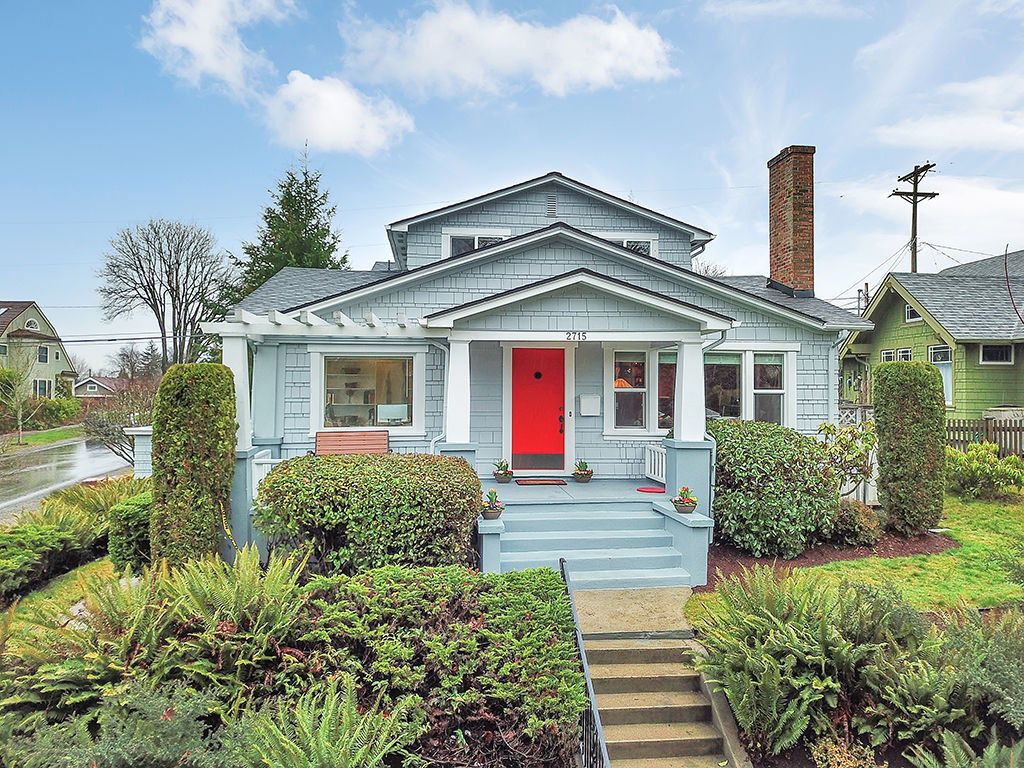 Boasting a delightful blend of historic charm and modern upgrades, this 1921-built Craftsman beauty offers easy living and city conveniences at your fingertips! Nestled in the highly desirable Proctor District in Tacoma's North End, this move-in ready residence is close to restaurants, the library, shops, schools, grocery stores, and other top-notch city conveniences. With an expansive 3,508-square-foot layout, this home's dynamic offerings include 3 bedrooms, 2.75 baths, gorgeous living and entertaining spaces, a den with a wet bar, an office, extensive storage, and so much more. The house also has new interior paint and new carpet. Located at 2715 N Union Ave Tacoma WA 98407 on a corner lot with a partial view of the Puget Sound, this timeless treasure is listed for $620,000.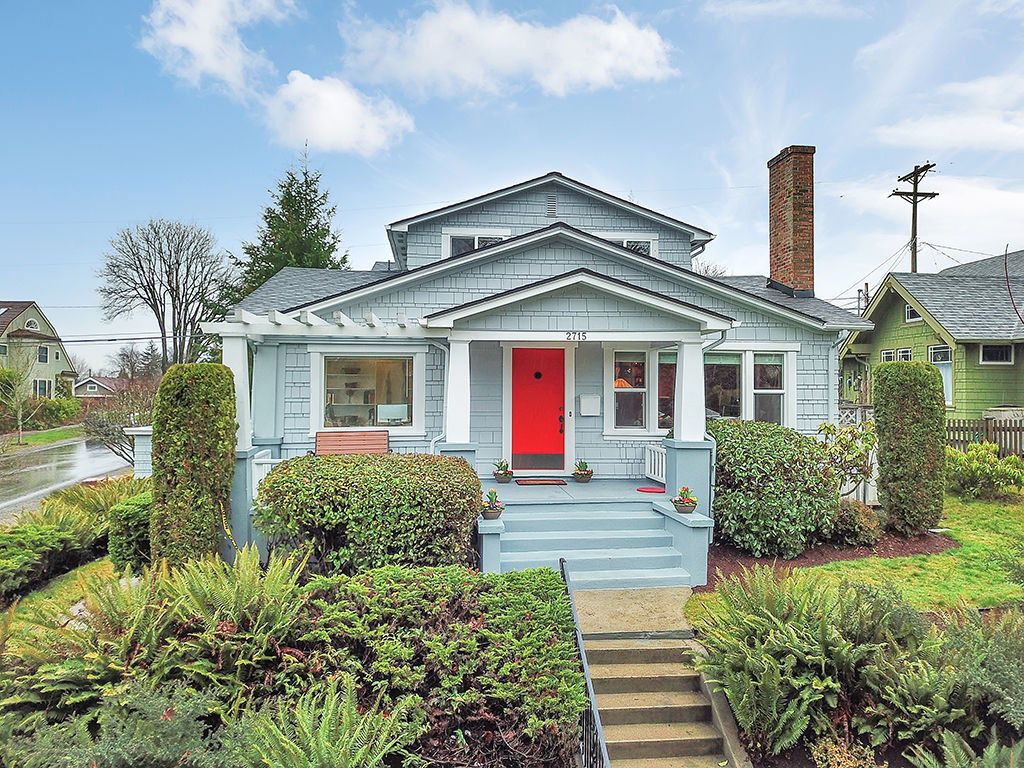 Brimming with highly desired 1921-built charm while still showing off updates that modern homebuyers are sure to love, this home's vintage character and contemporary amenities ensure this home is a joy to spend time in. Picturesque curb appeal welcomes you home, and a vibrant front door makes a memorable first impression! Just inside, this home's living room invites you in to rest, relax, and entertain. Hardwood floors, crisp white trim, and a classic fireplace nestled in between exquisite built-ins set the warm scene, promising cozy evenings spent among loved ones. An adjacent office offers a light-filled setting to work in, and huge windows show off big views!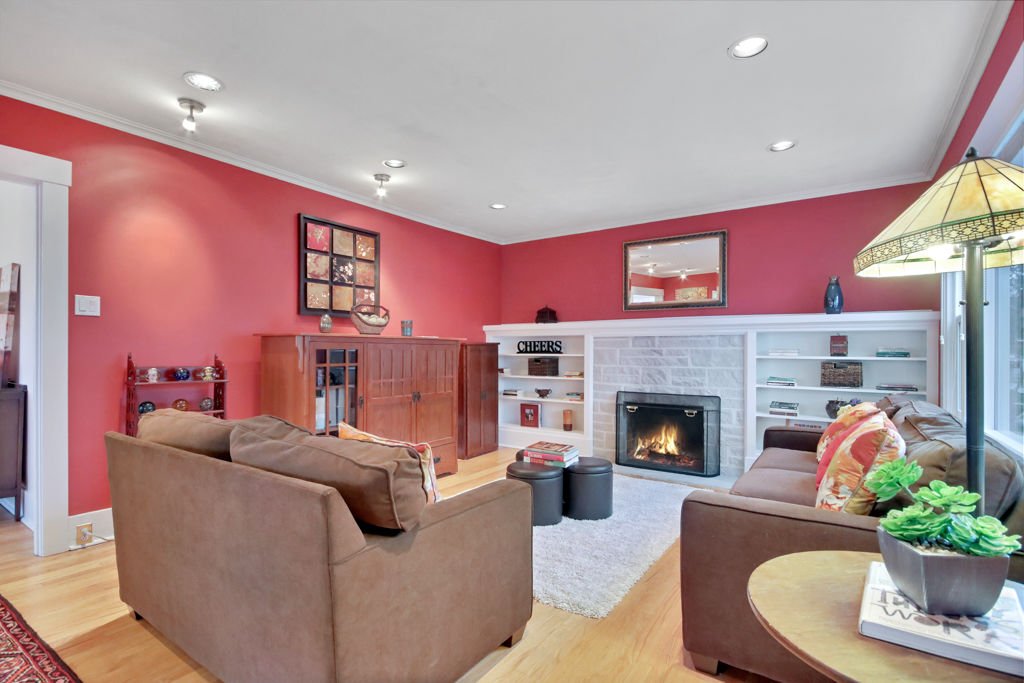 Journey toward the back of the home, and the formal dining room and kitchen await. The dining room offers ample space for a full-sized dining table, and eye-catching built-ins show off the ideal spot for storing and displaying favorite dishware. Whether you're enjoying a laid-back weeknight meal or hosting a crowd for a holiday get-together, the dining room is truly an entertainer's dream!
The large kitchen features pristine white cabinetry and appliances alongside cheerful yellow walls. Ample storage awaits, and there's even enough space to add in a center island if you'd like some more counter space for meal prep. A dining nook shows off another dining option, with sunny views into the backyard.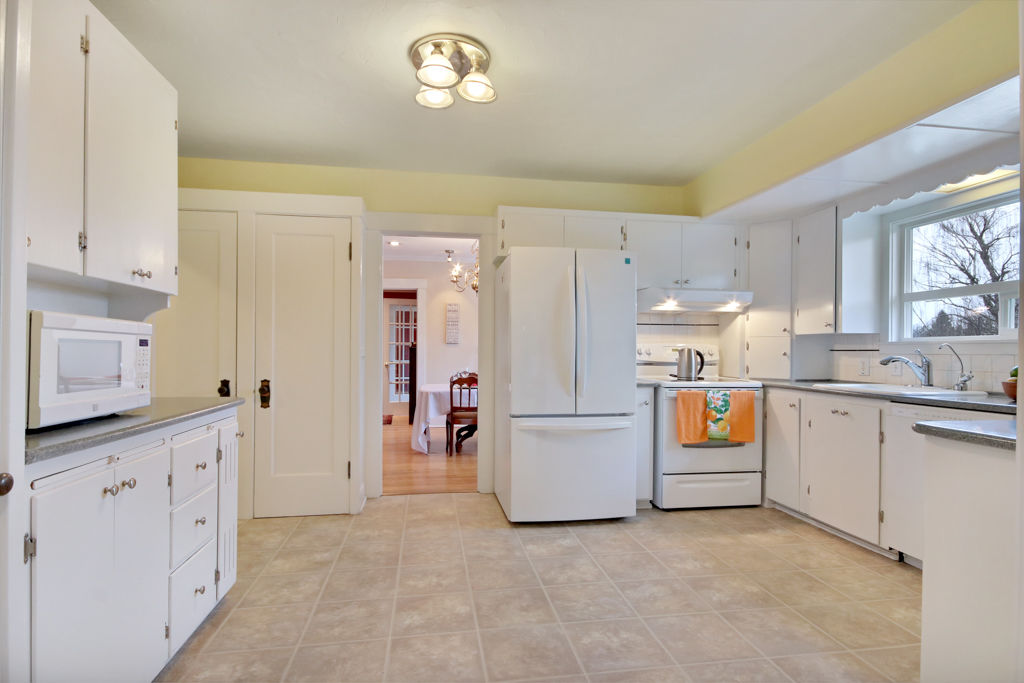 Brimming with versatility, this home's palatial layout offers a wealth of potential. 3 bedrooms offer privacy for loved ones, and the master bedroom suite is especially noteworthy. This sprawling sanctuary shows off plush carpets, vaulted ceilings, lots of natural light, and even partial views of the Puget Sound. Additionally, this home's cabin-inspired basement features a den with a wet bar and fireplace, offering the ideal hangout and getaway to retreat to!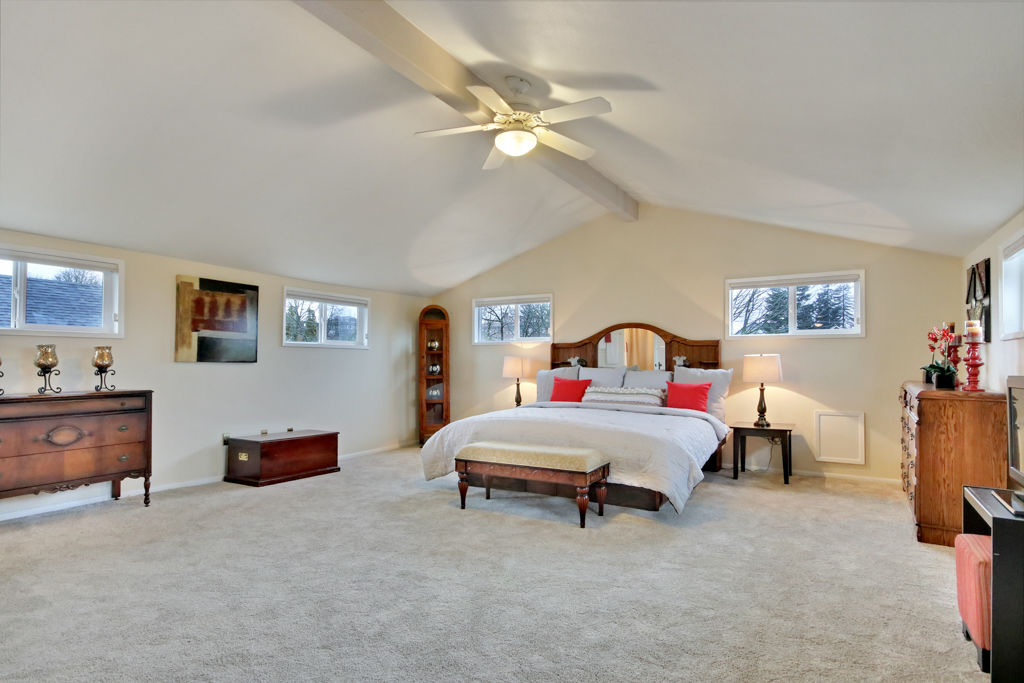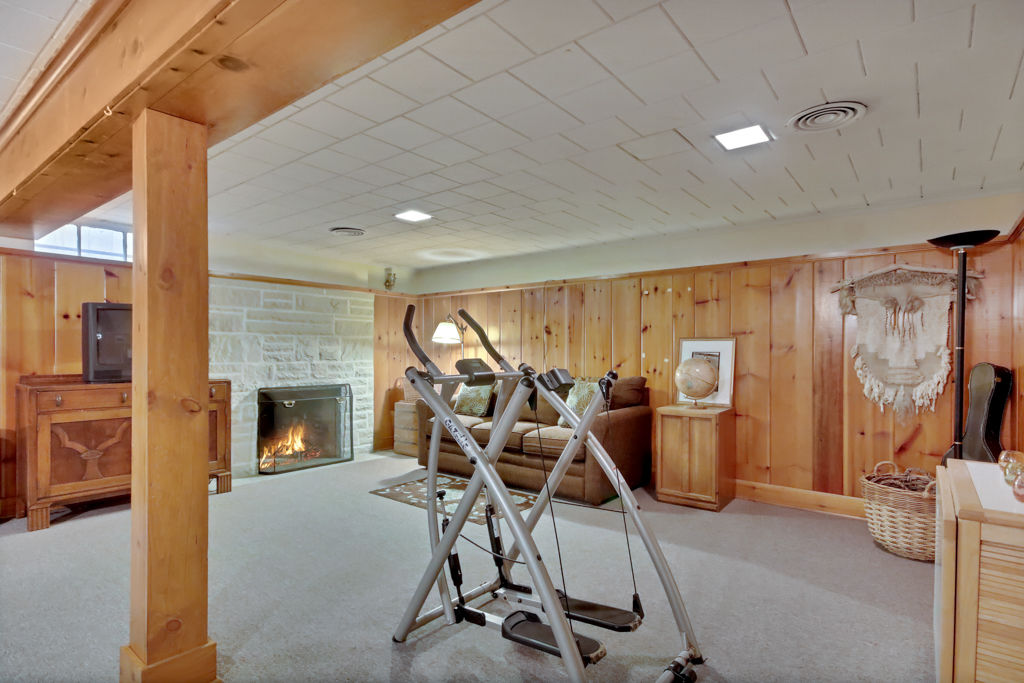 In the backyard, discover a patio (perfect for a set of outdoor furniture and a barbecue!), a lush carpet of green grass, and lots of opportunity for gardening. Beautifully maintained landscaping awaits, and whether you want to keep things simple or transform the yard into your own garden paradise, this secluded oasis awaits your magic touch. Plus, a coveted 2-car attached garages provide even more storage.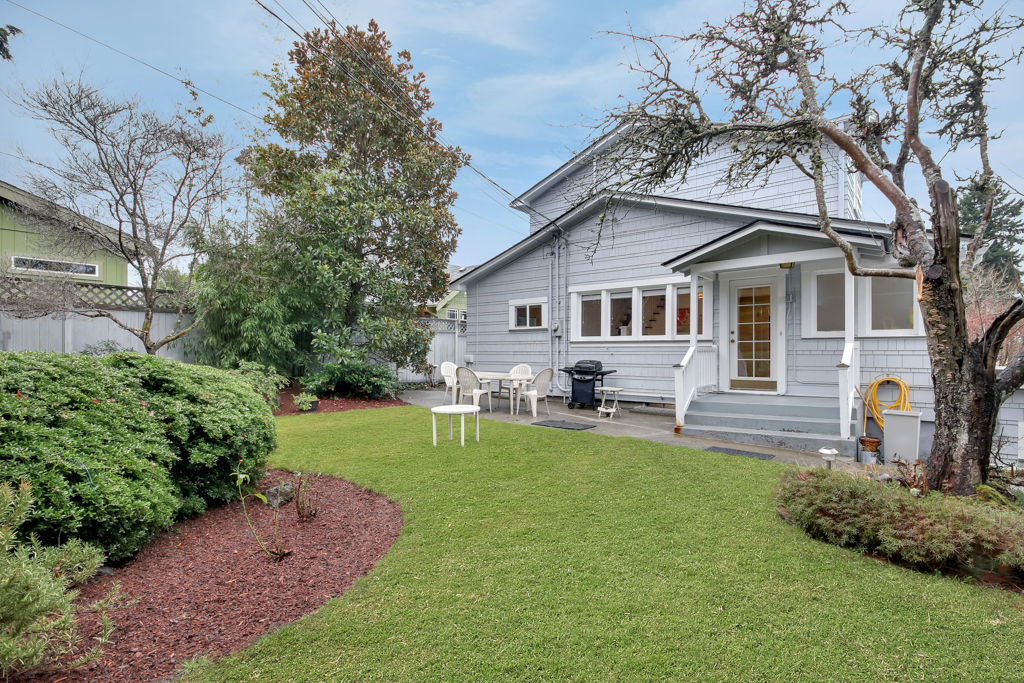 Living in Tacoma's North End
At 2715 N Union Ave Tacoma WA 98407, you're just a couple blocks away from North Proctor Street, a hub of action and entertainment in the Proctor District, a destination neighborhood for locals and out-of-towners alike. Here, enjoy convenient grocery shopping at Safeway, Metropolitan Market, and the farmers market on weekends. Popular restaurants like Europa Bistro, La Fondita, Pomodoro, Viva Tacoma, and more await, while iconic places like The Blue Mouse Theatre and Chalet Bowl are also in the mix. Schools, services, shops, parks, and more are also at your fingertips! 
Interested in learning more? Click here to view the full listing! You can also contact REALTOR® Sharon Chambers-Gordon online here or give her a call/text at (253) 970-4049.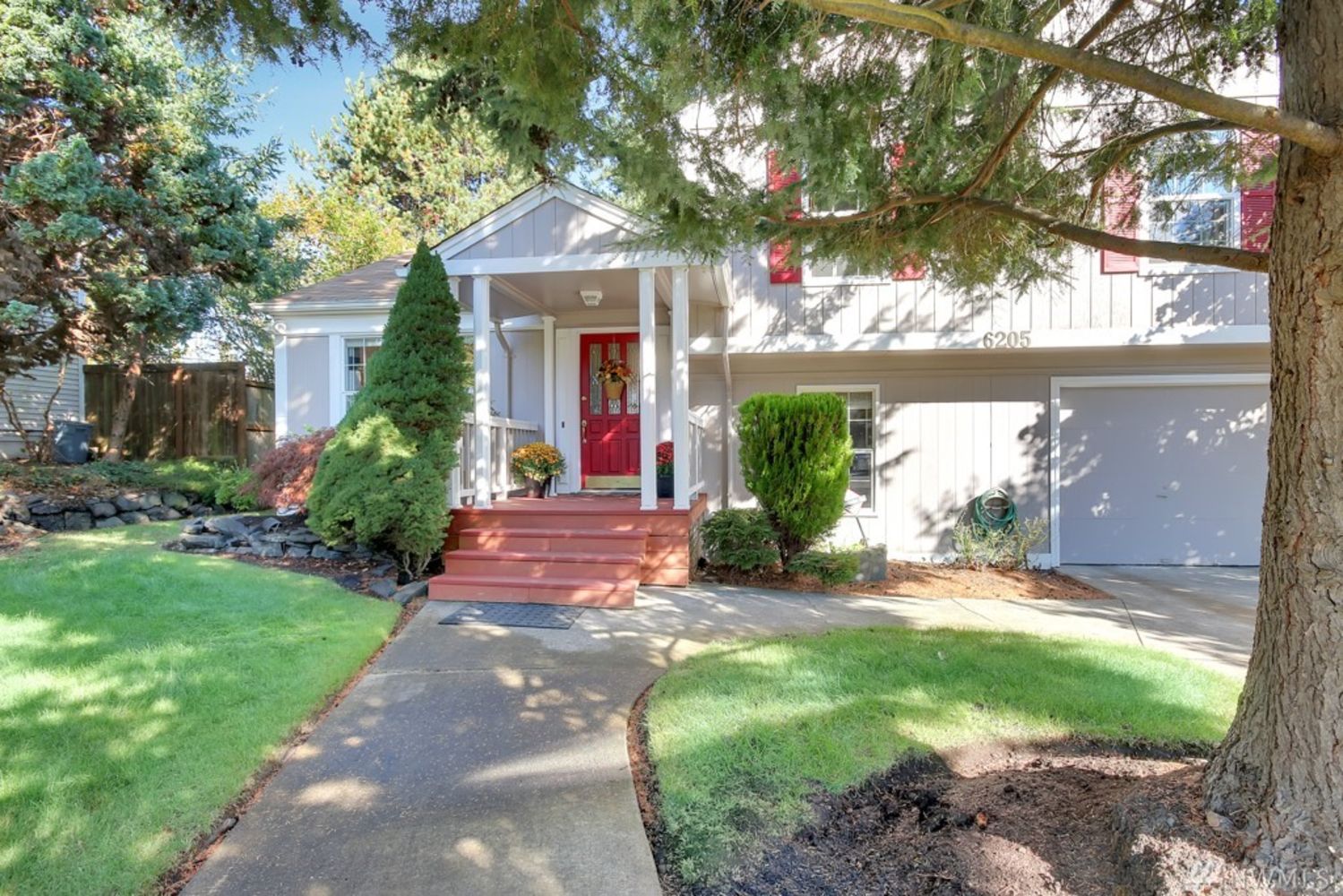 Charm, comfort, relaxation, easy living – you'll find them all in this 3-bedroom, 2-bath home in North Tacoma's breathtaking Point Defiance area. A fresh exterior paint job brings life and unmistakable curb appeal to this comfortable home, and an outdoor hot tub paired with ample deck space mean you'll enjoy the beautiful surroundings all year long. Inside, you'll fall in love with beautiful hardwood floors and comfortable amenities for entertaining or relaxing after a long day. Located at 6205 N 39th St, Tacoma 98407, this 1,344-sq.-ft. charmer is listed at $320,000!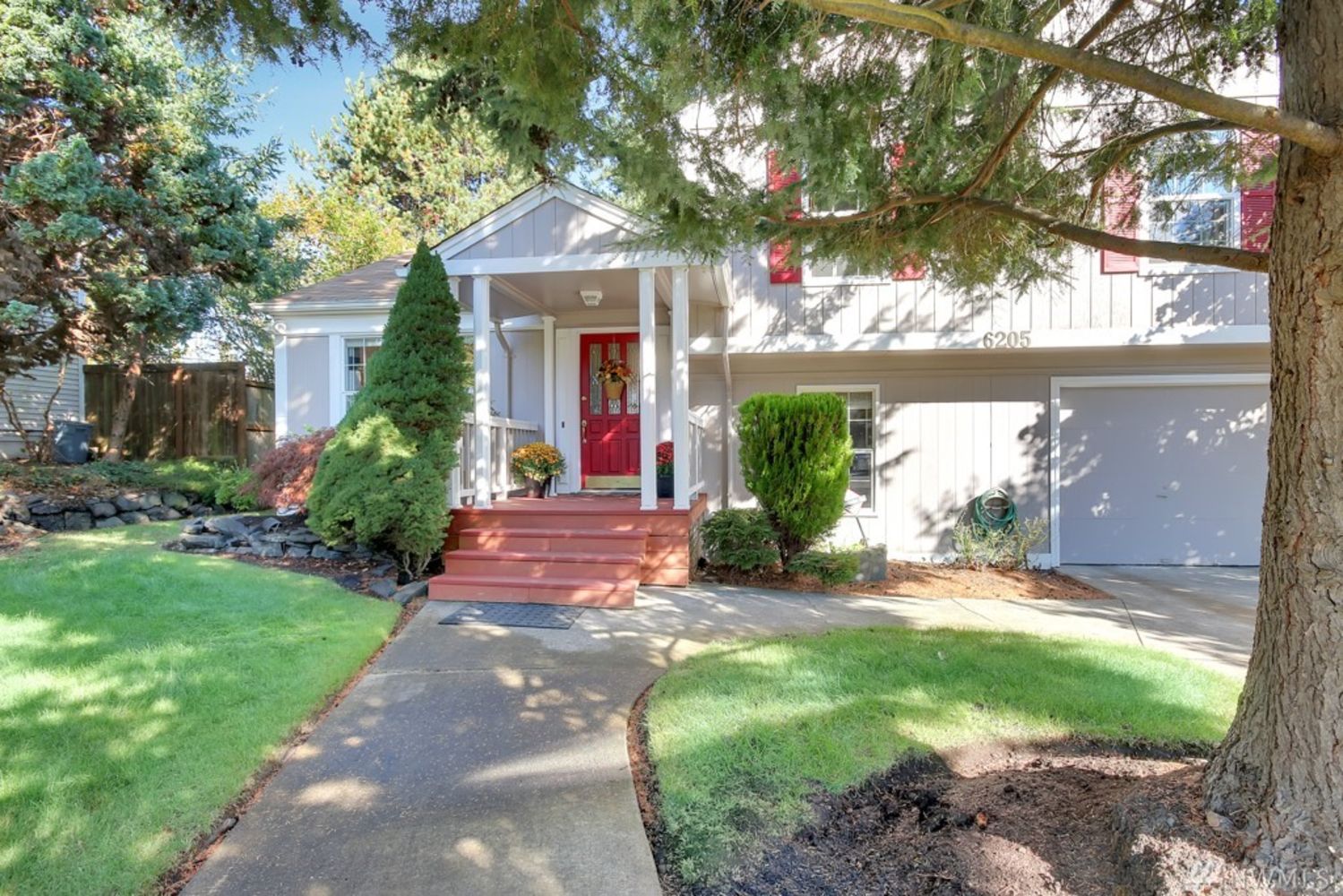 A classically designed, covered front porch warmly welcomes visitors into the delightful, split-level main floor. The home's comfortable living space features high vaulted ceilings and large windows for visual appeal, and connects seamlessly to the kitchen and adjacent dining area. Enjoy a laid-back morning with a cup of coffee in hand, or sip a glass of wine with a friend – this cozy scene is the ideal setting.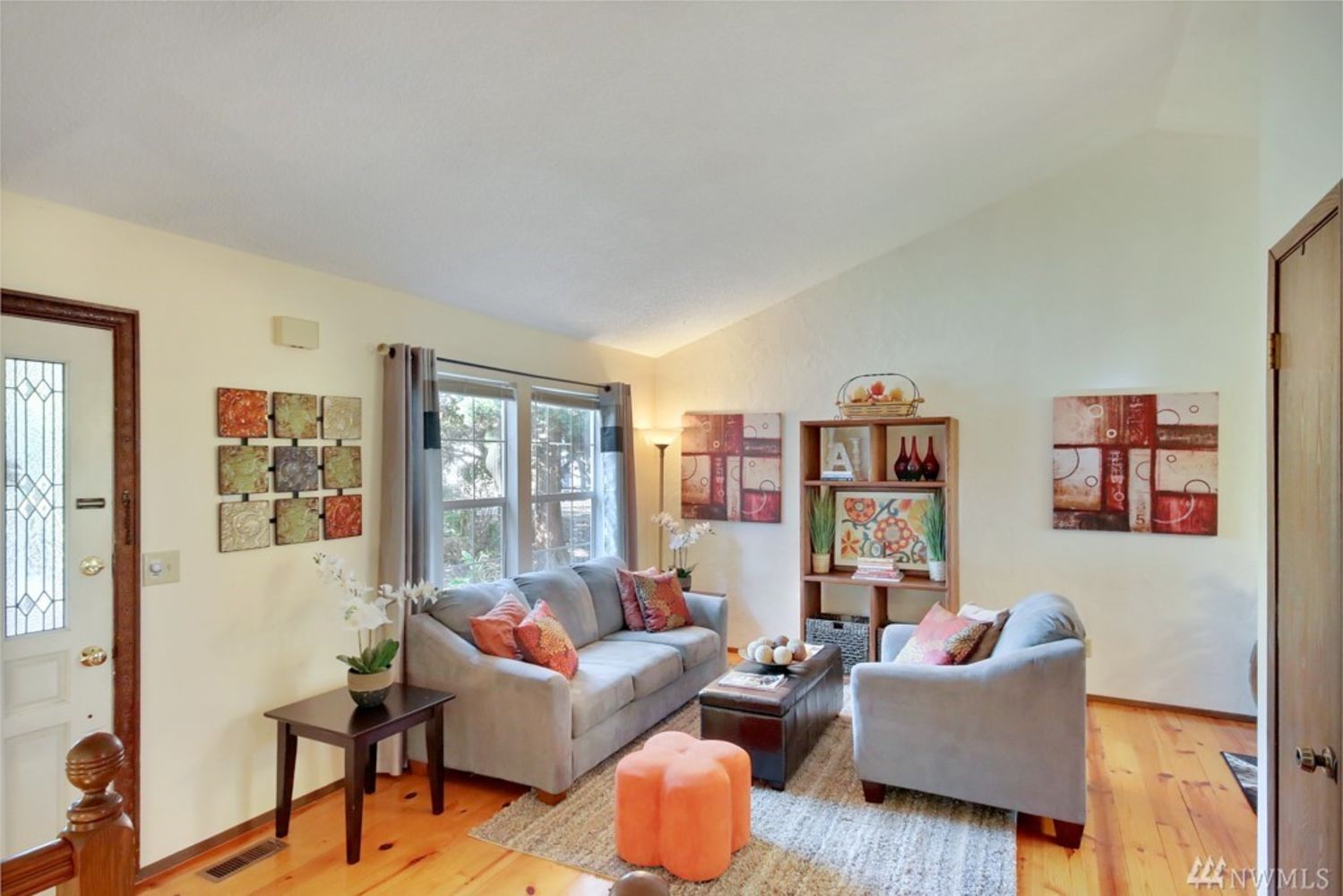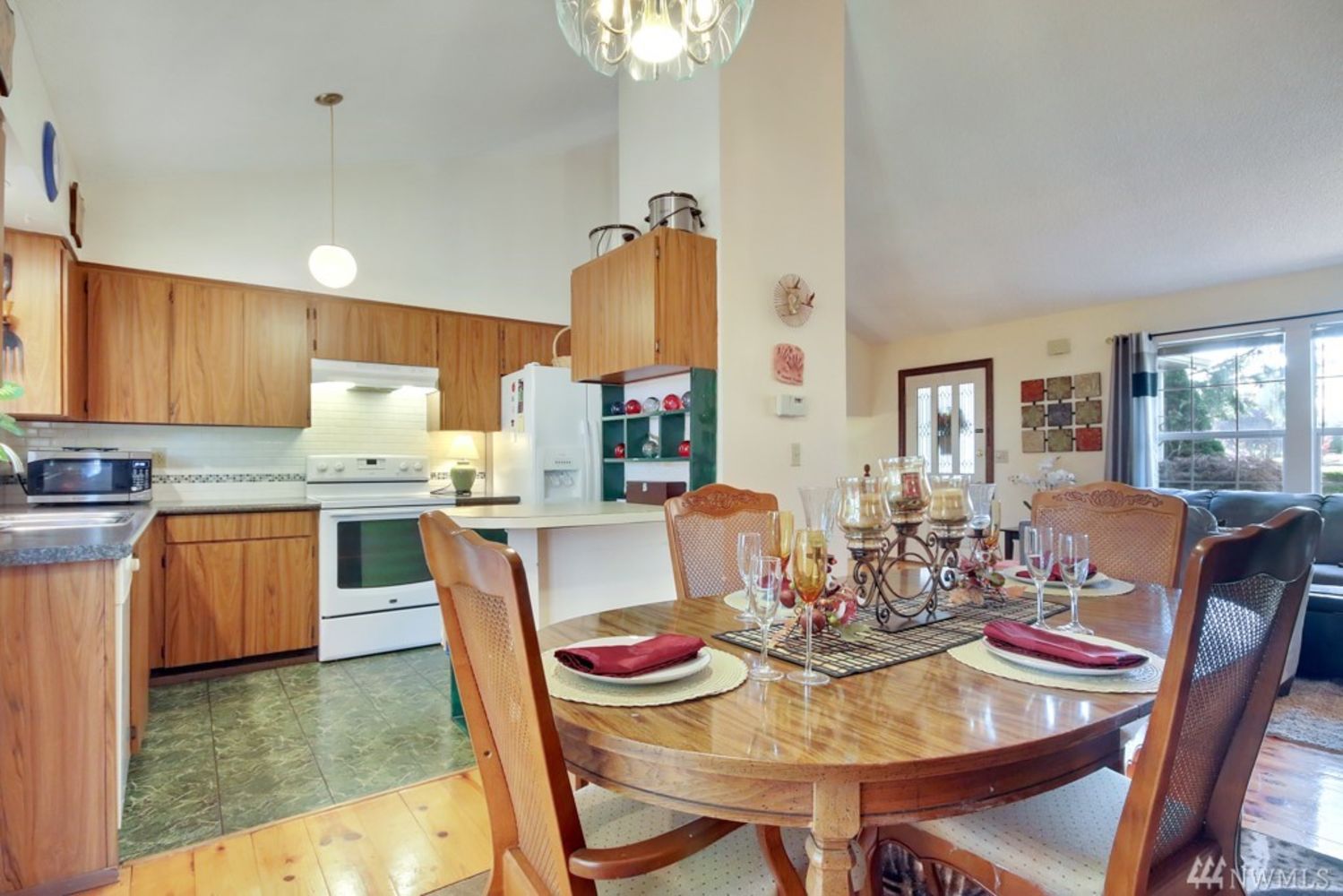 A few steps beyond, light streams in through French doors, which reveal beautiful views of the attached deck and lush backyard. Whether you're grilling up steaks outside or sitting down to a big meal in the dining area, you'll find plenty of space to get comfortable in this timeless entertaining space. Step down into the lower living space and you'll find an entertainment-system-ready room, complete with a stunning brick fireplace.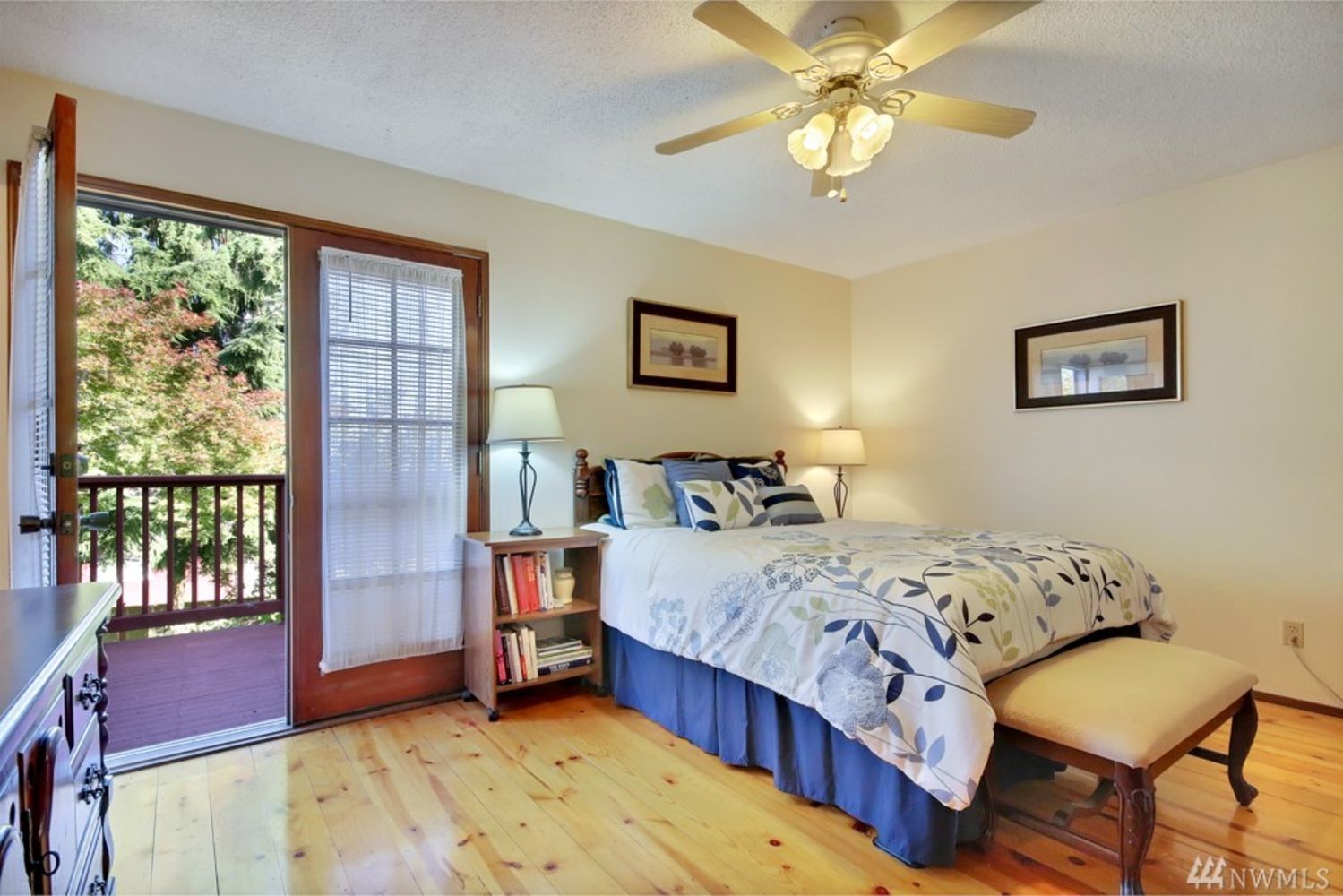 In the upstairs master bedroom, a second pair of French doors open upon the upstairs deck, an ideal spot for reading the morning paper or a yoga session under the clouds. A built-in ceiling fan ensures added comfort throughout the summer months, and a large walk-in closet leaves plenty of space for even the largest wardrobes. Versatile finishes ensure you'll be able to personalize the space to create your own home-sweet-home.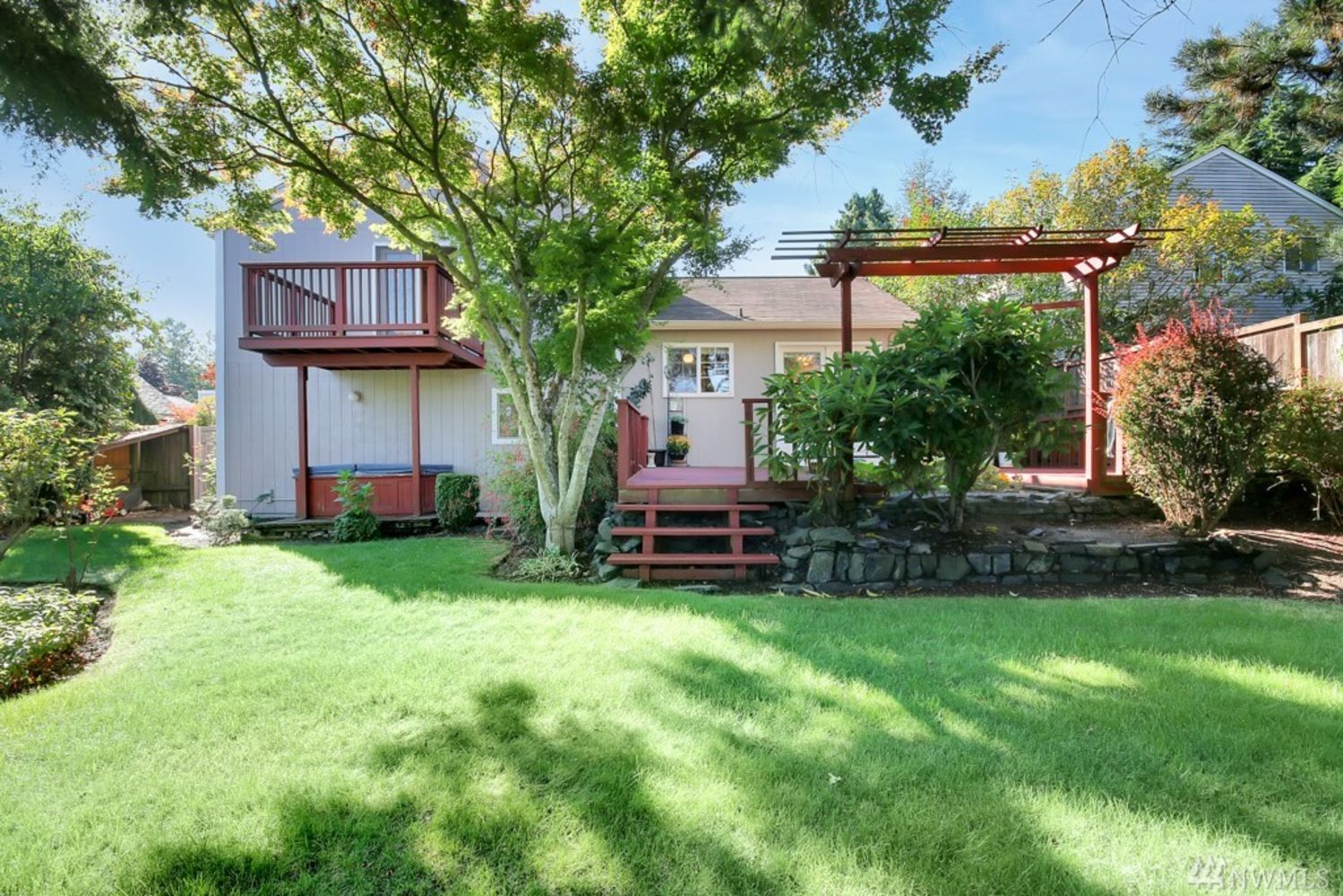 While the indoors offer comfort, the outdoors are where the excitement lies. This lush yard is fully fenced – the perfect roaming space for your furry friends. Two attached backyard decks create the ideal setting for lazy Sunday breakfasts or lively evening dinner parties. Transform them with some comfy outdoor furniture, a few flower baskets and a barbecue, and you'll be ready to host weekend get-togethers all summer long. Just beneath the upstairs deck, you'll find an outdoor hot tub, just waiting to warm you up and ease your tension away after a long day.  Best of all, you can sleep well at night knowing you and your loved ones are protected by a built-in security system.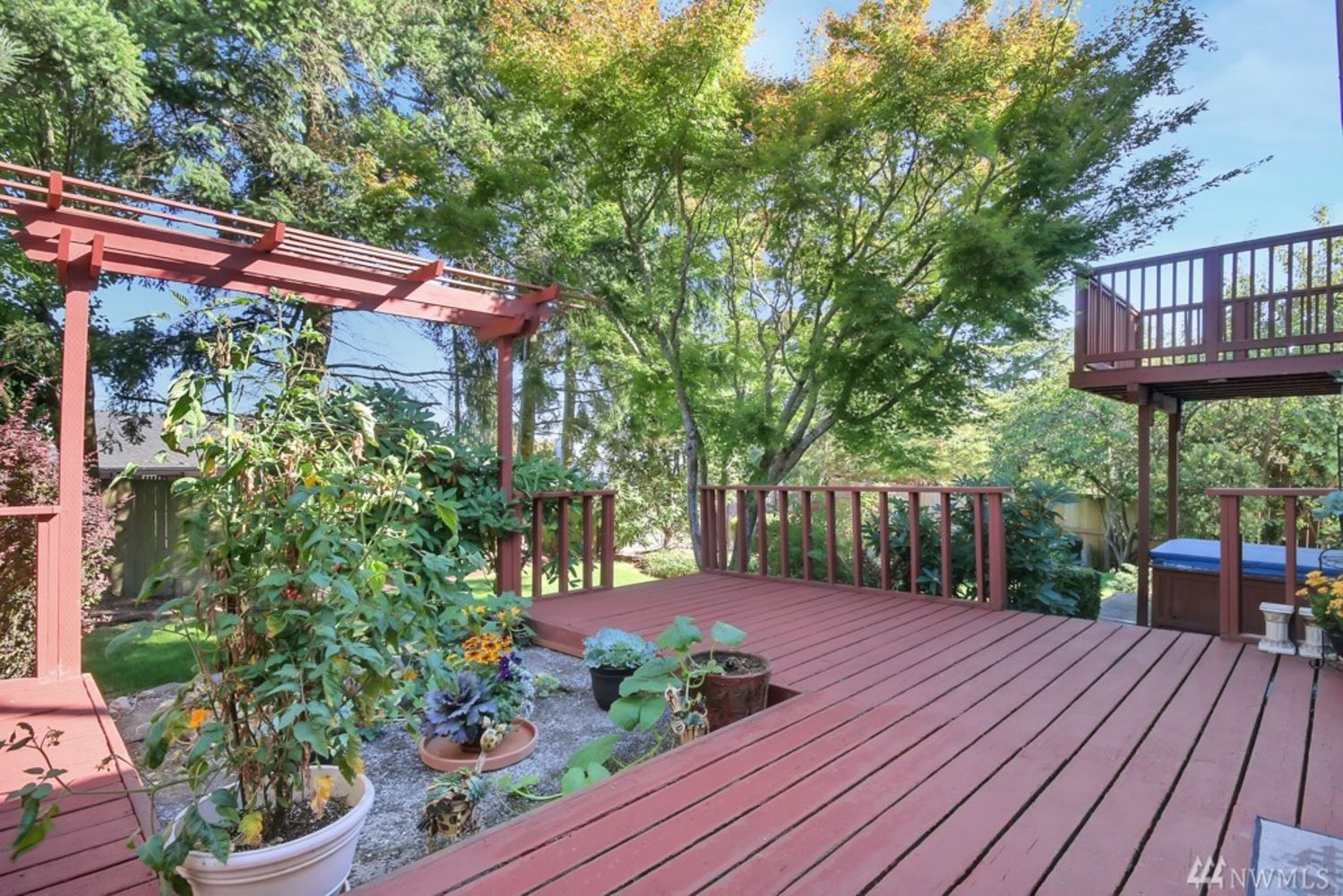 Living in Tacoma
At 6205 N 39th St, Tacoma 98407, you'll come for the green space and stay for the city conveniences! Vassault Park and Truman Middle School are just blocks away, and only a few minutes in the car brings you to Point Defiance Park with it's unparalleled views and charming zoo and aquarium. Hop onto Pearl St. (just blocks from the front door) and you can easily zip down to Safeway or to Highway 16, which connects you to Central and South Tacoma's long list of shops, restaurants, and services. Either way, this location gives you easy access to wonderful places and spaces to enjoy year-round.
Interested in learning more? Click here to view the full listing! You can also contact REALTOR® Sharon Chambers-Gordon online here or give her a call/text at (253) 970-4049.